Nov. 7, 2018
CONTACT:    Dr. De'Arno De'Armond, 806-651-2490, ddearmond@wtamu.edu
Engler College of Business Named a Top Online MBA Program by Princeton Review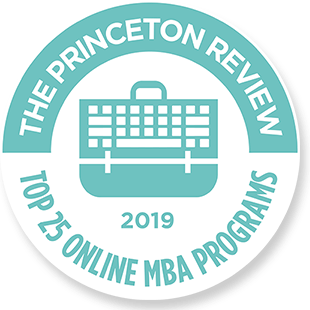 CANYON, Texas—The Paul and Virginia Engler College of Business at West Texas A&M University has earned a  No. 24 ranking on The Princeton Review's (www.princetonreview.com) list naming the top 25 online M.B.A. programs in the world for 2019. This is the first time an academic program at West Texas A&M University has earned a top 25 ranking by The Princeton Review.

The Princeton Review chose the schools for the list based on its 2017-2018 surveys of institutions offering online M.B.A. degree programs in combination with 5,100 students enrolled in the online M.B.A. programs. Data points were weighted in more than 60 unique fields to tally the final list.  Criteria focused on five areas: academics, selectivity, faculty, technical platforms and career outcomes.  

"We strongly recommend West Texas A&M University as an outstanding choice for anyone considering an online M.B.A.," said Robert Franek, Princeton Review editor-in-chief. "The program is exceptionally strong both academically and in the many ways it maximizes technology that enables students to interact with and learn from its superlative faculty and students all over the world."

Franek noted the deep satisfaction expressed by Engler College of Business students, along with students at other top business schools on the 2019 list the company surveyed, with their educational experience. Most notably, 99 percent of the student graduates from the Top 25 listing told Princeton Review their online M.B.A. will have a positive impact on their careers.

"We are pleased to earn this acknowledgement from The Princeton Review and feel the assessment of our program among the best business programs in the world is an honor," Dr. Neil Terry, dean of the Engler College of Business, said. "Our faculty and staff are dedicated to continuously improving the quality of our campus and online business programs. The positive affirmation from The Princeton Review and our graduates participating in the survey provides further evidence that our faculty and staff are working hard to create an outstanding learning experience for our students."
The Princeton Review's global list of Top Online M.B.A. Programs for 2019 are listed.
Indiana University—Bloomington
University of North Carolina at Chapel Hill
University of Southern California
University of Florida
Carnegie Mellon University (PA)
IE University (Spain)
Arizona State University
Rochester Institute of Technology (NY)
North Carolina State University
Babson College (MA)
University of Utah
University of Texas at Dallas
Auburn University (AL)
Pepperdine University (CA)
James Madison University (VA)
Hofstra University (NY)
University of Nebraska-Lincoln
Strayer University (VA)
University of South Dakota
University of Arizona
Syracuse University (NY)
The College of William and Mary (VA)
The University of North Texas
West Texas A&M University
Old Dominion University (VA)
Current enrollment in WTAMU's M.B.A. program is more than 1,100 students from 46 states and 12 countries. To learn more about graduate business programs in the Paul and Virginia Engler College of Business, contact the Office of Graduate Business Programs at 806-651-2500 or gradbusprograms@wtamu.edu.
—WTAMU—