May 20, 2021
Research
Community
Science
Featured
Study into Extreme Heat at Palo Duro Canyon Being Conducted by WT Students
Photo: West Texas A&M University students Mari Ferrel, from left, Adriana rademacher and Monica Ghosh install a temperature sensor as part of a summer-long study into extreme heat in Palo Duro Canyon State Park.
Copy by Chip Chandler, 806-651-2124, cchandler@wtamu.edu
CANYON, Texas — Students from West Texas A&M University are taking the lead in a summer-long study of extreme heat in Palo Duro Canyon State Park.
Heat-related illness among hikers and other visitors is a common experience each summer in the canyon, where temperatures can soar more than 12 degrees higher than in Amarillo or Canyon.
"Despite its beauty, Palo Duro Canyon can be a very dangerous place," said Jeff Davis, assistant park superintendent. "While visitors worry more about venomous snakes or trips and falls, heat and dehydration are the real danger here. Our partnership with WT will be a critical step in educating our visitors about the dangers of heat at the park."
"Under the right conditions, the canyon floor commonly reaches 105 F, and 110-to-115-degree readings are not unheard of," said Mike Gittinger, warning coordination meteorologist for National Weather Service in Amarillo.
About a dozen students taking part in the Summertime Canyon Observations and ResearCh on Heat ExtRemes (or SCORCHER) project have installed 24 temperature and humidity sensors on the floor and walls of the canyon; two additional sensors that will be used in the study have been installed by Texas Tech University. The WT students also will collect meteorological data on vehicles and with weather balloons from May through August. They will track their process on a blog: paloduroheat.blogspot.com.
"Heat is basically the No. 1 weather-related killer," said Dr. Erik Crosman, assistant professor of environmental science. "It's silent and can creep up on you, and it exacerbates other underlying health issues. It kills even the healthiest people."
Crosman said he thinks this is the first large-scale study into the canyon's climate, and its implications are profound.
"We'll get a better sense of where it's hottest in the canyon, what the temperatures are like on the most active trails and how variations in temperatures can occur because of the structure of the canyon and the types of rocks that are present," Crosman said.
Funding for the project comes from a collaborative $15,000 grant from the University Corporation for Atmospheric Research for WT and National Weather Service Amarillo.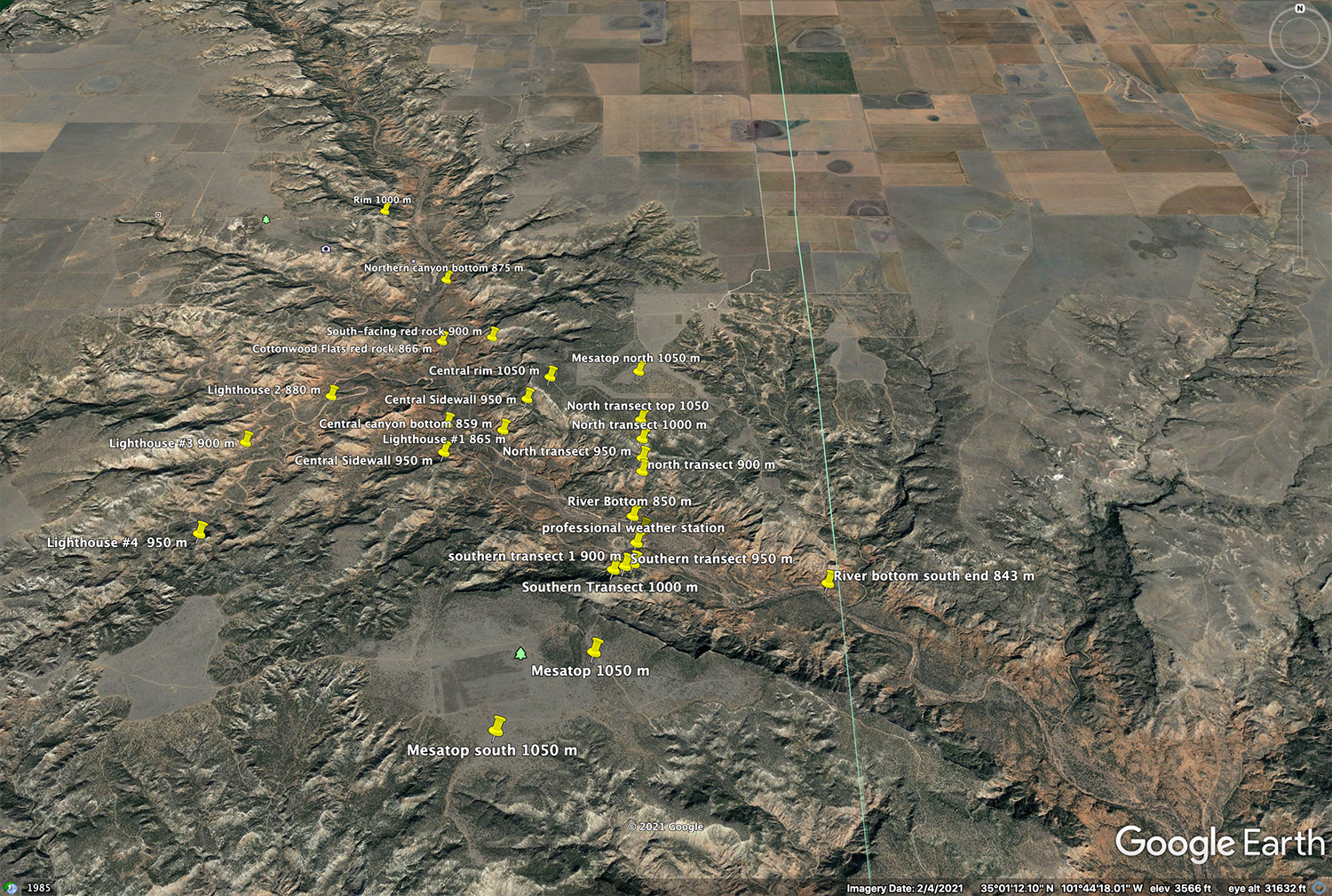 Photo: This map shows locations where sensors have been placed in Palo Duro Canyon State Park for a West Texas A&M University study of extreme temperatures.
Gittinger said he hopes the study will show why so many people are stricken with heat-related illnesses along the popular Lighthouse Trail.
"Is that a hot spot within the canyon, or is it something else, like a lack of shade or the length of the trail?" Gittinger said.
Davis said park rangers can sometimes assist 30 or more visitors per day who are suffering from heat-related illness.
This study is unique, Crosman said, because it is largely being driven by the work of undergraduate students.
"Often, scientific studies are worked on by graduate students, but in this case, these undergraduates are getting real science experience to help them get future jobs, as well as making connections with the National Weather Service," Crosman said.
"This is the scientific process to a T," said Stephanie Simonsen, a senior environmental science — geology major from Findlay, Ohio. "We're coming up with a concept of what we want to study, implementing it and then will see the results and analyze the data. Being able to see the whole process from start to finish is a perfect experience."
Crosman said he anticipates that the study will develop a heat map of the canyon, which will be beneficial for public safety; that it will improve meteorologists' ability to forecast the weather in and around the canyon; and that it could examine how the terrain and the dry line interact to trigger storms.
Area residents should be aware — but aren't always — of how hot the canyon can get, but out-of-town visitors are frequently caught off-guard.
"The earth really heats up, and that heats the atmosphere," Gittinger said. "Only a small amount of atmosphere is heated directly by solar radiation. Most of the process is that the ground absorbs and radiates the heat — heats it from the bottom up, essentially. A canyon exacerbates that because it also has walls that radiate heat inwardly."
"The park is there to be enjoyed, but we always reiterate that in the summer, people should only use the trails early or late in the day," Gittinger said. "And whatever water you think you need, triple it."
"Our goal is for every visitor to the park to go home safe and healthy at the end of the day, and I have no doubt that this work will save lives," Davis said.
Participating students include Simonsen; Cristian Campos, a sophomore environmental science major from Midland; Monica Ghosh, a senior biology and corporate communication studies double major from Canyon; Adriana Rademacher, a senior environmental science major from Splendora; Cecilia Rizcallah, a senior environmental science major from Amarillo; Glen Schneider, a senior biology major from Canyon; Tiffany Rooney, a senior environmental science major from Amarillo; Brittany Rooney, a junior environmental science major from Amarillo; Mari Ferrel, a junior environmental science major from Farwell; Justin Hayes, a senior environmental science major from Vega; Suzan Chassande-Baroz (hometown and major withheld by request); and Andrew Alarcon, a senior mechanical engineering major from Ayacucho, Peru.
The study is a prime example of WT's commitment to serving its corner of Texas, a key tenet of the University's long-term plan, WT 125: From the Panhandle to the World.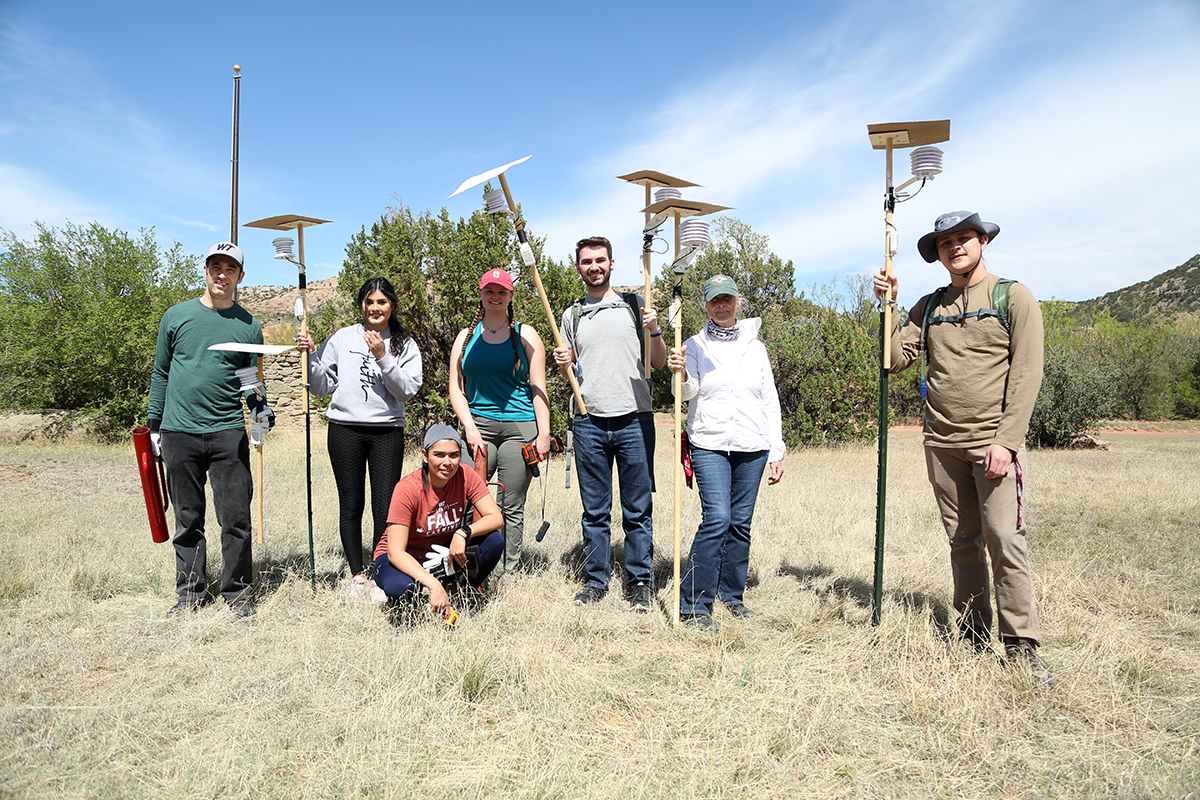 Photo: Taking part in a study into extreme temperatures in Palo Duro Canyon are Dr. Erik Crosman, left, and students Mari Ferrel, Monica Ghosh, Adriana Rademacher, Glen Schneider, Suzan Chassande-Baroz and Cristian Campos.
About West Texas A&M University
WT is located in Canyon, Texas, on a 342-acre residential campus. Established in 1910, the University has been part of The Texas A&M University System since 1990. With enrollment of more than 10,000, WT offers 60 undergraduate degree programs, 40 master's degrees and two doctoral degrees. The University is also home to the Panhandle-Plains Historical Museum, the largest history museum in the state and the home of one of the Southwest's finest art collections. The Buffaloes are a member of the NCAA Division II Lone Star Conference and offers 15 men's and women's athletics programs.
—WTAMU—