May 14, 2021
Community
Featured
Agriculture
Graduate
Jon Mark Beilue
Business
Alumni
Beilue: 'A sense of legacy'
Photo: David Schaeffer, from left, and Dr. Stanley Schaeffer pose with Dr. Amjad Abdullat, dean of the Paul and Virginia Engler College of Business, at a May 8 reception celebrating Dr. Schaeffer's honorary doctorate and a new scholarship fund named for David Schaeffer.
Schaeffer philanthropy recognized with scholarship, honorary doctorate
David Schaeffer didn't have to look too far to find someone to model his life after, especially when it came to philanthropic giving. There was no need to search any further than his father, Stanley Schaeffer.
"I got a little saying – 'My dad didn't tell me how to live. He just lived his life and I watched,'" Schaeffer said. "Being able to watch my parents in all aspects of their lives and now looking back and seeing where they used the platform and ability to give back, they are the best example I know. West Texas A&M stands out like a shining star for that."
West Texas A&M University recognized Stanley and David Schaeffer for their philanthropic efforts through the years at a reception on May 8 during WT spring commencement ceremonies.
"I've never in my life seen a family who display the kind of leadership that the Schaeffers do," said WT President Dr. Walter Wendler at the reception. "They all show a sense of purpose, a sense of legacy, and a sense of tradition that should be emulated."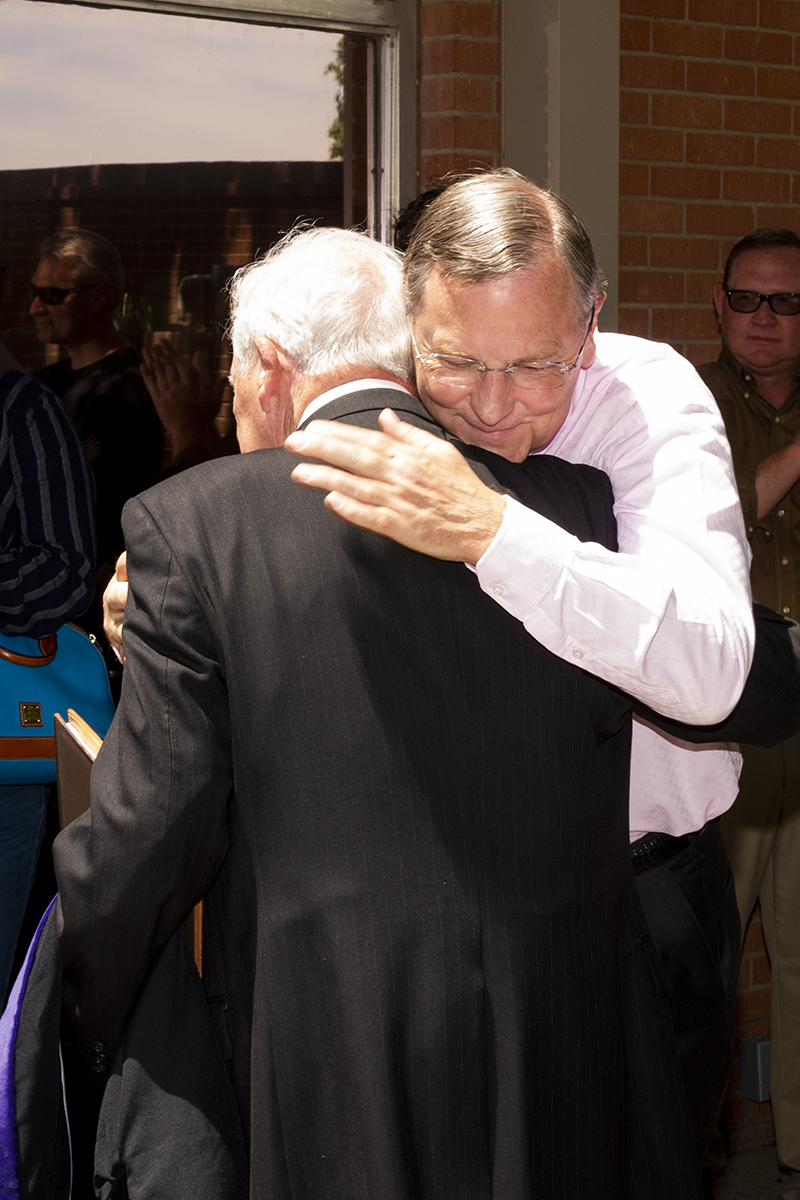 In recognition for the work on behalf of the university, the David Schaeffer Legacy Scholarship Endowment was announced. With a matching gift of $250,000 from the Paul Engler Foundation, the $500,000 scholarship endowment will benefit students in the Paul and Virginia Engler College of Business. It is one of the college's most significant scholarships.
In addition, Stanley Schaeffer, a 1955 WT graduate, received an honorary doctorate in recognition for his significant and lasting contributions to the Texas Panhandle in general and WT specifically.
David Schaeffer's friends and associates combined to donate $250,000 to honor the 1979 WT graduate. He followed a similar path as his father with a successful career as a CPA in his hometown of Dimmitt.
Schaeffer was instrumental in the development of other WT scholarships, athletics, Old Main Society and renovation of the J.A. Hill Chapel. The Shawn David Schaeffer Memorial President's Honor Scholarship was established in 2008 in memory of his son.
"I'm absolutely floored and extremely humbled," Schaeffer said of the scholarship. "I'm not worthy of that. It's about as humbling of a feeling that I've ever had."
After Schaeffer graduated from Dimmitt High School, he went to Texas Tech where he said he partied for a year and a half. He then worked for a year before enrolling at his parents' alma mater. An accounting major, he not only survived, but thrived under legendary accounting professor Leon Trekell.
"I got a great education at WT and that education allowed me to be blessed," Schaeffer said. "Because of the way God blessed me and because of my work ethic, I've been successful enough to reach out and help others. That's my responsibility, just like it's been for my mom and dad."
With an endowment, the financial aid is there to help students for decades, and it's hoped will be a significant multiplier on several levels.
"If we can help 10 to 20 students a year, in 10 years, we've helped 100 to 200 young adults go out and begin their roles in life," Schaeffer said. "For a century, it's just untold what an endowment like this can mean.
"Mom and Dad taught me in supporting education that it happens one student at a time, and over a period of time it just multiplies. If things work out like you hope, those students who are helped this year and 10 years from now will reach back and find a way to help others in the way they were helped to just pay it forward."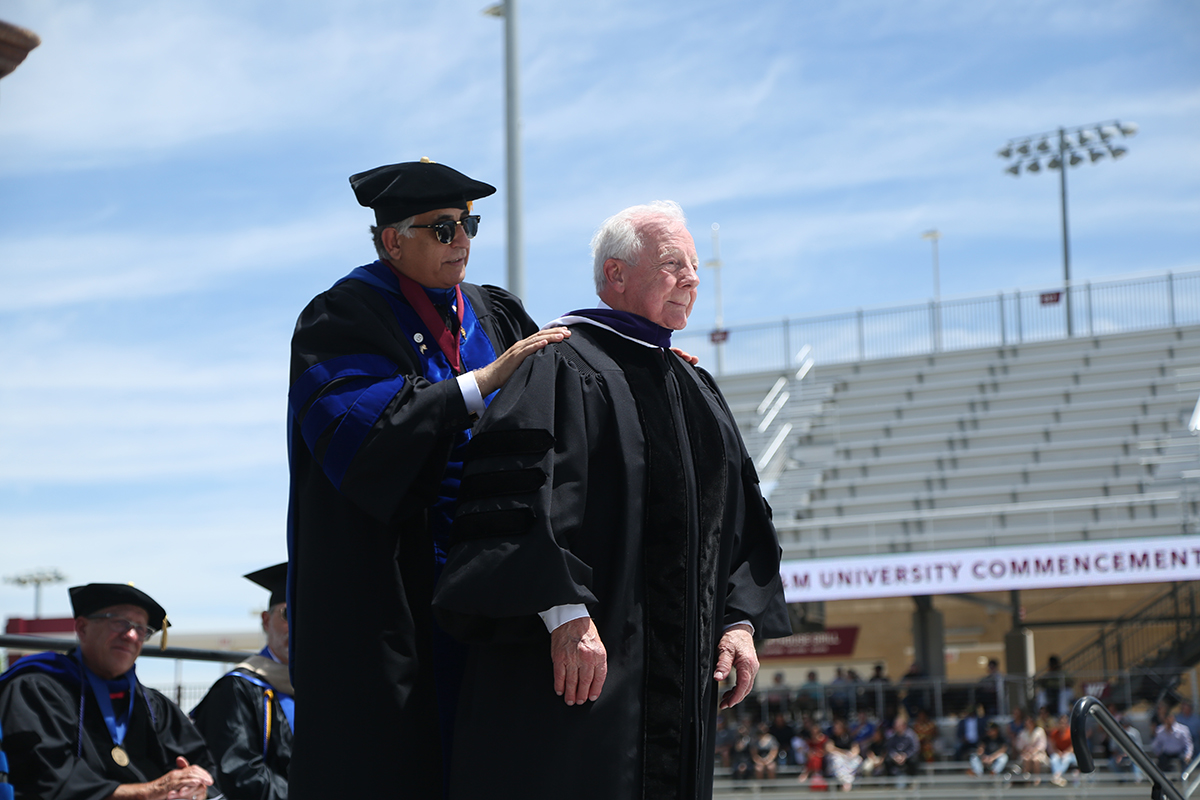 Photo: Dr. Amjad Abdullat, dean of the Paul and Virginia Engler College of Business, places a hood over the neck and shoulders of Stanley Schaeffer signifying the conferring of an honorary doctorate at the May 8 commencement ceremonies at West Texas A&M University.
In receiving an honorary doctorate, Stanley Schaeffer, 87, now has a similar honor to that given to his late wife Geneva by the College of Education in 2016 prior to her death. They were Canyon High School sweethearts, graduates of WT while married and both earned a master's – Stanley with an MBA at WT, and Geneva in reading and assessment from Colorado State.
"My dad had just a fifth-grade education but he was the most educated man I knew," Schaeffer said, "and he instilled in us to get as much education as you can. You might lose everything else somehow, but your education can never be taken away from you. The value of an education was ingrained in us, and from us, on down to our kids.
"The greatest gratification and satisfaction that a father can have is to see his children flourish. Jackie, David and Jerry are all givers and philanthropists in their own way. Each is unique."
Stanley Schaeffer was a CPA for 48 years. He was among a group of investors in First State Bank of Dimmitt, which is now First United Bank with 15 locations in 11 cities. He's been involved in a variety of other businesses including finance, oil and gas, cable television, manufacturing, cattle feedlot, grain elevator and farming and ranching.
Schaeffer followed the lead of the late Shirley Garrison, a leader in agriculture and banking in Hereford and Dimmitt who gave away much of his money to causes throughout West Texas.
"He said, 'Try it, you'll like it,'" Schaeffer said. "I did and I liked it. He didn't want people to give anonymously. It wasn't for the recognition or ego boost, but he thought it was important to set an example for others to encourage them to give as well.
"This honorary doctorate, it's the best honor I've ever received. I don't know if I can live up to it, but I'll take it. I figure Geneva is rolling her eyes in Heaven, saying, 'Well, you finally made it.' She is the one to set the bar for all of us. She was a ball of ideas and I was just the facilitator.
"She would look at me and say, 'Stanley, I want to do this. We can do this, can't we?' I learned to say, 'Yes, we sure can.'"
Do you know of a student, faculty member, project, an alumnus or any other story idea for "WT: The Heart and Soul of the Texas Panhandle?" If so, email Jon Mark Beilue at jbeilue@wtamu.edu.