Mar 12, 2021
Jon Mark Beilue
Featured
Community
Science
Beilue: When the Lightbulb Comes On
One class sent Zang from uncertainty to master's study in Dublin
Jared Zang was where countless college students before him had been and where countless college students after him will be. He was enrolled, taking classes, making good grades but not really knowing what he wanted to do.
He was at a 3 a.m. gathering of dormmates in Connor Hall, sitting around and taking turns envisioning what they one day would do. It was Zang's turn.
"I didn't really know," he said. "I talked about being a doctor or state game warden, two areas to go with a biology degree. Every time I brought that up, someone would say, 'I don't know. I don't see that.' I said, 'Well, I don't know if I do either, but I'm going to keep looking and hopefully something will move me.'"
When Zang got to West Texas A&M University in the fall of 2016 from Randall High School, he knew he liked biology, but that was about all he knew. Well, that and he could play the drums pretty well.
"When I got to college, I realized I had not fully experienced what it was I really liked," he said. "There are kids in high school who know they want to be a doctor or know they want to run their own business.
"As an average student, I was never really focused like that. I wanted to get that mindset that some got years before. I had many talks with parents and friends that I don't know what I want to do."
The proverbial lightbulb did go on. As it so often is for students who finally find their passion, it was a class that did it. One class in 2017. Because of that, Zang, a freshly minted December 2020 graduate of WT, will travel overseas in September to pursue his master's on his way toward a doctorate.
He will attend the University College Dublin, the largest in Ireland with more than 33,000 students and ranked as the top university in the country by U.S. News and World Report. Zang will pursue his master of science in biological and biomolecular science, focusing on genetic cell biology.
That will get the attention of friends at those 3 a.m. gabfests.
"I wanted to set my sights high," Zang said. "I feel like I'm a smart dude when I set my mind to it. It was like, 'You know what, what do I have to lose? If I don't get in, I don't get in, but I have nothing to lose, so why not?'"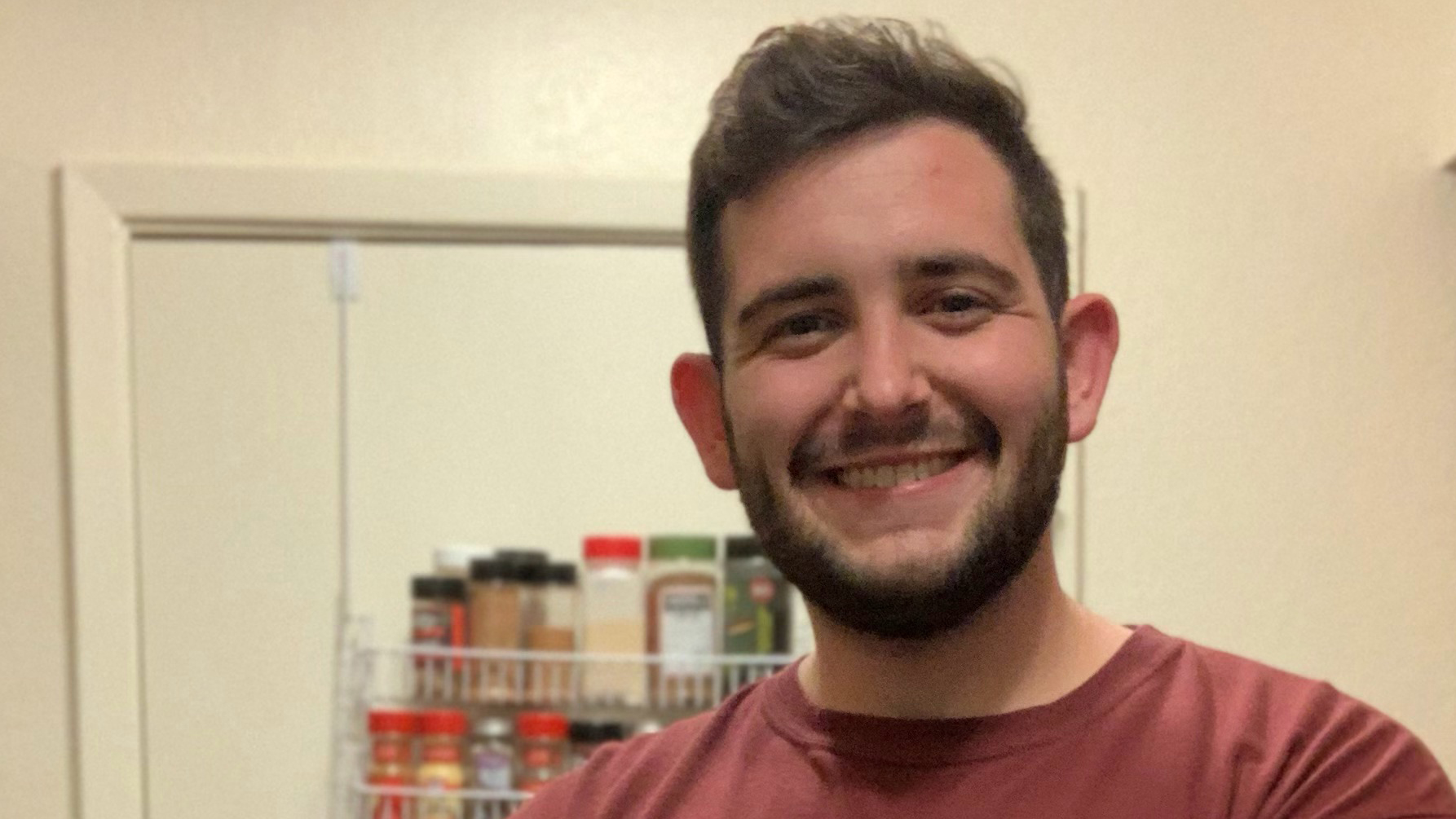 As a sophomore at WT in 2017, he was playing drums for anyone on campus who would listen in a band called the Connor Hall Boys. He also was starting to do a little bartending for campus events at the Jack B. Kelley Student Center. Making up his own drinks, conjuring up cooking recipes and playing to the beat were all fun, but not exactly career defining.
Zang then walked into Dr. Rocky Ward's genetics class and eventually walked out a changed student with a hard grasp on what the future held. For a 6-foot-4 former Randall High School offensive lineman, it was tiny. It was genetics.
"I realized that, 'Wait a minute, I really, really like genetics,'" Zang said.
Ward and Zang met after class on several occasions with Zang telling the professor what he was feeling. Zang followed Ward's suggestion to change his major to biotechnology and he never looked back.
"After that, all those classes, it was everything I ever hoped for," Zang said. "Don't get me wrong, I loved the courses I took before that, in biology and outside the realm I am now, but nothing spiked that passion like I got in genetics."
Ward didn't get to see his student fully blossom. He died in March 2019.  But others, like Dr. Nabarun Ghosh, professor of biology, have.
"'Hungry' is a good term I would use," Ghosh said. "He's really a smart student. The best part is his sincerity. If he tells me he'll be here at 1 o'clock, he's here five minutes early."
Zang took five classes from Ghosh, including such weighty matter as bioinformatics, cytotechnology and molecular cytogenetics. Ghosh was also his professor in his capstone research thesis in WT's Honors Program. In keeping with the WT 125: From the Panhandle to the World initiative of focusing on local solutions, the project examined weed pollens in the Texas Panhandle including inflammation and how it relates to the immune system.
"I wanted to be mentored by someone who knew how important research was," Zang said. "It's wonderful to have give and take with a mentor I respect like Dr. Ghosh."
Formerly a high school student who took only one AP course at Randall, Zeng grew to become the 2020 Mortar Board president with a 3.45 GPA. He worked at a food safety lab in Amarillo, inspecting meat from the area's biggest producers before it made its way to consumers. That job lasted a year until it was downsized by COVID-19 in 2020.
A year ago, Zang set his sights high by applying for a Fulbright Scholarship, one of the world's most prestigious scholarships where only 20 percent of graduates are accepted. It was an eight-month odyssey of writing and revising grant proposals and personal statements before submission in October. Like 8 of 10 applicants worldwide, he was not successful.
"It wears on you, man," he said, "but at the end of the day, I was proud of what I had done."
Proud and not intimidated to reach for something else audacious. Zang's goal is to earn a Ph.D and to be a leader in the field of research in autoimmune disorders like lupus and study the genetics of those disorders.
"For me, it's personal because my mother (Yvette) has lupus," he said, "and I see the toll it can take on a family member."
The application to Dublin seemed like an extension of the Fulbright. More essays, some transcripts. What was there to lose? Zang has never been big on a Plan B. He applied in November. In December, an email from Dublin popped in his inbox.
"I was scared out of my mind," he said. "I never had much of a backup plan. I've always figured it out as it happened."
No backup plan necessary. He was accepted. Zang said he's always been curious about what's new and figuring out how things work in the world. So it will be for experiencing a decidedly different culture for a student who earned his undergraduate degree less than 15 miles from home.
"There's no connection to Ireland. I just thought it would be fun to experience something completely different," he said. "When I started on this journey, my dad (Jason) said one thing that stuck with me the entire time and that is I would regret it if I didn't take some chances.
"That's the biggest thing. I'm taking a chance and thrown out there in this completely unknown environment. We'll see how it goes. I think it will be great."
Do you know of a student, faculty member, project, an alumnus or any other story idea for "WT: The Heart and Soul of the Texas Panhandle?" If so, email Jon Mark Beilue at jbeilue@wtamu.edu.