Feb 19, 2021
Featured
Business
Jon Mark Beilue
Community
Beilue: The one-hour economic insight
Stitzel's EconBuff podcast uses economics on variety of topics
The way Dr. Lee Stitzel sees it, his EconBuff podcast is not breaking new ground. It's just an extension of what interests him and what interests his students and those around him.
"Economics has a lot to say about the world we observe," said Stitzel, assistant professor of economics at West Texas A&M University. "The first thing I tell people who ask about economics is that it's human action. What's beautiful about economics is it has the tools and a way for us to think, to see the seen and unseen, the unintended consequences."
Stitzel teaches a graduate course in macroeconomics, a course he enjoys especially because the students want to learn. Stitzel got into the habit of sending the class weekly emails of economically related stories that either pertained to the class or Stitzel just though were thought-provoking. He would often receive a half-dozen or more replies to his email.
"One semester, I had a student say, 'Hey, can I stay on the email chain after this class?'" Stitzel said. "That went on for several semesters. Students seemed enamored with those. Students two or three years after the class wanted to continue to get these emails that may be about the pandemic or what the feds are doing."
From that was born the EconBuff podcast. It is touched on topics with an economic bent that would relate not only to graduate students and undergrads, but to the rank and file as well.
The first episode was in October 2019.  The 26th was released Feb. 19. It was the first time for a guest host with Stitzel, who teaches a sports economics class, as the interviewee. The subject: the Houston Astros sign-stealing scandal from 2017.  Cheating scandal? Economics?
"Sports provides us a unique opportunity to understand human behavior because it gives insight you would not normally have in other businesses," he said. "Sports is a case study of human behavior. What causes a team to cheat? Economics gives us the tools to quantify the benefit of the cheating, the negative of it, the why it happened."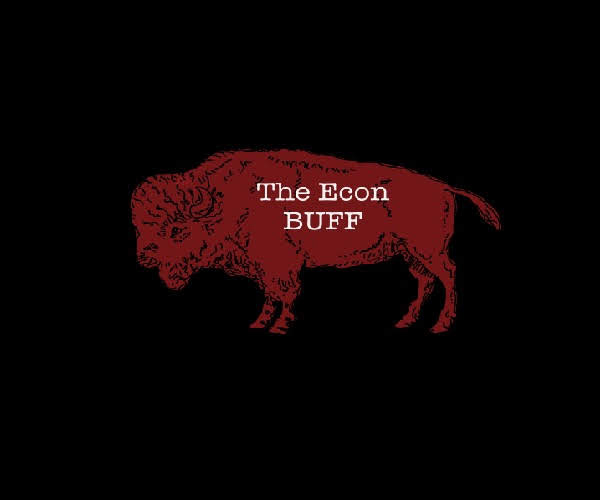 Stitzel has relied mostly on the faculty of the Paul and Virginia Engler College of Business for their expertise. But he also has had guests from other universities as well as from Amazon. The podcasts are approximately an hour – some around 55 minutes, but most stretch beyond that. (They can be found on online at econbuffpodcast.wixsite.com/mysite or on the BuffEcon YouTube channel.)
Among the more than two dozen topics are some weighty financial ones – "Time Inconsistency in Recent Monetary Policy," "Monopolies," and "Executive Compensation."
But there have been five podcasts on COVID-19 – from its macroeconomics to the fiscal and monetary response, and "The Good, Bad, and Ugly of the Response to COVID-19."
The GameStop short squeeze on the stock market involving Reddit and Robinhood that virtually no one understands? There are two podcasts on that complicated controversy to break it down.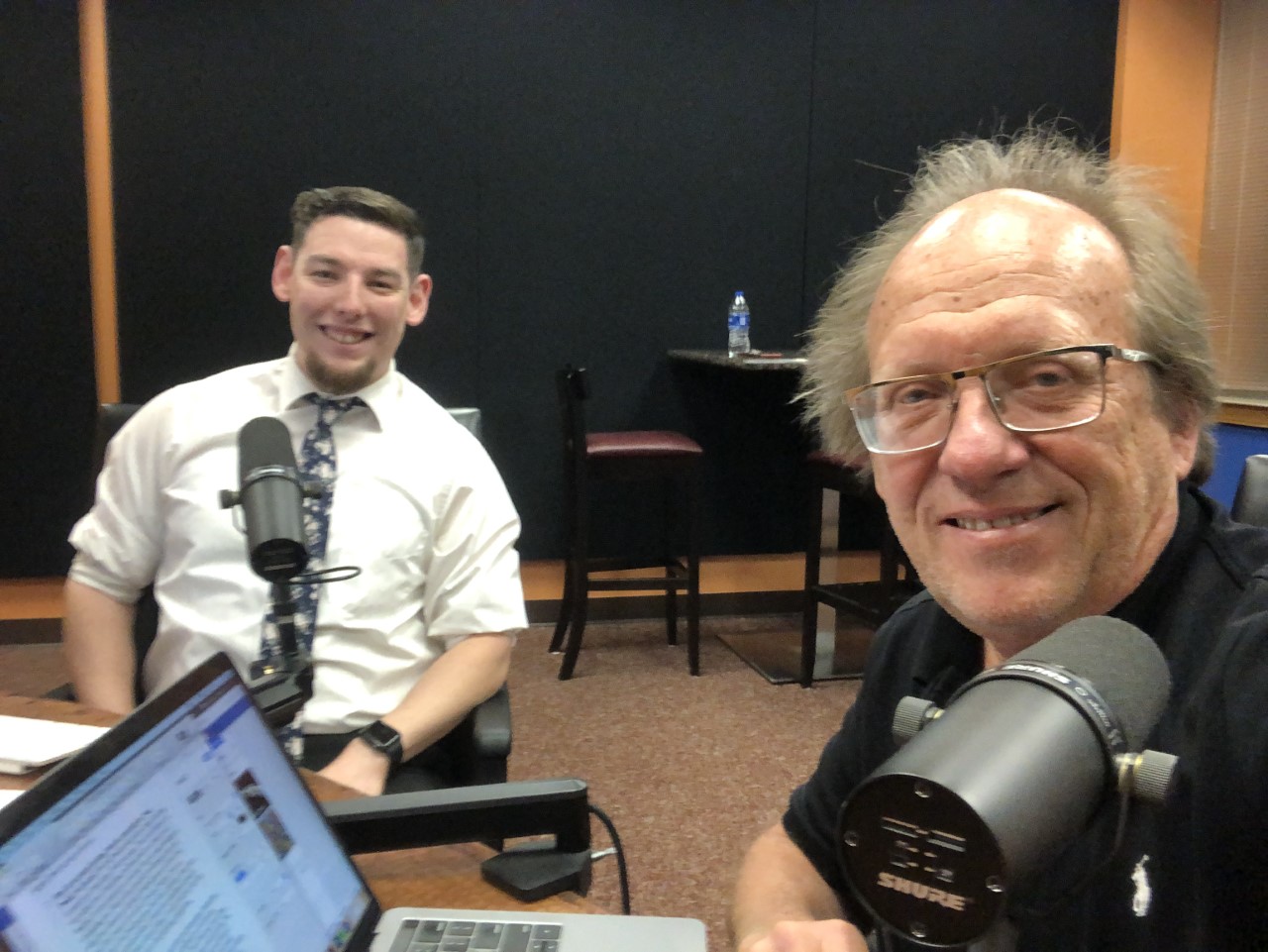 Photo: Dr. Lee Stitzel, left, interviews West Texas A&M University marketing professor Dr. Nick Gerlich for an episode of the EconBuff podcast.
There are other timely podcasts, like Dr. Rex Pjesky's breakdown of the impact of the proposed minimum wage increase. In early February, Dr. Patricia Papachristou of Christian Brothers University in Memphis, Tenn., discussed "Government Incentives in Energy Production," pertinent especially since the grid breakdown in Texas' record cold.
"I want to touch on things that people find interesting and give them economic insight into that," Stitzel said. "The goal is to find economic thought in many different topics and fields."
That's why there are podcasts that may not fall under the traditional economic umbrella — defunding the police, the sport of curling, minor league baseball in Amarillo, Medicare for all, and the most recent one on the Astros' cheating scandal. All are examined with an economic angle.
Stitzel tells his guest that the target audience is approximately an undergraduate level or master's level of economic understanding. It's not Ph.D level, but it's not fifth grade either.
"The topics are broad enough that we have a group of potential listeners out there no matter the topic," he said. "We're going to give them something they can take away from every episode. One thing I think I do relatively well is I'm pretty good at synthesizing information and if someone is a Ph.D and talking about short squeezes and margin calls where listeners can get lost, I say, 'For the listeners at home, what do you mean by that statement?'"
Stitzel, a native of Fritch, is a 2010 graduate of WT. He got his Ph.D in economics from the University of Oklahoma in 2016 and returned to his alma mater that same year to begin teaching. His colleagues have comprised a bulk of his guests and their willingness to do so has eased the anxious search for sources.
Stitzel teaches macroeconomics and microeconomics, and also teaches a course on sports economics. The course has been in the catalog since 2007, but Stitzel is believed the first one to teach the course. He cities sports as a unique way to study human behavior and sports intersecting with more traditional economic venues.
"But sports in and of itself is important. It's well beyond a billion-dollar industry. It's culturally important and we have the economic tools to measure that," Stitzel said.
If Stitzel could rub his podcast magic lamp for a sports economic guest, he would get an expert on the impact of new stadiums on local economies – a topic near and dear to him – one of the major pro sports commissioners like Adam Silver of the NBA or Rob Manfred of MLB, or a baseball general manager like a Brian Cashman of the Yankees.
"There are a number of metrics to measure how the podcast has been received, but I've been pleased," he said. "The cool thing about the podcast is it seems to be taking on an element of what I think of the traditional podcast in that people are finding it because they are interested in the topic.
"It's starting to jump out of the WT audience and make an impact on the broader world of people who are interested in what it has to say – why did the GameStop thing happen, for example? The only thing is the podcast is not big enough to draw criticism yet."
Do you know of a student, faculty member, project, an alumnus or any other story idea for "WT: The Heart and Soul of the Texas Panhandle?" If so, email Jon Mark Beilue at jbeilue@wtamu.edu.