Free WT Shuttle Service Will Continue Thanks to Community Partnership
Copy by Chip Chandler, 806-651-2124, cchandler@wtamu.edu
CANYON, Texas — Shuttle buses will continue to run at West Texas A&M University thanks to a timely new community partnership.
The shuttle service provides free transportation to students, faculty, staff and campus visitors to help mitigate congested parking on campus, but the service was slated to end as the University made state-mandated budget cuts to address coronavirus-induced shortfalls.
"This was a tough cut to make because we know how important this service is, but the numbers just didn't add up for us to continue," said Randy Rikel, vice president for business and finance. "But thanks to the hard work and dedication of some of our staff members, as well as the generous backing of Panhandle Community Services, we are excited to announce that the service will indeed continue."
Jerry Faltinek, director of support services for the University Police Department, had supervised the shuttle program for the past five years, and he knew how important it was to riders.
"This service is such a convenience to everyone on campus, even to visitors when we are able to host large events here again," Faltinek said. "I hated to see it go."
So Faltinek reached out to Panhandle Community Services, a community action agency that aids low-income residents. PCS, which provides transportation to non-urban areas across the Texas Panhandle through its Panhandle Transportation service, had previously provided drivers and buses when University shuttles were undergoing repairs, and Faltinek thought the organization might be willing to take over the shuttle service entirely.
They were.
"I have the means, and I really do want to be a good partner with WT," said Lylene Springer, PCS transportation director. "This is just really good for the students."
WT's shuttles will be sold at a reduced cost to PCS, which receives state and federal grant money based on the number of passengers it services.
"We get the service, and they get the buses," Faltinek said.
The University will end up saving about $240,000 annually, Faltinek said, and the shuttle service will remain available for no additional fees.
Shuttles run from 7 a.m. to 6 p.m. Mondays through Fridays during both the fall and spring semesters, resuming Aug. 24, the first day of class. The campus community can park at the First United Bank Center to hop on the shuttle, which makes eight stops around campus.
Masks will be required for all drivers and passengers. Social distancing protocols will be used in buses, as well. 
"It really is a nice courtesy," Faltinek said, "so it's good that we can keep it rolling."
Community partnerships help create sustainable growth both for the University and the surrounding region, a key precept of the University's generational plan, WT 125: From the Panhandle to the World.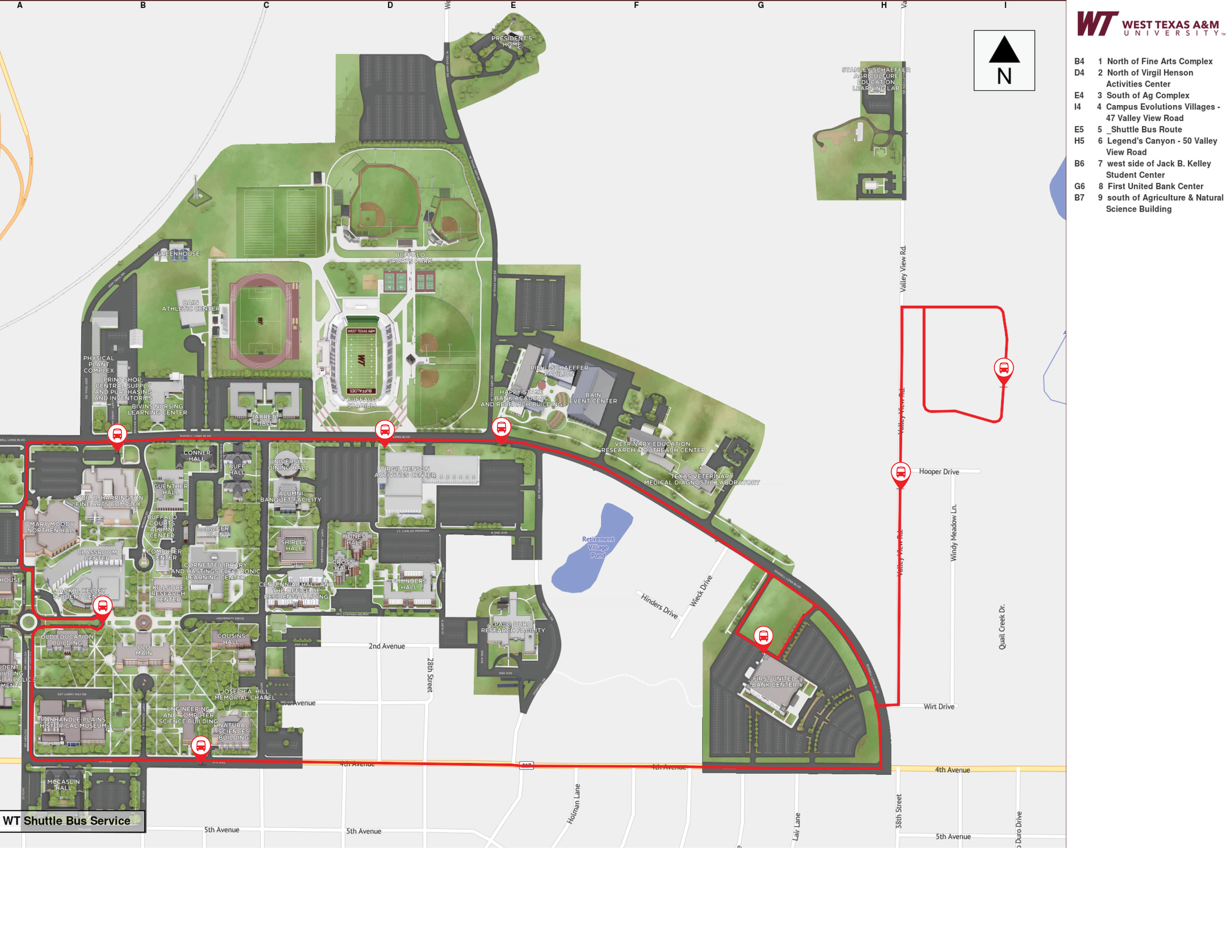 About West Texas A&M University
WT is located in Canyon, Texas, on a 342-acre residential campus. Established in 1910, the University has been part of The Texas A&M University System since 1990. With enrollment of more than 10,000, WT offers 60 undergraduate degree programs, 38 master's degrees and two doctoral degrees. The University is also home to the Panhandle-Plains Historical Museum, the largest history museum in the state and the home of one of the Southwest's finest art collections. The Buffaloes are a member of the NCAA Division II Lone Star Conference and offers 15 men's and women's athletics programs.
—WTAMU—