Literacy Nonprofit Founded by WT Staffer Wins National Award
Copy by Chip Chandler, 806-651-2124, cchandler@wtamu.edu
Photo: Chris McGilvery reads to students at the BookShare Fair at JFK Elementary in Portchester, NY. 
CANYON, Texas — A West Texas A&M University staff member who, in his free time, helps provide new books and healthy snacks to underserved students has been recognized by a national literacy nonprofit.
Chris McGilvery, an instructional technology designer at WT since 2019, was named the grand-prize winner of the 2020 Freedom Through Literacy award from Judith's Reading Room earlier this month.
McGilvery founded the Leaders Reader Network in 2012 in the Commonwealth of Dominica, relocating to Canyon in 2019 when he began working at WT and his wife, Dr. Taryn McGilvery, began practicing as a family medicine physician at Northwest Physician Group.
The network works with teachers to pair older students with younger ones in an effort to foster leadership skills, enable child-centered coaching and encourage a love of reading. Teachers and students also work together on service projects. This year, the network worked with third-grader Sydney Rogers and teacher Paige Fisk to provide books to all 767 students at Reeves Hinger Elementary School in Canyon. WT students and the Student Government Association helped raise funds to ensure every child received a book before schools closed due to the COVID-19 pandemic.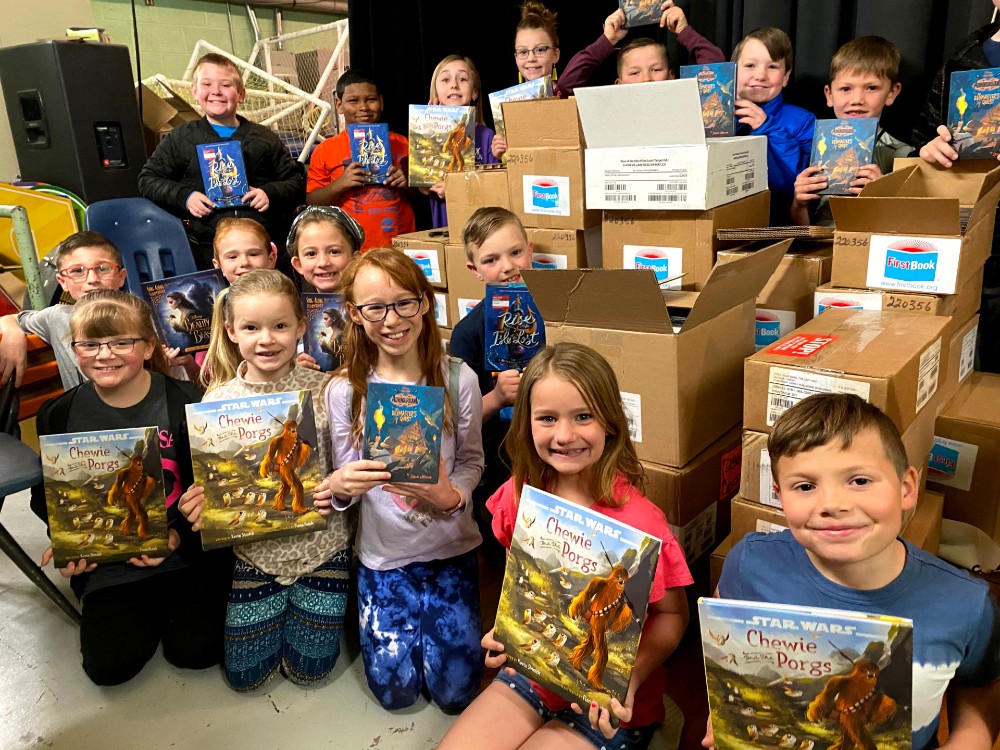 Photo: Students at Reeves Hinger Elementary School in Canyon show off books they were given through the Leaders Readers Network.
Judith's Reading Room, a Lehigh Valley, Pa.-based organization, is named for Judith F. Krug, who served as director of intellectual freedom for the American Library Association for 40 years.
McGilvery, who was awarded a $2,500 grant by the organization, was "recognized for his unflinching approach to fostering a love of reading," according to a news release.
"Now that we are based in Canyon and have worked with hundreds of students and teachers across the nation, one of our goals is to encourage teachers and students in the Panhandle to partner with us to promote youth leadership and literacy service projects that will impact students' lives in all 26 counties across the region," McGilvery said.
Teachers and students should apply by Aug. 14 to work on projects supporting students at Title 1 schools across all 26 counties of the Texas Panhandle.
McGilvery is an instructional designer with more than 10 years of experience working in higher education, from teaching online courses to providing faculty development in the areas of instructional technology and online design. He and his wife have two young sons.
The mission of the Leaders Reader Network parallels WT's generational plan WT 125: From the Panhandle to the World in its emphasis on servant leadership and the importance of education.
An application form for students is here: https://forms.gle/jrAKf8PekfihdeRMA
An application form for teachers is here: https://forms.gle/UrVGDrsrcUXpFeUi6
For information, visit www.leadersreadersnetwork.org or email hello@leadersreadersnetwork.org.
About West Texas A&M University
WT is located in Canyon, Texas, on a 342-acre residential campus. Established in 1910, the University has been part of The Texas A&M University System since 1990. With enrollment of more than 10,000, WT offers 60 undergraduate degree programs, 38 master's degrees and two doctoral degrees. The University is also home to the Panhandle-Plains Historical Museum, the largest history museum in the state and the home of one of the Southwest's finest art collections. The Buffaloes are a member of the NCAA Division II Lone Star Conference and offers 15 men's and women's athletics programs.
About The Leaders Readers Network
There are 31.4 million children who live in low-income families across the United States. Millions of children do not have access to quality and relevant books in their homes. The Leaders Readers Network, formerly known as Give More HUGS, is a 501(c) 3 nonprofit organization that offers teachers and students a community to empower their leadership while making a difference. Each school year, it works with a team of teachers and students who implement vetted and impactful teacher and student created service projects to grow leaders and readers in underserved schools and communities. The network of teachers and students are one of the best representing a diverse and dedicated group of leaders who are working together to ensure children in their communities have access to brand new books, school supplies, and leadership development.
—WTAMU—