CONTACT: Dr. Walter V. Wendler, 806-651-2100, wwendler@wtamu.edu
COPY BY: Amberly Hildebrandt, 806-651-2121, ahildebrandt@wtamu.edu
CANYON, Texas—West Texas A&M University President Walter V. Wendler has named Dr. Neil Terry as the University's new executive vice president and provost. Terry, one of four finalists interviewed for the position, will begin his duties on February 1, 2020.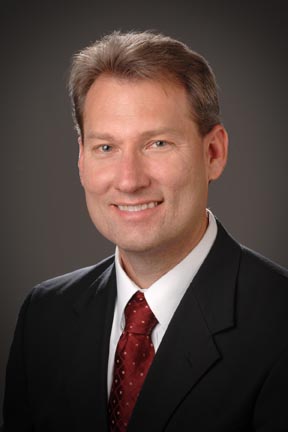 He is filling the position currently held by Dr. Wade Shaffer, who will be stepping into a full-time teaching role.
Terry joined WT in 1997. He has served as the dean of the Paul and Virginia Engler College of Business at West Texas A&M University since 2006 and helped lead the school to initial AACSB accreditation in 2012. He serves on the editorial board for the Journal of Education for Business and the Southwestern Economic Review.
"Dr. Terry has a strong passion for West Texas A&M University and a commitment to serving our students and our region. He has a vision for fulfilling WT 125: From the Panhandle to the World," Wendler said, "I look forward to working with him."
Terry earned a bachelor's degree in economics from California State University at Sacramento in 1992, a master's degree in economics from Texas Tech University in 1996 and a Ph.D. in economics from Texas Tech University in 1997. His post-doctoral training includes completion of the M.D.P. program at Harvard University in 2006.
"West Texas A&M University has been an important part of my life for many years, and I look forward to working with our outstanding students, faculty, and staff across campus in a new role," Terry said.  "President Wendler has created an ambitious generational plan via WT 125, and I will do everything I can to support his vision for the University. I am confident that, together with the faculty, staff, and alumni, we can achieve great things."
Terry and his wife, Anne, have been married for 23 years. They have a daughter, Hannah.
In total, 118 candidates were reviewed and assessed by the search firm and 20 candidates were selected for the Search Advisory Committee to review. The Search Advisory Committee was composed of 13 members, including a faculty member of each college, a representative of the student body, staff council, faculty senate, and the WT Foundation. The Search Advisory Committee recommended a list of six finalists for the President's review. Four were invited to participate in campus visits. Campus feedback was solicited and several comments from the campus community were received.
—WTAMU—