CONTACT: Dr. Naruki Hiranuma, 806-651-3872, nhiranuma@wtamu.edu
COPY BY: Brittany Castillo, 806-651-2682, bcastillo@wtamu.edu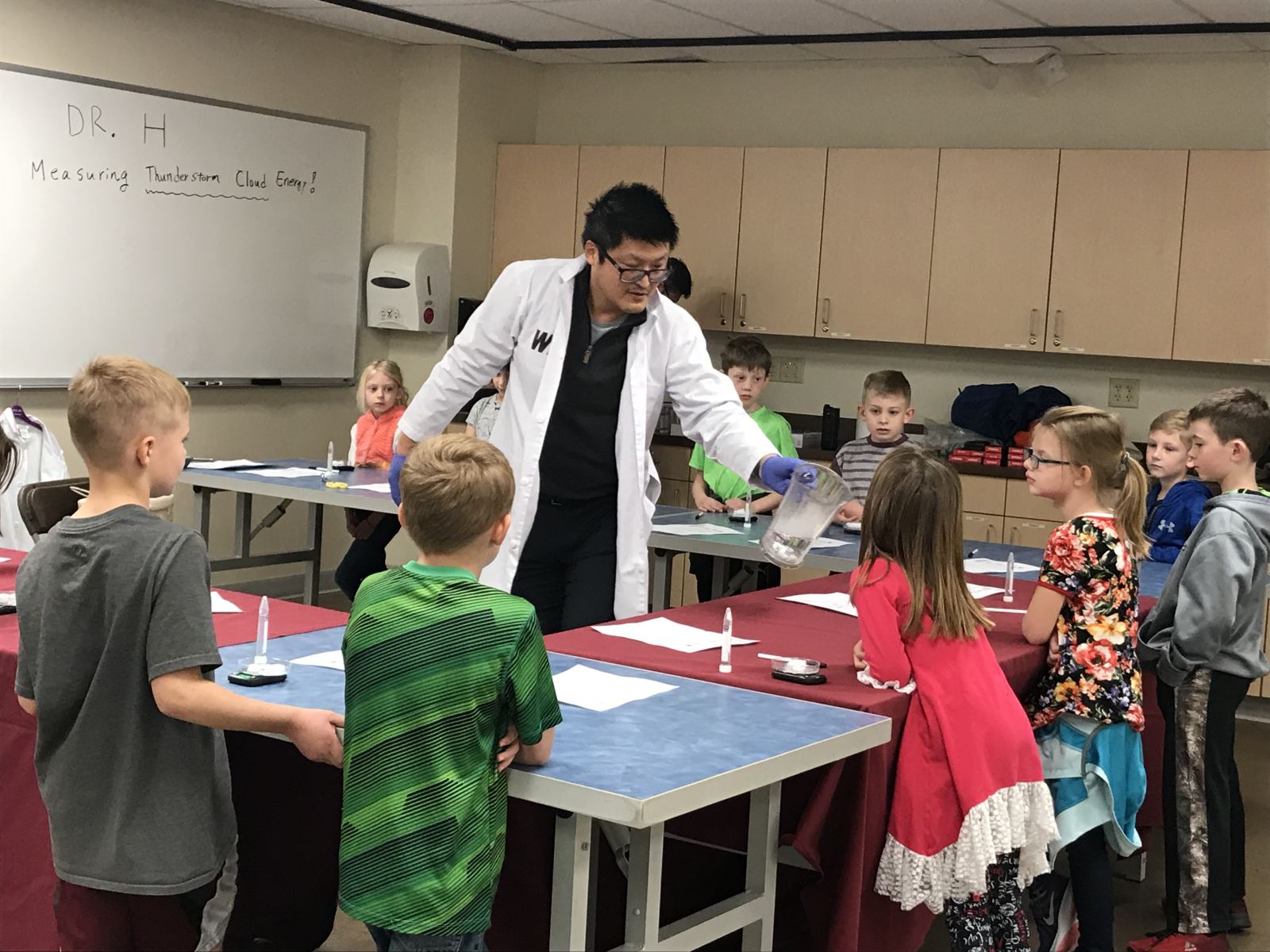 CANYON, Texas—West Texas A&M University partnered with the local meteorology community to host "Weathering the Storm: The Science of Severe Weather," an annual educational event for kids about severe weather patterns, at the Don Harrington Discovery Center (DHDC). 
Dr. Naruki Hiranuma, assistant professor of environmental science at WT, John Harris, chief meteorologist at KAMR-TV, and Jason Boggs, an experienced storm chaser, demonstrated various labs for more than 300 students from local elementary schools in the all-day event earlier this month.
"This annual event allows students to witness and experiment weather through hands-on science labs, videos and live experiences from John Harris and his storm chaser teams, a special showing of 'Forces of Nature,' and explore our exhibits," Kyle Hadley, director of education and exhibits at DHDC, said.
"It is a great opportunity for students to not only learn about severe weather, but also see the impact they can have here in Amarillo by going to school and working here in the Panhandle."
Hiranuma led activities that included sublimation of dry ice and calculations of the energy required for phase change. Weathering the Storm: The Science of Severe Weather is one of six the education and exhibits departments at DHDC will host this academic year.
For more information about these events, contact Hadley at 806-355-9547 or khadley@dhdc.org. To learn more about the Atmospheric and Aerosol Measurement Research Group, contact Hiranuma at 806-651-3872 or nhiranuma@wtamu.edu.
—WTAMU—