CONTACT:    Dr. Naruki Hiranuma, 806-651-3872, nhiranuma@wtamu.edu
CANYON, Texas—Three faculty members and students from the Department of Life, Earth and Environmental Sciences at West Texas A&M University provided hands-on activities and demonstrations to local students in celebration of Earth Day at the Amarillo Zoo.
Dr. David Sissom, department head and professor of biology, Dr. Richard Kazmaier, associate professor of biology, Dr. Naruki Hiranuma, assistant professor of environmental science, and their students operated three separate booths and led a variety of activities that included preserved/viable spiders and scorpions, skeletal specimens, jellyfish surrogate creation and liquid density experiments.
"In today's world it is really important that people of all ages become aware of environmental and conservation issues," Sissom said. "The Department of Life, Earth and Environmental Sciences is pleased to have contributed to this important Earth Day event at the Amarillo Zoo."
A total of 930 visitors, including 430 children under the age of 12, participated in the zoo's Earth Day activities.
"Our faculty always try to go an extra mile to get involved in these special events to educate the kids and their parents on Earth Day as an outreach activity in the local community," Dr. Lal K. Almas, interim dean and professor in the Paul Engler College of Agriculture and Natural Sciences, said. "WTAMU faculty members are good in connecting the University with local communities, and their efforts are always appreciated."
The Amarillo Zoo strives to provide visitors with information on regional and global environmental issues. Special events such as Earth Day provide the perfect opportunity to bring organizations together to share a common goal of making the Earth a better place for future generations.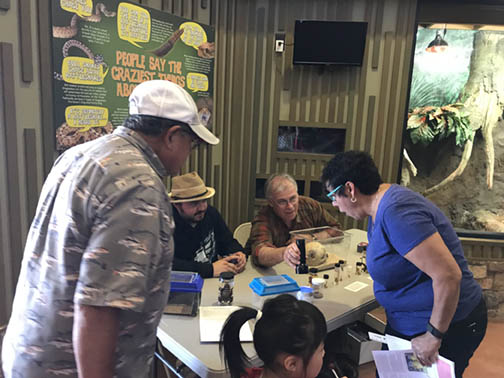 —WTAMU—