2023 Piano Teachers' Workshop
FRIDAY. FEB. 24
SYBIL B. HARRINGTON FINE ARTS COMPLEX RECITAL HALL
WEST TEXAS A&M UNIVERSITY
Schedule
9:00-9:30am - Registration, FAC Grand Lobby
9:30-11:30am - "Teaching Beginners: Teach skills, not pieces" by Katarina Loudermilk
Teaching effectively starts with setting appropriate goals for each student and helping them reach those goals.  This lecture focuses on what to do during the first few lessons and how to take each student from the first few notes to the early beginner's repertoire.  Participants are given practical advice on the progression of skills and pieces, how to teach each skill, and how skills build upon each other, thereby preparing students to master the classical repertoire.  For those starting a teaching career this seminar provides guidance on teaching your beginning students effectively.  For established teachers, it will serve as a source of new ideas and inspiration.
11:30am-12:00pm - Q&A with Ms. Loudermilk
12:00-1:00pm - Lunch (provided), FAC Grand Lobby
1:00-3:00pm - Master class with Dr. Hsiang Tu, FACRH
3:30-5:00pm - Performance Anxiety seminar by Ms. Loudermilk, FACRH
Performing is the culmination of our music making. We long for the magical moments of walking on stage to create beauty and share our art, but sometimes this purpose gets lost battling our fear, shaking hands, and freezing on stage. In this lecture you will gain a better understanding of performance anxiety, how to work with it and to use the powerful energy it produces to build up our performance instead of tearing us down. We will work on identifying trigger thoughts and toxic attitudes which hijack your mind and turn the excitement into panic. We will go over the mechanism which causes performers to freeze on stage and discover how to work with it without falling apart. We will work to create our own personal purpose which motivates and gives us strength, to disarm the negative ideas which deter us from our purpose, and learn to create a healthy emotional state needed to perform successfully and joyfully.
DINNER ON YOUR OWN
7:30-9:00pm - Grace Hamilton Festival Opening Recital, Dr. Tu, Northen Recital Hall
Ekaterina Ryndina Loudermilk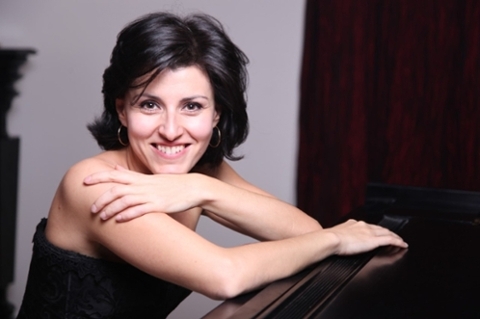 Ekaterina Ryndina Loudermilk is a professional pianist and teacher with more then 20 years of experience. She is a co-founder and director of the International Music Academy in Houston TX, which is revolutionizing the approach to children's music education in Texas. Ekaterina is a highly sought after teacher and speaker. Together with her husband, pianist Matthew Loudermilk, Ekaterina is a hands-on-director: working with children and adults, training and mentoring young teachers and lecturing, all while performing as piano duet partners in Texas and abroad. Ekaterina is a graduate of Rice University and Gnessins Music Academy in Moscow.
For more information, contact the School of Music office at 806.651.2840.