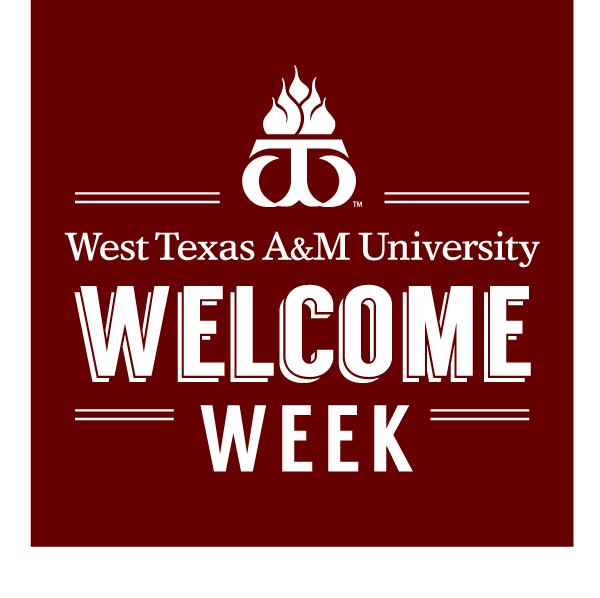 Welcome Week 2019
August 25 - 31 |  Welcome to WTAMU
Welcome to campus! 
Welcome Week is your chance to discover campus and become part of the Buff family. 
Throughout the week you'll meet new students, returning students, faculty and staff through fun events and activities.
Whether you're a new or returning student, these events will help you prepare for a successful start to the school year.
Check out the list of events below. 
Welcome Week 2019 Schedule 

Sunday, August 25 
 
 

Breakfast at the Baptist Student Ministry (BSM)

9 - 9:45 a.m.

Baptist Student Ministry




2500 4th Ave, Canyon

Worship on the Lawn

8 - 10 p.m. 

Wesley Center




107 26th St, Canyon

Movie at the Library 

8:30 - 11 p.m. 

East Side of Cornette Library


Monday, August 26 
 
 

Welcome Week Lunch 

sponsored by Buff for Christ
& 

Catholic Student Center 

12:15 - 1:30 p.m. 

JBK Legacy Hall 

Student Government Meet and Greet

4:30 - 6 p.m.

Senate Chamber 

Sexual Assault, Dating Violence and Stalking: 
A Brief Overview

6 - 8 p.m.

JBK Legacy Hall 

Cow Tongue Football s

ponsored by BSM

6:30 - 9 p.m.

Terrill Lawn 

Buffs for Christ Catacombs and Coffee 

8:30 - 9:30 p.m.

Buffs for Christ Center




302 24th St, Canyon 

BSM Games and Coffee


 

9 - 10 p.m. 

Baptist Student Ministry 




2500 4th Ave, Canyon 

Mandatory Resident Hall Floor Meetings

10 p.m. - 12 a.m. 

Residential Living Halls


Tuesday, August 27 
 
 

Student Service Fair

10:30 a.m. - 1:30 p.m.    

JBK Commons 




Classroom Center, 1st floor 

Free Snow Cones 

12 - 2 p.m. 

East Pedestrian Mall 

Welcome Week Lunch 

sponsored by the Wesley Center 

12:15 - 1:30 p.m. 

JBK Legacy Hall 

Sexual Assault, Dating Violence and Stalking: 




A Brief Overview

6 - 8 p.m. 

JBK Legacy Hall 

BSM Taco Tuesday

 

6:15 - 7 p.m

Baptist Student Ministry 




2500 4th Ave, Canyon 

Wesley Block Party 

7 - 10 p.m

Wesley Center




107 26th St, Canyon 

Late Night Supplies Bingo and Pancakes hosted by
the Office of Student Engagement and Leadership 

10 p.m. - 12 a.m. 

Alumni Banquet Hall 


Wednesday, August 28 
 
 
College of Business Join the Herd 2.0 
9:30 a.m. - 1:30 p.m. 
Classroom Center, 2nd floor 
Join the Herd 2.0 
10 a.m. - 2 p.m. 
Pedestrian Mall 
Free Snow Cones 
12 - 2 p.m. 
East Pedestrian Mall 
Welcome Week Lunch sponsored by BSM 
12:15 - 1:30 p.m. 
JBK Legacy Hall 

Sexual Assault, Dating Violence and Stalking: 




A Brief Overview

6 - 8 p.m. 
Alumni Banquet Hall
Mass and Dinner 
6:30 - 8 p.m. 
Catholic Student Center
2610 4th Ave, Canyon 
BSM Glow Party 
8 - 10 p.m. 

Baptist Student Ministry 




2500 4th Ave, Canyon 

Welcome to the JBK Student Center 
7 - 11 p.m. 
JBK Student Center 

Thursday, August 29 
 
 
Back to School Job Fair 
10:30 - 1:30 p.m. 
JBK Commons
Welcome Week Lunch sponsored by Greek Life 
12:15 - 1:30 p.m. 
JBK Legacy Hall 

Sexual Assault, Dating Violence and Stalking: 




A Brief Overview

6 - 8 p.m. 
Alumni Banquet Hall 
Sneak Peek at our House 
5:30 - 7 p.m. 
Buffalo Stadium 
Freshman Fusion Launch Party at the Wesley 
7 - 9 p.m. 
Wesley Center 
BSM Steak Night and Worship 
7 - 10 p.m. 

Baptist Student Ministry 




2500 4th Ave, Canyon 

Night at the AC 
7 - 10 p.m. 
Virgil Henson Activities Center

Friday, August 30 
 
 
Intramural Tournaments 
9 a.m. - 12 p.m. 
Buffalo Sports Park 
Camping in the Canyon 
6 p.m. - Sat, 1 p.m. 
Palo Duro Canyon 

Saturday, August 31
 
 
Camping in the Canyon 
Fri, 6 p.m. - Sat, 1 p.m. 
Palo Duro Canyon