April 23, 2010

COPY BY:    Rana McDonald, 806-651-2129, rmcdonald@wtamu.edu
WTAMU Technology to be Highlighted at Cisco Virtual Conference
CANYON, Texas—Chalkboards and overhead projectors have been replaced by wireless networks and smart-classroom technology, and two representatives from West Texas A&M University will show just how that technology affects the learning environment during a virtual conference on "The Connected Learning Society: Inspire, Engage, Empower."
James Webb, WTAMU's chief information officer, and Dr. De'Arno De'Armond, assistant professor of marketing and finance, will join Boston University, Hunter College City University of New York, Coventry University and California State University East Bay as well as representatives from Cisco Systems, Inc., on Wednesday, April 28 to share information about how today's technology is changing student learning and teaching. 
Webb and De'Armond's presentation, "Connected Campus Enables Next-Generation Teaching and Learning," will be broadcast during the event, and they will dial in to answer questions. The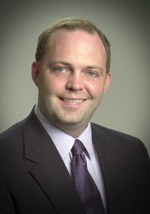 ir presentation will look at the technology on WTAMU's campus and how information technology and academics work together to teach a new generation of students.
Webb has been on the forefront of using cutting-edge technology in the campus environment for more than five years and instrumental in building the infrastructure needed to connect the WTAMU campus and the world. De'Armond has been on the receiving end of that technology and using it to teach today's tech-savvy students.
"On any given day in one of my classes, you will find half of my students connected to the WTAMU infrastructure," De'Armond said. "They are fact checking, looking up stock information, using the online library website, chatting with friends or just living life on their terms—the true multi-tasking 21st century way."
De'Armond knows how teaching has changed since the days of chalkboards and overhead projectors. A wireless network, provided through Cisco's Wireless Solution, literally puts a world of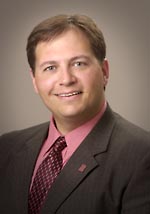 information right at the fingertips of students, faculty, staff and even guests visiting campus. Online classes open the doors to higher education to students on campus and in remote locations while smart classrooms are using video conferencing to share classroom teaching at multiple sites.
"We have a great thing going here at WTAMU with regard to technology," De'Armond said. "Our President, J. Patrick O'Brien, working diligently on many different university levels, has made it clear that WTAMU will be THE leader in technology deployment in and out of the classroom, finding greater delivery efficiency and effectiveness. It's comforting to know that as a professor you have been enabled by the best tools in the industry by your administrative team in such a manner."
And with the recent completion of renovations in the University's Classroom Center, WTAMU is poised to meet the demands of 21st century teaching and learning with technology found in rooms like the Amarillo National Bank Smart Classroom. It is considered one of the most advanced smart classrooms in the state and offers full video conferencing capabilities that can connect WTAMU to any other video conferencing site in the world.
"The Classroom Center is our flagship of technology," Webb said. "Video conferencing was originally just available in our Hastings Electronic Learning Center. We now have that capability at the Amarillo Center and the Classroom Center with plans to expand it to Old Main and the Agriculture and Natural Sciences Building. Our goal is to have video conferencing capabilities in every building on campus."
The partnership between technology and academics can be found all across the WTAMU campus—the Virtual Math Lab, digital signage, Buff Alert, video streaming—and Webb and De'Armond will be part of that trend when they make their presentation for the Cisco conference via technology.
—WTAMU—