March 22, 2012
COPY BY:    Rana McDonald, 806-651-2129,
rmcdonald@mail.wtamu.edu
Walker Receives Career and Lifetime Achievement Award
CANYON, Texas—Jean Walker, instructor of finance at West Texas A&M University, was awarded a joint Career and Lifetime Achievement Award from the Amarillo Women's Network (AWN) during the organization's annual awards presentation Thursday, March 8 in Amarillo.
AWN began giving career awards and lifetime awards in 1981, and this year's event marked the first time a joint Career and Lifetime Achievement Award has ever been presented. AWN organized in 1980 to provide a professional group for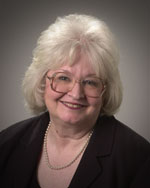 area businesswomen and continues today to help in the advancement of careers through meetings, workshops and seminars. For more than 30 years the organization has presented annual awards to honor and recognize women who have achieved major advancements or milestones in their professions or careers.
The joint Career and Lifetime Achievement Award recognizes Walker's commitment to AWN as well as her professional achievements in teaching and research. Walker joined AWN in 1981 and since then has been an active member. She has been involved in various committees and an active participant in the group's mentoring program. She served as AWN's fourth vice president from 2006-2008 and chaired the scholarship committee. Walker also has presented numerous programs through the years, often focusing on personal finance and demographics.
In 2011, Walker was named the Jerry Miller Professorship in Entrepreneurship at WTAMU. She joined the WTAMU faculty in 1980, where she teaches corporate finance, financial management and personal financial planning. She serves as the Sam Walton Fellow and adviser for the University's SIFE team, a group that has garnered 17 straight regional championships. She has numerous refereed articles to her credit and has been a presenter at workshops, conferences and seminars across the country. Walker earned both her bachelor's and master's degrees at WTAMU.
The AWN award puts Walker on a distinguished list of previous career and lifetime achievement award recipients.
 
—WTAMU—