Student Medical Services
Mission
Student Medical Services provides high quality, confidential, holistic health care services to our diverse student population while minimizing costs. We are committed to maintaining the physical and mental well being of our students to enhance educational experience and overall academic success.
Services
Illness, Injury and Preventive Care
Minor Surgery Under Local Anesthetic
Lab Services
X-ray Services
Mental Health - Screening Brief Intervention and Referral
Women's Services: contraceptives, ECP - Plan B, pregnancy testing, pap smears, GYN exams, etc.
Cold Care Packs: decongestants, antihistamines, cough medication and pain relievers, free, no appointment necessary
Immunizations and Injections
Medical Equipment: splints, medical boots, crutches, slings, etc. - loan or purchase. Thermometers - $2 each.
Class D Pharmacy offering approximately 40 generic medications
Patient Assistance Programs - A program that can assist the uninsured and low income patients obtain free or low-cost routine medications. (birth control not included) .
CPR/AED, BLS/ED (Basic Life Support for health care providers and first responders) and First Aid Classes - Offered to students, faculty and staff - $17 for certification card. Nursing major students must check with the Nursing Department prior to scheduling with Student Medical Services.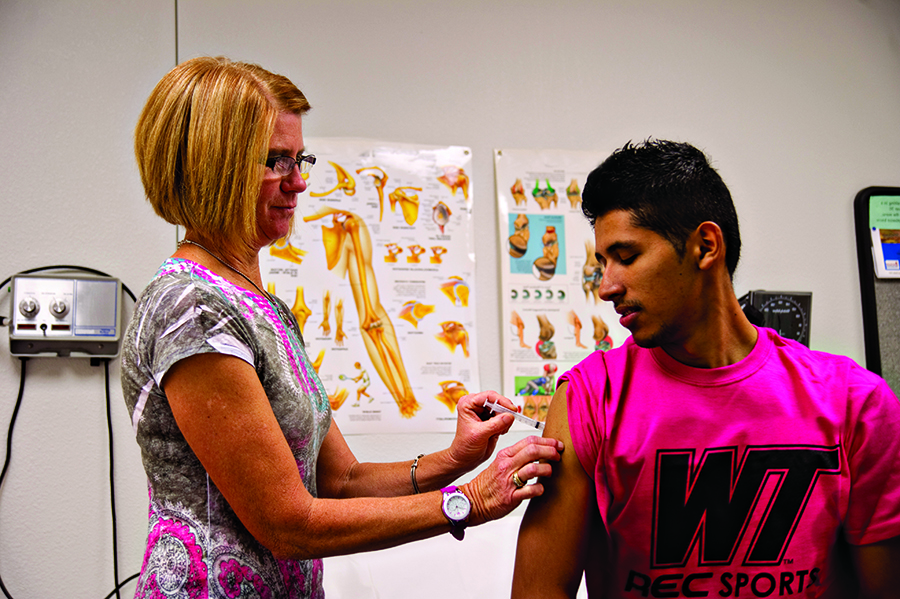 Required Immunizations
Meningitis Vaccine: (Offered at Student Medical Services during New Student Orientations and Transfer Student Orientations to new and returning students.)
Texas law requires all students entering an institution of higher education (public and private) to either receive a vaccination against bacterial meningitis or meet certain criteria for declining such a vaccination. This law also requires that the meningitis vaccination occurs within a five-year period before the student arrives at school.
This applies to all new incoming students, under the age of 22, regardless of living on or off campus or any student, that sits out a long semester.
For more information on the meningitis vaccine requirements and forms: www.wtamu.edu/meningitis
---
Appointment Hours
Fall and Spring
| | |
| --- | --- |
| Monday: | 8:30 - 11:15 a.m. and 1:30 - 6:15 p.m. |
| Tuesday-Friday: | 8:30 - 11:15 a.m. and 1:30 - 4:15 p.m. |
Summer I and II
| | |
| --- | --- |
| Monday-Friday: | 8:30-11:15 a.m. and 1:30-4:15 p.m. |
The center is open only when school is in session and is closed during Intercession, weekends and WTAMU holidays. The front desk will be open Monday - Friday 8 a.m. - 5 p.m. for administrative purposes.
Appointments Call 806-651-3287 or schedule an appointment online. Appointments are required and we make every effort to work around class and work schedules. Students must be currently enrolled and present their Buffalo Gold Card to enter the building.
No Shows The clinic will consider a no show appointment at any time a patient has not given advanced notice within 1 hour of the appointment. All no show appointments are charged a $20 non-cancellation fee per occurrence, $40 per occurrence charge for students that have over 3 no shows and $40.00 for specialist appointments per occurrence.
Emergencies Call 911. Emergency and after hour care is available through local physicians, clinics and hospitals. Students with severe injuries or life threatening situations should go directly to the hospital or an emergency center for treatment. We are not an emergency center and do not provide assessments for worker's compensation cases.
Payment The $70.00 Student Health Fee, paid upon enrollment, covers the cost of most office visits, however, there may be charges for diagnostic tests, injections and some procedures. This fee also covers Counseling Services - up to ten sessions per fiscal year at no additional cost. Patients are encouraged to pay any additional medical fees at the time of service. Patients who do not pay within 14 days will incur a $2 processing fee and a hold on academic records. Medical Services accepts cash, check, the Buffalo Gold Card and credit cards (credit cards in person). All payments with major credit cards (Visa, Master Card, American Express or Discover) must be made in person in the Student Medical Services office to be processed. The student health fee does not cover referrals or emergency care at any other facility. Any unpaid balance not paid within a 90 day period or by the close of the semester is subject to collection fees assessed by an outside agency.
---
Insurance
Student Medical Services utilizes a third party billing company. The student health fee, which is paid by the student with each semester's academic charges, covers the co-payment. Students may opt to have their primary insurance company billed for services (lab tests, x-rays, medical procedures, medications, etc.) or they may choose to self-pay. Students may bring in their insurance card (front and back of the card) to be scanned, e-mail a copy of health insurance cards to medical@wtamu.edu or fax 806-651-3289. Please be sure that the front and back of the insurance card is legible and includes the name of the student and the student's Buffalo Gold Card number.

Student Insurance Plan AcademicBlue - Blue Cross Blue Shield
Toll Free - (877) 624-7911
To enroll in this option plan or for more information about the student health insurance plans please go to the following Academic Blue: https://wtamu.myahpcare.com/
Patient Assistance Programs
There are patient assistance programs that can provide financial assistance for routine/maintenance prescription medications (this does not include contraceptives) to patients that are uninsured and qualify as low income. Please schedule an appointment with the Patient Advocate - Hayley Robinson, RN. (previous tax returns and proof of income are required)
Sick Notes
The medical staff will write an excuse note for class or work if the student was ill or injured and only if our providers were involved in the medical care of the student. Please note: Our medical providers cannot write excuse notes for illnesses or problems for which we never provided care. A diagnosis is not disclosed unless requested and approved by the patient.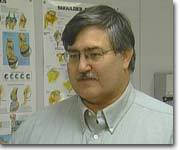 Staff
Director: LuAnne Rickwartz, RN

Board Certified Family Physician: James Gibbs, MD

Family Nurse Practitioners - Candy Marshall, RN, FNP

Family Nurse Practitioner - Wendy Bertram, FNP

Family Nurse Practitioner - Teresa Smoot, FNP

Sarah Pierce, Health Integration Specialist

X-ray technician: Donna Adams-Stevens, R.T.(R)

Registered nurses: Hayley Robinson, RN, Patient Assistant Advocate and LuAnne Rickwartz, RN

Medical Office Manager: Lori O'Toole

CPR/AED Coordinator: Kristin Huseman
Questions about Ebola Ebola Information What you need to know about Ebola.
Other professionals, medical students, nurse practitioner students, nursing students, etc., may also be involved with patient care.
Updated 10/7/19