The Remnant Trust
With the generous support of Barbara and Jim Whitton, the Sybil B. Harrington College of Fine Arts and Humanities and the Department of History has regularly hosted original documents from The Remnant Trust.  Documents reside in Cornette Library and in the Research Center at the Panhandle-Plains Historical Museum.  The highlight of the residency of these treasures is a scholarly presentation , open to the public, and including the rare opportunity to handle the materials directly, to touch history itself. 
Any questions or comments may be directed to Dr. Bruce C. Brasington,  bbrasington@wtamu.edu
The Remnant Trust (Facebook)
The Remnant Trust at WTAMU has been generously supported by Barbara and Jim Whitton. The Department of History at WTAMU has been privileged to host some of these fantastic early edition manuscripts offering the university and local community the opportunity to hear from great faculty members and outside speakers while gaining access to see and touch this great works.
The Remnant Trust
The Remnant Trust is a public educational foundation that shares an actively growing collection of manuscripts, first edition and early works dealing with the topics of individual liberty and human dignity with some pieces dating as early as 2500 B.C. The Remnant Trust makes this collection available to colleges, universities and other organizations for use by students, faculty, scholars and the general public. Those exposed are encouraged to touch, feel and read the originals, including first English translations.
Past Events
Fall 2021
October 14 * Film Screening of "Iron-Jawed Angels" * 6:00PM in OM 220 
October 28 * Roundtable Discussion * 7:00PM-9:00PM in Legacy Hall.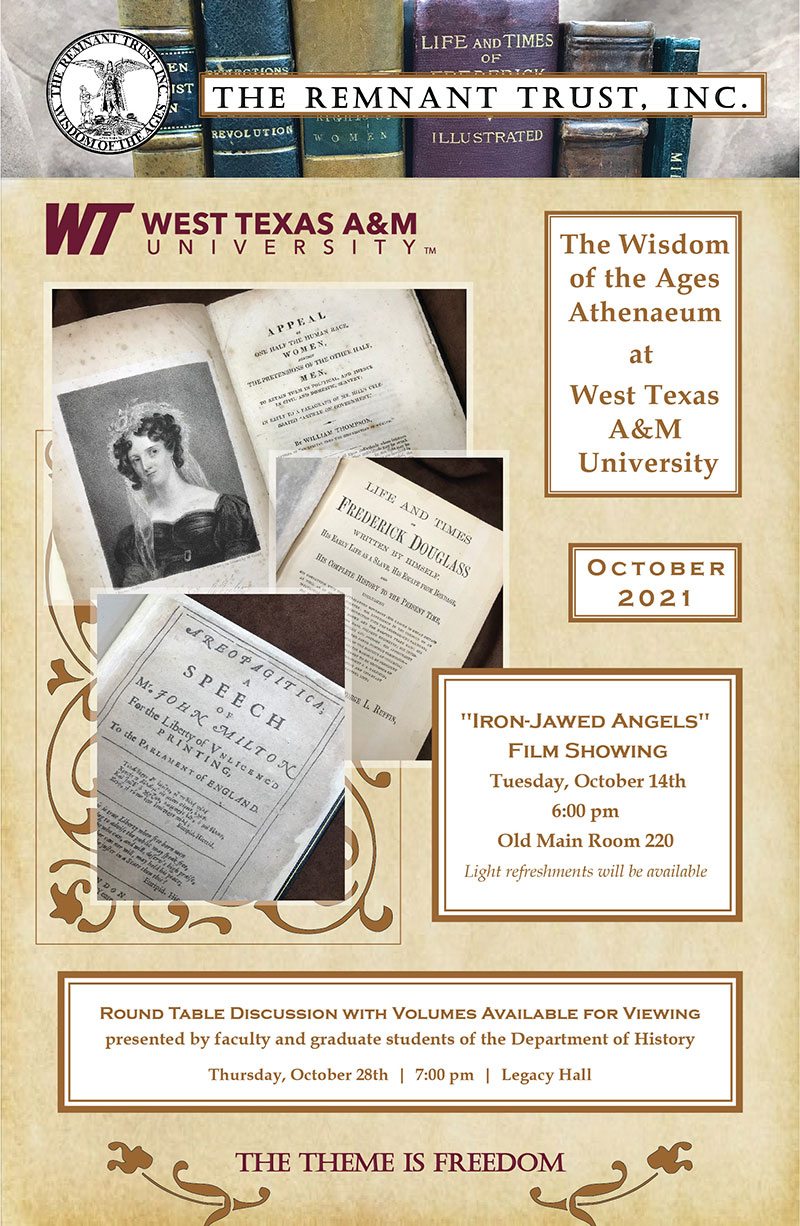 Fall 2019
October 1 * The Remnant Trust * JBK Legacy Hall *  6:30 p.m.
The Western Heritage & Global Consequences of the Paris Peace Conference
Featuring Dr. Elizabeth Morrow Clark
Roundtables at 12:30-1:15 in JBK Senate Chamber
Sept. 17 *  International Organizations with Dr. Chris Macaulay
Sept. 24 * The Middle East with Ms. Courtney Crowley
Oct. 1 * Literature & World Affairs with Dr. Bonnie Roos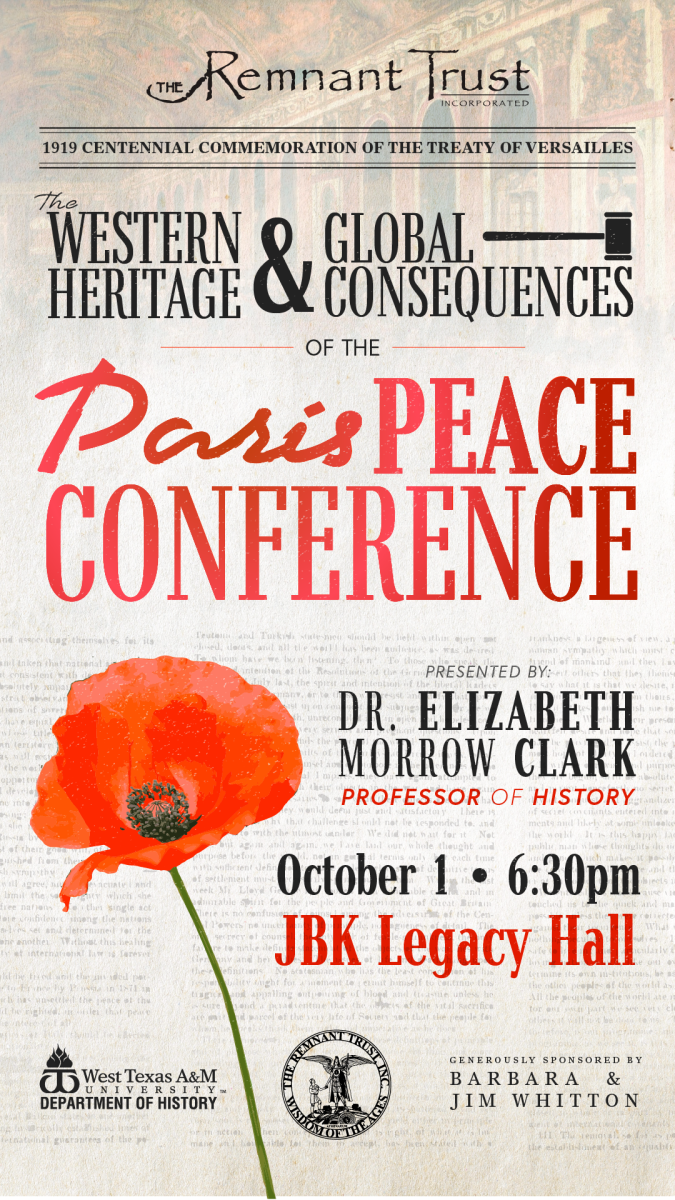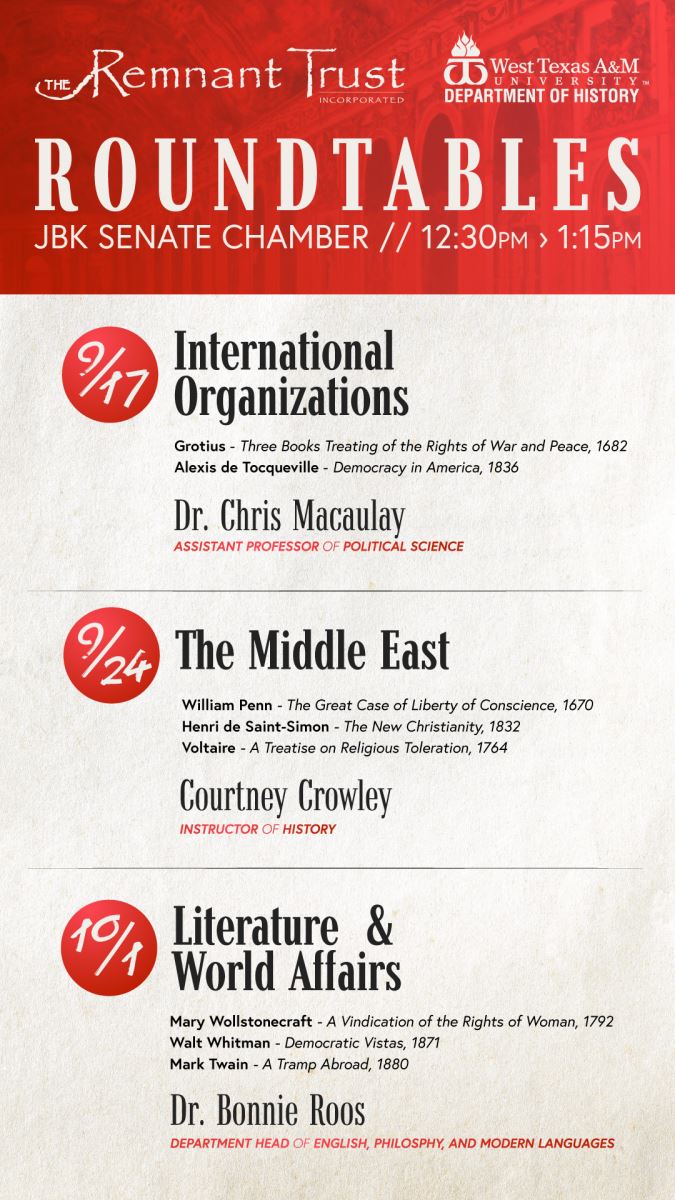 Fall 2018
The Remnant Trust * Science Through the Ages: Ethics, Astronomy, & Matter
Speakers: Dr. Cathy Clewett, Dr. Nick Flynn, Dr. David Craig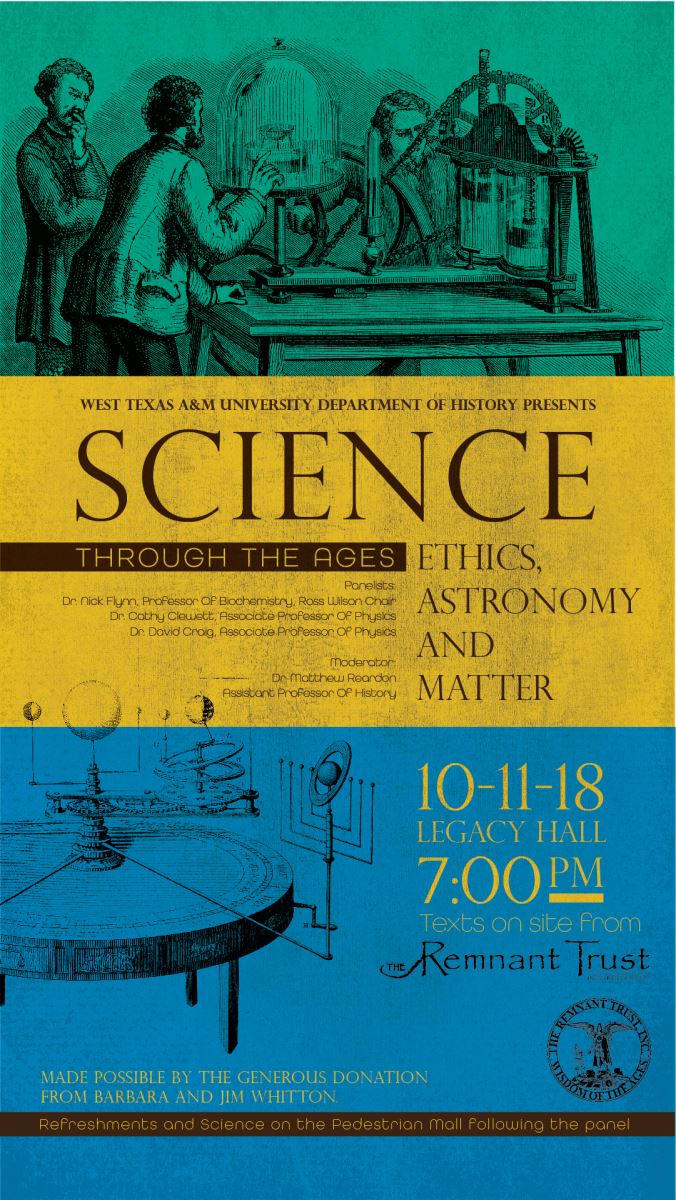 Fall 2017
The Remnant Trust Returns to WTAMU
Here We Stand: The Reformation and the History of Freedom
Featuring Dr. Bruce C. Brasington