Where People Are a Company's Greatest Asset
While it takes special skills to serve as a manager in the corporate realm, it takes a completely different skill set to perform the duties of human resource management. Our Management - HR specialization trains students to assume the responsibilities needed to tackle the many nuances of corporate life, which includes factors affecting staff as well as managers themselves.
Along the way, students will select from courses that examine diversity and cross-cultural management, compensation, negotiation, leadership, recruitment and selection, ethics, organizational behavior, management communication, and more. Thus, this specialization is broader in scope than a traditional management degree, because it encompasses every employee, from top to bottom.
It would be easy to conclude that HR jobs such as this would only be with large corporations, but that is not true. It is recommended that an HR specialist be hired when there are as few as 10 employees with a company. This opens wide the prospects for employment in this field.

If you have the knack for becoming what amounts to a macro specialist, Management - HR is a very viable option. The modern company needs talent who can recruit, lead, and retain the rest of the talent.
QUALIFY FOR THE SHRM-CP EXAM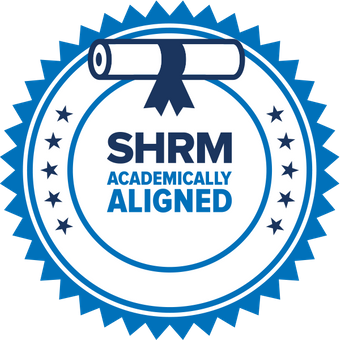 The Society for Human Resource Management's Certified Professional (SHRM-CP) Exam is among the most comprehensive competency based certifications available for HR professionals. Possessing this universally respected certification can act as a powerful advantage and tool in the field of HR. Our college worked with SHRM to make sure our curriculum aligned with the knowledge needed to pass this exam.
B.B.A. - Management, Human Resource Management Specialization
Available 100% Online
MAJOR REQUIREMENTS (2023-2024 Academic Catalog)
30 hours from:
MGT 3335 - Organizational Behavior

 

MGT 4311 - Business Ethics and Society

 

MGT 4330 - Critical Issues in Human Resources Management

 

MGT 4333 - Diversity and Cross Cultural Management

 

MGT 4334 - Compensation Administration

 

MGT 4336 - Leadership Development

 

MGT 4337 - Leadership and Teamwork

 

MGT 4360 - Recruitment and Selection

 

MGT 4365 - Training and Development

 

MGT 4370 - Health Care Management

 

MGT/BUSI 4380 - Conflict Resolution and Negotiation

 

 

BUSI 4330 - Employment Law

 

BUSI 4333 - Cross-Cultural Issues in Business Communication

 

BUSI 4350 - Current Issues in Management Communication

 

ECON 4351 - Economics of Labor Resources

 

FIN 4368 - Retirement Planning and Employee Benefits

 
At least 9 hours must come from MGT 4330, MGT 4333, MGT 4334, MGT 4360, MGT 4365, or BUSI 4330
For more details about courses required for this degree see the Advising Services Degree Checklist Page and select the catalog year that you are following for your degree plan.
OTHER MANAGEMENT PROGRAMS
CAREER OPPORTUNITIES
Human Resource Managers
Recruitment
Hiring and retention
Consulting
Oversee Compensation
Labor relations
Negotiate dispute resolutions
Human Resource Specialist
Specialist in performing one or more roles such as: 
Talent acquisition
Training and development
Salary and benefits
Performance evaluation
HR Information Systems
Data and analytics
Training and Development Specialist
Create and administer programs
Assess needs and solutions
Identify appropriate materials
Coordinate logistics
Evaluate program effectiveness
Training and Development Manager
Oversee training/development of staff
Align training and company goals
Create and manage training budgets
Update training programs for relevance
Teach training methods and skills to instructors
Dispute Resolution Specialist
Mediation and problem-solving
Investigate relevant information
Generate viable solutions
Negotiate a mutually satisfying resolution between conflicting parties
Occupational Health and Safety Specialist
Inspect, test, and evaluate workplace practices
Ensure safety standards and government compliance
Design and implement safety-enhancing protocols
Educate employers on best practices for health and safety
Investigate incidents and accidents
For more information about Human Resource Management Careers and Salaries, visit http://wtamu.myplan.com.