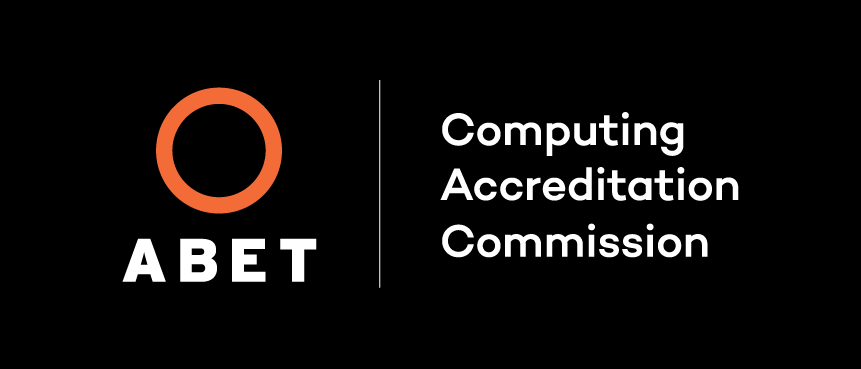 The Bachelor of Business Administration in Computer Information Systems program, in the Computer Information and Decision Management Department in the Paul and Virginia Engler College of Business at West Texas A&M University, is accredited by ABET's Computing Accreditation Commission. ABET accreditation symbolizes and reminds us of our commitment to uphold a quality business-computing program. We strive to maintain this quality through technology-focused instruction, student-centered co-curricular activities, and the instillation of life-long learning as a principle and characteristic. ABET accreditation serves as a guide and regimen whereby we focus on assessment, evaluation, and continuous improvement in order to grow and flourish.
Program Educational Objectives
Program Educational Objectives are broad statements that describe what graduates are expected to attain within a few years of graduation. Program educational objectives are based on the needs of the program's constituencies. The Computer Information Systems program has four Program Educational Objectives, which are the career and professional accomplishments that the program is prepares graduates to achieve:

PEO1: (Applied Skills and Knowledge) Apply foundational knowledge and technical skills to work in a business environment.

PEO2: (Analysis and Design) Synthesize core knowledge of computer information systems to analyze, design, and implement solutions to real-world business problems.

PEO3: (Currency) Actively engage in life-long learning and professional development.

PEO4: (Teamwork) Work in teams to solve business problems by utilizing effective communication and collaborations skills.
 
Student Outcomes
Student outcomes describe what students are expected to know and be able to do by the time of graduation. These relate to the knowledge, skills, and behaviors that students acquire as they progress through the program. Below are the Student Outcomes for the Computer Information Systems Program. Students will have:

SO1: An ability to analyze a complex computing problem and to apply principles of computing and other relevant disciplines to identify solutions.

SO2: An ability to design, implement, and evaluate a computing-based solution to meet a given set of computing requirements in the context of the program's discipline.

SO3: An ability to communicate effectively in a variety of professional contexts.

SO4: An ability to recognize professional responsibilities and make informed judgments in computing practice based on legal and ethical principles.

SO5: An ability to function effectively as a member or leader of a team engaged in activities appropriate to the program's discipline.

SO6: An ability to support the delivery, use, and management of information systems within an information systems environment.
PROGRAM ENROLLMENT
2013-2014: 114
2014-2015: 123
2015-2016: 118
2016-2017: 102
2017-2018: 99
2018-2019: 104
2019-2020: 123
2020-2021: 137
2021-2022: 137
2022-2023: 144
CIS PROGRAM GRADUATES
2013-2014: 22
2014-2015: 19
2015-2016: 36
2016-2017: 23
2017-2018: 18
2018-2019: 35
2019-2020: 24
2020-2021: 22
2021-2022: 32
2022-2023: 19