Welcome to the Graduate School at West Texas A&M University. We are honored you have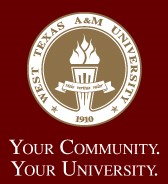 selected to explore our Graduate School website. If at any point you haven't found what you are seeking, don't hesitate to contact us. In our Graduate School Office, you will find a group of professionals who are eager to serve you, and who are experienced with and value the enterprise of graduate education. We understand the commitment of graduate education and seek to help you successfully facilitate the process, from inquiry to graduation.
The Graduate School website connects you to over 40 graduate programs and the associated program faculty advisors. Additionally, you will find admission requirements and deadlines, online only programs, financial information, and other general information about WTAMU graduate programs.
Graduate education can be a springboard for future employment and career advancement, enhanced workplace skills, career changes, income gain, and personal and public good contributions. Combined with our portfolio of nationally ranked programs, delivery options, and cost competitive pricing, we believe WTAMU is an exceptional opportunity for your post-baccalaureate needs.
We sincerely hope that you will choose West Texas A&M University for your graduate education.
Sincerely,

Dr. Angela Spaulding
Vice President for Research and Compliance and Dean of Graduate Studies
West Texas A&M University
This $1,000, one-time tuition scholarship is available to May 2018 graduating WT undergraduate and graduate students who enroll in a new graduate degree-seeking program at West Texas A&M University for the summer 1, summer 2, or fall 2018 semester. To qualify for this scholarship, students must have submitted their full/complete program application package to the Graduate School by midnight on May 25, 2018 CST in addition to submitting the online scholarship application.

For information on how to apply for this tuition scholarship, contact the Graduate School at 806-651-2730 or graduateschool@wtamu.edu.