Past LGBTQIA+ Speakers
WTAMU frequently hosts dynamic speakers during LGBTQIA+ month - October. Take some time to revisit or listen to these speakers for the first time. Click on the poster images to be redirected to WT's YouTube Channel archive.
Common Place: LGBTQ Support Group
Fridays, 12-1 p.m.
Location: Student Counseling Services, Classroom Center #116
Spectrum WT 
Thursdays, 7 p.m.
Location: Classroom Center 335
Spectrum WT is the student-led LGBT+ organization on campus whose

 purpose is to foster diversity, equality, and awareness through both education and community! Meetings and events are open to all students. 

To stay updated, find Spectrum WT on social media! 

Facebook: Spectrum WT. Instagram: @wtamuspectrum. Twitter: @wtamuspectrum. 
Buff Allies/Spectrum Meet & Greet
September 9 (Monday), 12:30 - 1:30 p.m.
Location: Classroom Center #306
A great opportunity to meet our Buff Allies and Spectrum members!  Lunch provided.

 
Lunch 'n Learn
Date TBD, 12:15 - 1:15 p.m.
Location: JBK
Grab your lunch and join us to learn about a different LGBTQIA topic and enrich your knowledge!  A day is never wasted when you learn something new. 
Guest Speaker: "Living OUT Loud in a Quiet on the Set World" with Greg Petruska
October 14 (Monday), 6 p.m.
Location: FAC Recital Hall
Greg Petruska works with NBCUniversal in the Environmental Health & Safety division and has over 17 years experience in the entertainment industry and over 15 years' experience in EHS working for NBCUniversal in different capacities. He joined NBCUniversal in the summer of 2004 and for a while was the sole safety manager for all television productions in NYC. He helped keep shows like SNL, Law & Order, and Late Night with Conan O'Brien operating safely during production. He has the distinction of working on two of the longest running television shows - Law and Order and Law and Order: SVU. In 2008, he joined the Universal Theatrical Group Safety team currently represented by shows like Wicked and Billy Elliot the Musical. Currently, Greg serves as the Director, EHS for Universal Theatrical Group Worldwide.

This event is brought to you by Buff Allies.
Safe Zone Training
October 18 (Friday), 1-5 p.m.
Location: FAC 176
Buff Allies include students, staff, and faculty who have attended the four-hour Safe Zone workshop exploring the unique needs and concerns the LGBTQIA community faces in higher education while also building their knowledge, skills, and abilities for creating a more inclusive and affirming campus for all students. Additionally, Safe Zone members display a Buff Allies placard in a visible location such as a door to an office that identifies them as a friend, supporter, and campus resource for anyone seeking information or a listening ear. This placard identifies dedicated safe spaces on campus for LGBTQIA individuals to connect with allies to the community.

During the Safe Zone training, members develop an understanding of LGBTQIA terminology and symbols, history, concepts of privilege and identity development, interact with a panel of LGBTQIA speakers, and build skills for identifying and interrupting language and behavior that may be discriminatory. Campus resources and reporting processes are also shared.
Contact Dr. Kristina Drumheller at kdrumheller@wtamu.edu or 806-651-2816 to RSVP!
November
Lunch 'n Learn: TBD
Date TBD, 12:15 - 1:15 p.m.
Location: JBK
Grab your lunch and join us to learn about a different LGBTQIA topic and enrich your knowledge!  A day is never wasted when you learn something new.
June through August
New Student Orientation - Buff Allies Table in Legacy Hall
Buff Allies hosted a table at all six New Student Orientations last summer!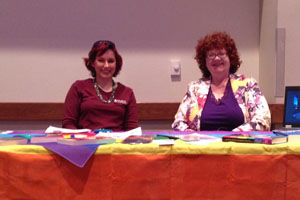 Dr. Medlock (left) and Dr. Stuntz at the Buff Allies Table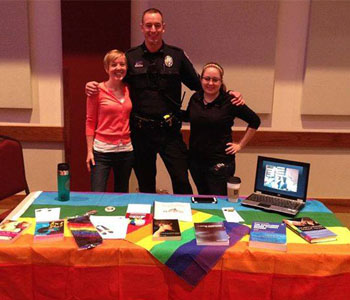 Alice MillerMacPhee (left), Sergeant Nethery (center),
Lana King at the Buff Allies Table 
Other Events