PULSE is a student organization that seeks to educate and support students in making healthy lifestyle choices with regard to important social issues faced by college students. The focus of PULSE is to provide fun, interactive and informative programs and services to students, as well as the external community, that will enhance both personal and academic skills. PULSE is open to any student interested in becoming a resource to their fellow WTAMU students and community.
Applications are available on handshake.
Awareness Events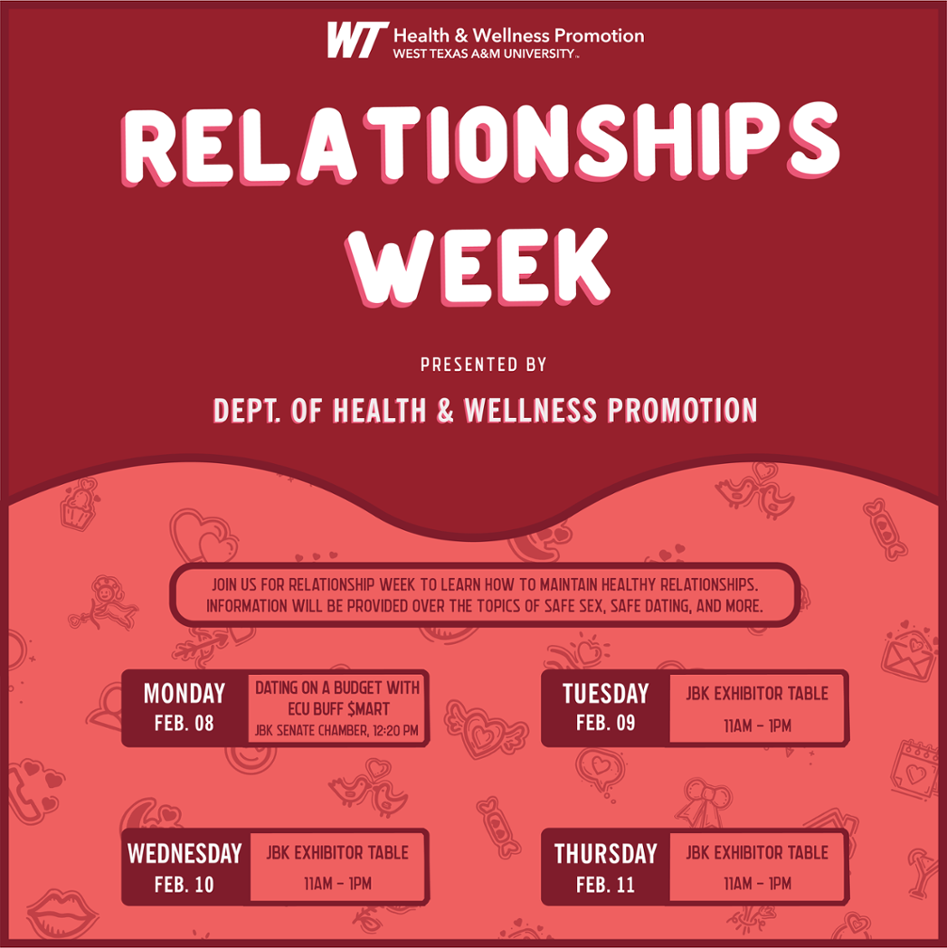 Relationship Week
Relationship Week is the week of Valentines Day.  PULSE and the Health and Wellness Promotion Office wants to inform students that they can be smart, sexy and safe in their relationship. 
---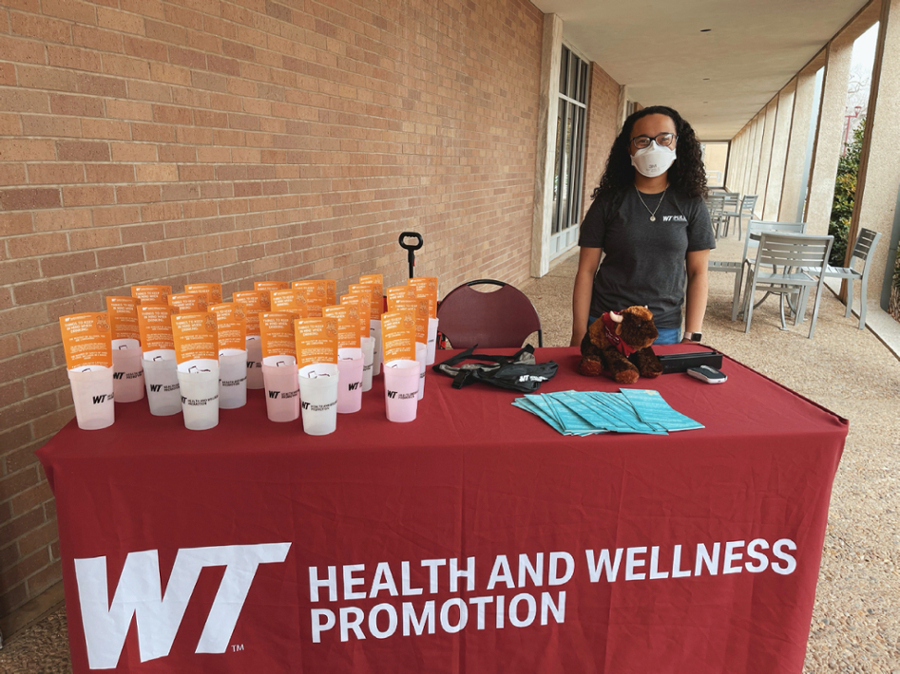 Safe Spring Break Week
Safe Spring Break is the Week before Spring Break. PULSE gives information to encourage students to make smart choices while on spring break. PULSE hosts many events that give information on issues that can happen while on spring break. Topics include drugs and alcohol awareness, sexual responsibility, By-Stander Intervention, and other issues students may encounter on spring break.
---
National Volunteer Week
National Volunteer Week is a time to celebrate people doing extraordinary things through service and volunteering. PULSE helps students get involved with the university and the community. PULSE encourages its members, as well as other WT students, to get involved and make connections to the community by volunteering. For more information and places to volunteer click on the following links:
http://www.pointsoflight.org/signature-events/national-volunteer-week
http://amarillo.com/stories/2002/12/15/fea_volopp.shtml
---
"YOU CALL THE SHOTS"
PULSE helps show students to better understand alcohol, alcohol abuse and impaired driving. This week long event encourages students to make safe choices, take care of friends, learn how to use alcohol responsibly and never let someone drink and drive.  
---
Great American Smokeout
The American Cancer Society marks the Great American Smokeout on the third Thursday of November each year by encouraging smokers to use the date to make a plan to quit, or to plan in advance and quit smoking that day. By quitting — even for one day — smokers will be taking an important step towards a healthier life - one that can lead to reducing cancer risk. For more information click on this link: http://www.cancer.org/healthy/stayawayfromtobacco/greatamericansmokeout/
---
S
exual Assault Awareness Month
Sexual Assault Awareness Month is in the month of April. This month is to raise awareness about sexual violence and educate students how to prevent it. PULSE host events throughout the month to give information to students so we can stop sexual assault. For more information click on the following link: http://www.nsvrc.org/saam/  
---
Safe Campus Strong Voices
Safe Campus Strong Voices is hosted in the month of September. PULSE hosts many events to tell students that they have a voice and should speak up. Using your voices and speaking up will help keep our campus safe and encourage By-Stander Intervention.
---
Certified Peer Educators are trained in the following areas:
Drugs, Alcohol and Tobacco Awareness
Distracted Driving Prevention
Healthy Relationships
Internet Safety
Nutrition
Sexual Responsibility
Stress Management
Time Management
Healthy Body Image
 How Do I Become a PULSE Member?
Students must complete an application, found on HandShake.
Students must attend bi-weekly meetings 
Members must sign an agreement to comply with the Code of Conduct, Code of Ethics and Attendance Boundaries. Members must also sign and abide by a Confidentiality Agreement.
PULSE members are in no way skilled to take the place of trained mental health professionals or professional guidance counselors, but serve as a means of referral to professional services.
Who to contact for more information:
Darcy Webber
Coordinator of Health and Wellness Promotion
VHAC 121
(806)651-2910
dwebber@wtamu.edu
Community Partners