West Texas Office of Evaluation and Research (WTER)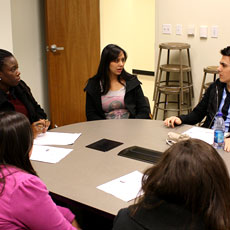 The West Texas Office of Evaluation and Research (WTER) is a diverse group of faculty and staff with expertise and experience in research, grants, and evaluation. Our scholars are committed to providing high quality feedback - both quantitative and qualitative - to program directors and funding agencies through:
Consultation
Questionnaire creation
Online data collection
Interviews and focus groups
Survey administration
Scaling
Data/statistical analysis
Report writing
Our associates consist of University faculty holding doctorates in applied mathematics, political science, public health, engineering, education, nursing, communication, and other fields. They also all have extensive experience in grants and grant evaluation, are members of the American Evaluation Association, and graduates of programs at the Evaluators' Institute and Western Michigan's Evaluation Center. In short, the associates at the West Texas Office of Evaluation and Research are professionals, committed to providing you with the best and most accurate data, and committed to aid you in understanding that data.
Recent Publications
Hispanic-Serving Institutions in the South-Central United States: A Research Report for Los Barrios de Amarillo
 
Role Models and Mentoring Relationships: Preferences Expressed by Hispanic Students Attending Hispanic-Serving Institutions.
 
For more information, email Dr. Michael Preuss or call (806) 651-8775.