Nov. 7, 2019
The Accidental River Discovery
WT student, sister uncover historical bear skull in Kansas
By JON MARK BEILUE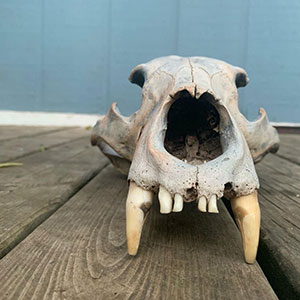 Erin Watt and her sister Ashley welcomed a break. As they like to do over the last three years, they were in two single-person kayaks making their way down the Arkansas River, not that far from where they grew up in south central Kansas.
It was Aug. 18, and they were fighting the wind and some warm temperatures when a sand bar offered a place of rest. What they soon discovered was that same sand bar offered one of the most significant natural history discoveries in recent state history.
"We just started walking around and saw what looked like a skull buried in the sand," said Erin, who will be an animal science graduate in December from West Texas A&M University.
Much to their relief, it wasn't a human skull. It was halfway protruding out of the sand. So the sisters began to brush off the sediments and look at it closer. Initially, they thought it might be a deer skull, which wouldn't be that uncommon.
But that would have to be one big deer. The skull was 16 inches long and 8.5 inches wide. Closer inspection showed teeth that were at least two inches long. Not a deer.
"Then, we thought it might be a mountain lion," Erin said. "We have some from around where we're from. But we got to looking at it a little more and the skull was really too long for a mountain lion."
They obviously took the skull with them and then did what anyone would do when making such a discovery – they put it on Facebook. What do we have here, they asked?
One of the answers that kept coming back online was a bear, possibly a grizzly bear. Well, could be, but this was the southern portion of Kansas, and not the Rocky Mountains. Did Yogi make a wrong turn?
The Facebook post and accompanying photos came to the attention of Chris Stout, game warden for Kansas Department of Wildlife, Parks and Tourism. Stout shared the photos, and it certainly intrigued those at the Sternberg Museum of Natural History in Hays, Kan., and in particular, paleontologists Dr. Reese Barrick and Mike Everhart.
This looked to be much more significant than your average arrowhead finding.
About two weeks ago, the Watt sisters gave the skull to the museum. Barrick and Everhart rather quickly determined that it indeed was a fossilized skull of a grizzly bear, a Plains Grizzly Bear.
"This particular skull was in really good shape to be found in a river bank," said Barrick, director of the Sternberg museum. "Certainly, we at the museum have never had a grizzly skull from Kansas. Not sure anyone has had a grizzly skull from Kansas."
Finding older remains of bison is one thing, but a grizzly bear? Barrick said grizzlies are related to the polar bears, which fossils show were in Alaska 100,000 years ago. The grizzlies came to what is now the United States about 13,000 years ago.
"It is an amazing fossil," Everhart, adjunct curator of paleontology at the museum, told KWCH, the CBS affiliate in Wichita. "It's something we don't see in this part of the state. Finding this gives us a better idea of what kind of animals lived here 100 years ago, 200 years ago or 1,000 years ago. We don't know how old this thing is yet."
In Kansas, grizzly bears were believed to have populated certain areas in the 1840s. But the advent of the railroad in eastern Kansas in the 1850s and in western Kansas about 10 years later, and with that, more hunters, a rather small bear population was soon extinct.
Erin works around dead animals at the Beef Carcass Research Center on the WT campus, but nothing quite this dead for this long as this skull. All are curious to find out the exact age of the bear.
"They can't give us a direct answer yet," Erin said, "but it's anywhere from 200 years old to 1,000 years old."
Barrick said some radiocarbon dating on the skull at some time in the future should uncover the age and satisfy a lot of curiosity. About what they do know is the bear was between 12 and 15 years old.
"So we don't know if it's someone's pet that escaped 50 years ago, or if it was something that was wandering upward of 10,000 years ago," Barrick said. "So it's somewhat intriguing to figure this out. It's really a fascinating thing just to figure out the story on this. It's going to be fun and interesting to solve."
Meanwhile, Erin has been taken back a little by the amount of attention the accidental discovery has drawn.
"We never thought it would be a big deal nationally," she said. "We kinda expected the local news channels and local paper to write something. But then Fox News shared it, and someone said they heard about it on NPR.
"I had no idea it would go this far. But I never thought we'd find a bear skull in south central Kansas either."
Do you know of a student, faculty member, project, an alumnus or any other story idea for "WT: The Heart and Soul of the Texas Panhandle?" If so, email Jon Mark Beilue at jbeilue@wtamu.edu.
—WTAMU—