Oct. 31, 2019
From WT Back Home to Oxford
Smith's foundation at WT paves way to renowned grad school
By JON MARK BEILUE
Dr. Jason Yarbrough, an assistant professor of chemistry, received an email about a month ago from a former student, Luke Smith. It was one professors at times receive - a thank you for help over the last few years, for adding a class to help complete his degree, for a reference and advice for graduate school admission.
But the return email address was not so common – Oxford University.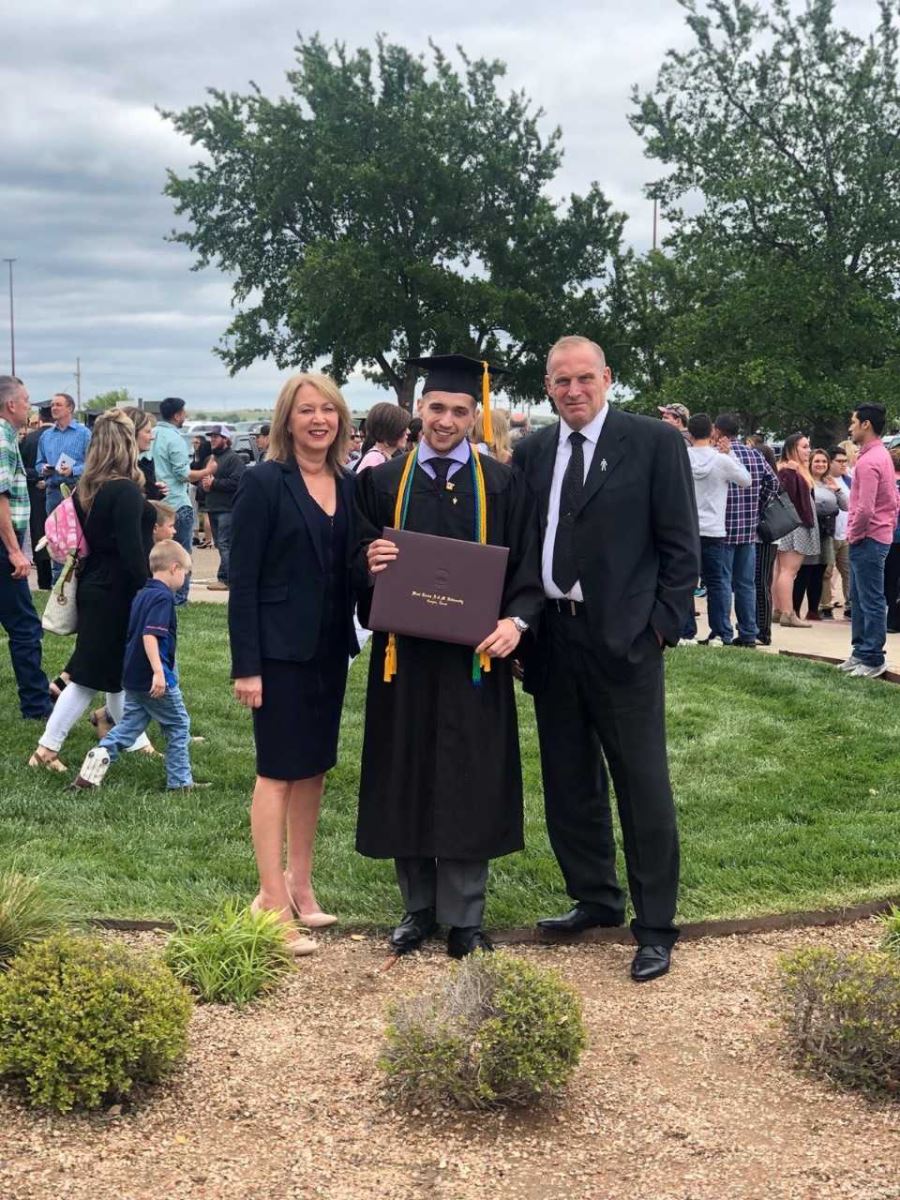 "Oxford is a tall order," Yarbrough said. "Even really great students don't get into Oxford. I was gratified that he took the risk, and when he told me he had a place there, I was so happy. I couldn't believe it."
Smith earned a bachelor's degree in professional chemistry in May from West Texas A&M University, and four months and 5,000 miles later, he was back in his home country at what many say is the foremost collegiate research university in the world.
"I honestly never expected that I would get here," Smith said. "But if I didn't apply, I would never know. Obviously, there are a number of colleges known throughout the world. Being from England, Oxford was the one I always thought about. Never did I think I'd ever get here though."
It was a global transformative route for Smith, who grew up in Barnsley, England, in the county of Yorkshire, 150 miles directly north of Oxford. Smith was athletic, playing soccer and cricket in high school.
In the British school system, he graduated in 2013 at age 16. Chemistry and the sciences were always an interest.
"I've always been fascinated in the how and why certain things were to happen," he said, "from simple reactions to things such as muscle contractions. Learning about this in-depth always fascinated me."
*Photo: Richard and Sharon Smith from Barnsley, England with their son, Luke, who earned a bachelor's degree in professional chemistry and is now in his home country studying at Oxford University.
After high school graduation, Smith spent two years exclusively playing soccer in England before the sport and education brought him to the U.S. He spent one year at Young Harris College in northeast Georgia before transferring to WT to play soccer for veteran coach Butch Lauffer in 2016.
Soccer was able to pay for some of his education, and it was certainly a passion. But school, specifically chemistry, was his springboard to the future.
"I would never say it all came easily. I was challenged a lot in college," Smith said. "I always felt that two years out of education that I was behind and that spurred me on more to try as hard as I could and put the hours in to get what I wanted."
Smith pursued a degree in professional chemistry, where more advanced courses are geared toward graduate school. He graduated summa cum laude in May.
An ambitious goal of Oxford
"He was a really good student," Yarbrough said, "and I hate to say it like this, but surprisingly good. I don't mean that in a negative way. In the field of chemistry, you get good and smart young folks come through, and occasionally, you get the kind of students who are outstanding in a number of ways. I always felt like Luke was one of those."
To graduate in May, Smith, who may have gotten off track in coursework, needed an inorganic chemistry course. The course was not planned for last spring. But Yarbrough designed a variable content course for individual study in inorganic chemistry to satisfy the degree requirement.
Smith also told Yarbrough that he was hoping to get into graduate school. That wasn't surprising for a bright student who wanted to teach. But that one of the schools he was applying to was Oxford, was a pretty ostentatious goal.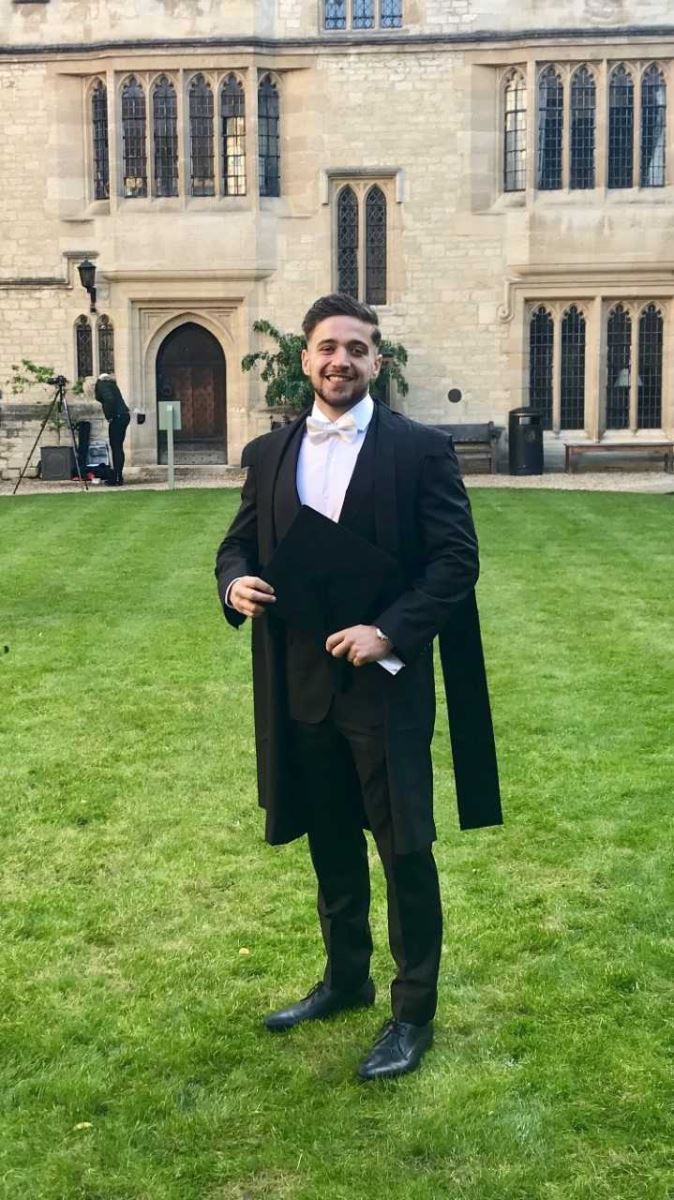 There is evidence of teaching at Oxford as far back as 1096, making it the oldest university in the English-speaking world. Rhodes Scholars study at Oxford. Looked upon as perhaps the top collegiate research university in the world, acceptance rate among the world's brightest students is still just 17.5 percent.
"I was proud of him for being ambitious enough to apply to that kind of program," Yarbrough said. "A lot of people from smaller schools believe it might be impossible to get into Oxford, but it's not. It can be done. It's not the easiest thing to do, but I felt Luke had a shot and told him so."
After the initial application, Smith was notified that an Oxford professor wanted to interview him on the phone. He turned to Yarbrough for advice.
"I gave him my experience on something like that," he said. "It's unusual for an academic application, but it's kind of like a job interview."
Smith and Yarbrough discussed interview strategies for an hour in preparation for the interview. The conversation with the Oxford professor through Skype was comfortable, Smith said, though he had no idea what would come from it.
He found out in February that he was accepted. Smith is enrolled in the master's program at Oxford. At the end of the academic year, he will undergo a "transfer of status," where he will learn if he's suitable to continue on for his doctorate. If so, he will pursue a doctorate over about four years in physical and theoretical chemistry.
The surprise of acceptance has worn off in place of the road ahead. Smith's work is primarily research-based on protein interactions and structural conformations. Class and research began for Smith around Oct. 1, not so coincidentally when he sent his email to his professors at WT.
*Photo: Luke Smith says it was West Texas A&M University, where professors ignited his passion for chemistry, providing the foundation for his acceptance to graduate school at Oxford University.
"I just wanted to thank Dr. Yarbrough and Dr. Tao (Shiquan Tao, professor of chemistry) for everything they did for me whilst being at WT," Smith said. "I hope to stay in contact with them because without them and all the professors I had classes with in the chemistry department, I would not be where I am today. WT was really where my passion for chemistry came from, and it's all down to the professors I had."
Acceptance to Oxford for Smith is actually two parts – it obviously reflects on the student and exceptional work done on the undergraduate level, but it also reflects on the University from which students like Smith got their foundation.
"While going from WT to Oxford is a big leap, it's not impossible," Yarbrough said. "We provide access to a solid experience. When a student comes here, we do our very best to give them access to opportunities to learn.
"We are hands on in the classroom and lab, and we make sure research and all of these experiences are professional and part of their matriculation. Someone with exceptional talent like Luke, in concert with all these elements in four years at WT, is going to stand out in front of any faculty panel and just about any institution in the world."
Do you know of a student, faculty member, project, an alumnus or any other story idea for "WT: The Heart and Soul of the Texas Panhandle?" If so, email Jon Mark Beilue at jbeilue@wtamu.edu.
—WTAMU—