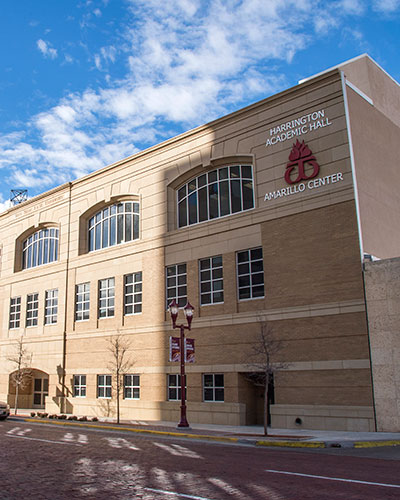 Harrington Academic Hall
WTAMU in the Heart of Amarillo
West Texas A&M University is changing the landscape of Amarillo with the creation of a permanent campus in the heart of the city. The new Buff stomping grounds will be located in the Commerce Building at 8th Avenue and South Tyler Street, a central location that allows for future expansion.
The creation of a permanent WT presence will further efforts to revitalize and energize downtown Amarillo, while helping provide a highly qualified workforce for area employers. The Harrington Hall, currently located in the Chase Tower, has been a resounding success. The renovation of and move to the nearby Commerce Building will allow WTAMU to serve more students in the region.
Take Classes in Amarillo
WTAMU offers select upper-level and graduate classes in downtown Amarillo at the new Harrington Hall. Those who enjoy the face-to-face classroom experience will find the Harrington Hall to be the perfect option for building a résumé or completing a degree with less drive time. Search course offerings at Harrington Hall by following this link. Choose the Term, then select "300 - Amarillo Center" as the Location.

Classrooms are located in the basement of the
Harrington Academic Hall WTAMU Amarillo Center.
720 S. Tyler
Amarillo, TX 79101

Call for rental pricing information
Reserve a Space
Contact Michelle Howington at 651-8200 for more information.
Faculty offices, Counseling - School (M. Ed.), Counseling (M.A.) and the Center for Learning Disabilities on 3rd floor.
Services offered by Harrington Hall:
Library Services (3rd floor, Room 316)
Gold Card (3rd floor, Room 312)
Bookstore (located on 1st floor on northeast side of building)
Open Access Computer Lab (located in the basement, Room 41)