Where to Give at WTAMU
Scholarships
Donations to WTAMU scholarships are a life-changing gift that can benefit a great number of deserving students. Even a small gift can make a big difference, because together we can do so much. To give the gift of education, please call
806-651-2070 or give online.
Scholarship Facts
Average contribution amount per donor, per year: $50
Foundation awards approximately $750,000 in scholarships annually through private support
Average Foundation scholarship award—$1,000 per year
Scholarships can be established to honor or memorialize an individual, group or family
Donors can determine any criteria for scholarship award. Don't see the option you want on the Make a Gift form? Simply indicate "other" and enter in any criteria you like.
Estimated cost of degree–$50,000 +
Two Kinds of Scholarships
Non-Endowed Scholarships
Non-endowed scholarships are gifts that provide scholarship funds to students directly from a donor's contribution. These include General Scholarships. These gifts are typically less than $10,000. Most of these scholarship awards are based on academics, leadership, campus and community involvement and/or financial need.
Endowed Scholarships
A scholarship can be established with an endowed gift. Endowments are invested, and the interest provides a perpetual source of income to help generations of WTAMU students through a legacy that lives forever. Donors may name their scholarships for themselves, a friend or family member or a business or organization.
Endowed Giving Levels
$25,000 - Endowed Scholarship

$25,000 - Graduate Assistantship Endowment

$25,000 - Provost Leadership Endowed Scholarship

$40,000 - President's Honor Endowed Scholarship

$100,000 - Presidential Endowed Scholarship
Honor Scholarships assure the recruitment of top academic students and provide the recipients educational and leadership opportunities. Honor scholarships available at WT include the Presidential Scholarship, President's Honor Scholarship or the Provost's Leadership Scholarship.
Program and Faculty Support
Universities that recognize and support faculty through endowed chairs and professorships have the upper hand when it comes to recruiting and retaining top faculty members. A campaign goal of $8 million in endowed faculty and program support will allow WTAMU to offer competitive salaries and valuable resources to attract leading scholars. A top faculty enriches the life of the University and helps attract the best students to campus. Having endowed professors and chairs teaching in our classrooms and working in the University's research facilities will nurture a learning environment focused on the latest in research, thinking and publishing and help provide an exceptional educational experience for generations of WTAMU students.
Program Enhancement Facts
Program support provides resources for enhanced teaching and learning opportunities.
Professorship and chair positions serve as role models and strengthen the foundation of academic excellence.
Endowed funds perpetually support faculty.
Gifts honor or memorialize loved ones.
Support Faculty with Endowments
Current Chairs and Professorships
Endowed Chairs
An endowed chair is a coveted position that brings prestige and distinction to a college discipline while providing faculty support for research and creative work. It offers opportunities for program growth and development and recognizes scholarly excellence. Endowed chair positions recognize the generosity of donors in perpetuity and serve as a valuable tool in recruiting and retaining outstanding faculty members.
$1 million - Endowed Chair
Professorships
A professorship expands opportunities for exceptional faculty members by providing additional resources for teaching, research and professional activities and development. Faculty members benefit from the coveted title, and students glean from the professor's academic insight and leadership.
$100,000 - Professorship
Capital Projects
Providing a secure, welcoming and supportive campus environment is a priority as WTAMU begins its second century. Contributions can be used to support many areas including:
Bain Athletic Center
The Bain Athletic Center is a three-phase project that serves as the centerpiece of the University's Buffalo Sports Park. The facility is currently home to a 6,700 square foot locker room complete with lockers, showers, laundry facilities, equipment storage space and video screen for game-film reviews. When completed, the Bain Athletic Center will cover 31,000 square feet and will be one of the premier intercollegiate athletic complexes in the country. It will house an athletic training room, weight room, coaches' offices, meeting space, team study hall and a Championship Atrium to honor WTAMU's rich athletic history. The training center will provide WTAMU athletes with the latest in strength and conditioning equipment. Ray and Barbara Bain and the Bain family are longtime supporters of WTAMU, and the Bain Athletic Center was named in recognition of their generous gift to help build the $4 million facility.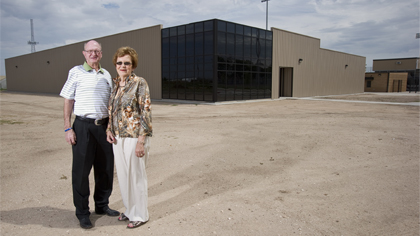 Championship Atrium and Welcome Center
1,500 square feet includes trophy displays, memorabilia, fireplace, seating areas and reception. A stunning impact to welcome new recruits, parents and guests of Buffalo Athletics.
Strength and Conditioning Center
7,000 square feet includes the latest in strength and conditioning equipment to serve all 500 student-athletes at West Texas A&M University. The backbone of every championship team at WTAMU.
Athletic Training and Hydrotherapy Center
3,000 square feet that includes 18 treatment stations, 18 taping stations, a rehab area and hydrotherapy room for hot and cold treatments for the prevention of and care for injured student-athletes. A critical need to manage the health and well being of nearly 500 Buffs and Lady Buffs.
Academic Success and Team Meeting Rooms
2,400 square feet that can be divided into six different meeting rooms equipped with modern multimedia equipment and wireless access. As individual rooms or one large room, this space will serve a variety of purposes: study halls, team film sessions, community and donor meetings including banquets and social engagements. Supporting academics, game preparation and community engagement - key components of the Athletics Strategic Plan.
Football Locker Room, Offices and Equipment Room
6,000 square feet devoted to the football program, including a 3,000 square foot locker room with custom lockers, showers, team equipment and
laundry room, and offices and meeting space for the coaching staff. The final piece of one of the best NCAA Division II football practice facilities in the nation.
Champions Plaza and Buffalo Statue
Located in the center of Buffalo Sports Park, Champions Plaza ties the support of fans and donors to the championship tradition of Buffalo Athletics. All donors will be recognized on the brick walkway surrounding a new Buffalo statue symbolizing the WT Spirit. The past and present make the future possible at WT.
Future Expansion
Space is being held to include additional locker rooms, office space, academic support and equipment as needed in the future. The design of the Buffalo Athletic Center will allow for building additions to be made without major design changes in the future. For more information and giving opportunities for WT Athletics contact:
Michael McBroom
Director of Athletics
West Texas A&M University
806-651-4402 - Office
806-676-6975 - Mobile
mmcbroom@wtamu.edu
Naming Opportunities
The opportunity to name a classroom, lab or building exists in many locations on campus. Donors have the opportunity to customize the space with upgraded furnishings, equipment as well as custom paint and flooring. A permanent maintenance endowment is created along with each named space to insure the space is always equipped with state of the art equipment and above average furnishings. Opportunities for an individual or business to make their permanent mark on campus by naming a classroom or lab are available at varying price ranges. Call 806-651-2070 for more information.
Naming of the Charles K. and Barbara Kerr Vaughan Pedestrian Mall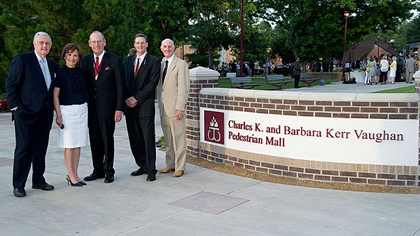 The Charles K. and Barbara Kerr Vaughan Pedestrian Mall was dedicated in August of 2013. Charles K. Vaughan spent 55 years with Atmos Energy, acting as the company's first chairman, president and CEO. Atmos has recognized the couple's leadership and dedication with more than $500,000 in multiple gifts to the University. The company's generous gifts prompted University officials to recognize the Vaughans' support of education and name the pedestrian mall the Charles K. and Barbara Kerr Vaughan Pedestrian Mall.
Schaeffer Field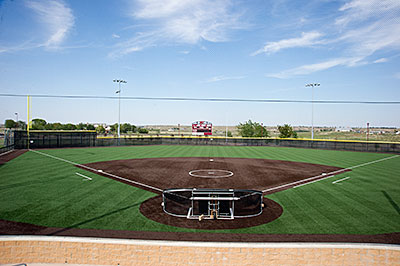 The Texas A&M University System Board of Regents approved the renaming of WTAMU's varsity softball field in May of 2012. Stanley and Geneva Schaeffer are longtime supporters of WTAMU, and their gift of $200,000 to rename Lady Buff Yard to Schaeffer Park is just one of many gifts they have given to the University. The softball facility was completed in December of 2010 and houses ticket and concession buildings as well as a spacious press box with radio/television booths. The lighted field with its synthetic turf offers year-round play for the Lady Buffs, and fans have plenty of seating options—150 chair-back seats for season ticket holders and another 340 general admission seats.
Wilder Park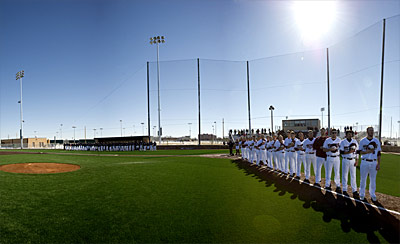 Wilder Park, part of West Texas A&M University's Buffalo Sports Park, is considered one of the best ballparks found in all of NCAA Division II. The lighted state-of-the-art facility provides year-round play for Buff baseball with its synthetic turf, and fans are assured of plenty of seating options with a crowd capacity of 490 in season ticket and general admission seats. Other amenities include ticket and concession buildings and a press box with radio/television booths. The park was named after David and Myrt Wilder of Plainview, longtime supporters of WTAMU, who donated $200,000 toward the construction of the baseball facility.
The Williams Children's Literature Collection and Reading Room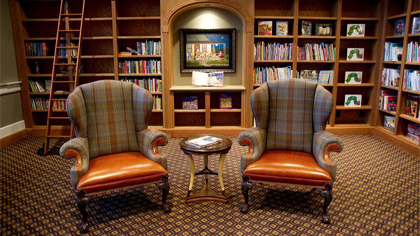 The Williams Children's Literature Collection and Reading Room was established in 2011 by Rob and Dr. Judy Williams, assistant professor and department head of the department of education and director of the collection and reading room. The Reading Room, located in Old Main, Room 214, houses a collection of contemporary and historical children's and adolescent literature with an emphasis on national and international award-winning selections. It is designed to provide an environment for individual and group study of children's literature and research in the field of literacy.