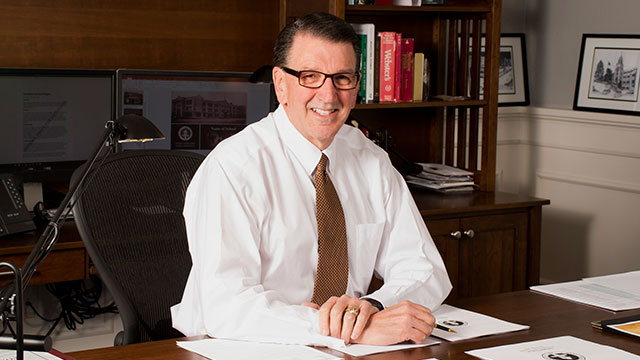 The Man Behind the Plan
By Jon Mark Beilue
Walter Wendler sat in his new, but rather barren office in the Harrington Academic Hall WTAMU Amarillo Center in downtown Amarillo, one of several new facilities for West Texas A&M University in the last two years.
The WT president, on this mid-April afternoon, talked of the University's future, the opportunity of a distinctive brand, what he sees as its guiding light and its mandate as a regional research institution. The words flowed. The enthusiasm was real.
"Now if I talk too much or get off on a tangent, just stop me," he said.
Hard to believe that three years ago, Wendler was playing more golf than ever in his life, and he and wife, Mary, did what retired couples often do – move closer to grandchildren.
"His mother told me once that Walter will always have a job," said Mary. "She was kind of kidding when she said that, but he will always need to do something meaningful. We are spiritual, and you can't stop God's good work in him."
So here is Wendler, 69, having what seems to be the time of his life late in his working life. Initially reluctant to have retirement plans ripped apart, Wendler has settled into almost certainly the last job of his career that officially began in August 2016. It's almost like a kid behind the wheel of a new car, but instead he's steering a 109-year-old university in collaborative ways to places it's not known.
"All of the people I talked with – search committee, faculty, staff, community leaders – felt the University was ready to move forward in new directions," Wendler said. "That was the tipping point that the University wanted to freshen the image of itself, make a new statement of moving forward. I couldn't help but be tremendously energized by that."
It would take something special and ripe with possibilities to entice Wendler and Mary to do an about-face. Formerly the chancellor of Southern Illinois University and later on the faculty in the school of architecture, Wendler had formally retired in January 2016.
Then, he decided to double-down on that retirement. With one son and family in Colleyville near Dallas and another son and family in Beaumont, the Wendlers decided to move to the Woodlands near Houston to kind of split the geographic difference.
Then, his phone began to ring – with an 806 area code. Would he be interested in interviewing for the WT presidency? It happened quickly.
"On the very day they wanted to interview at the DFW Airport Hilton, the truck and I were coming to Houston," he said. "They said, 'That's perfect. You can stop for the night and interview then.'
"A week later, they gave me another call and said (Texas A&M University System Chancellor) John Sharp wants to talk to you in College Station. Two months later, we're in Canyon. God bless my wife. We packed up ourselves and moved to the Woodlands. We were there for two months, and I had to talk my way out of the lease, and it took a lot of talking.
"I told them, 'Look, I never believed in a million years I'd be doing this,' but after the process started, it just seemed like the natural thing to do."
It wasn't even love at first sight. Wendler took the job without even visiting campus. But this native New Yorker has found his sweet spot in the Texas Panhandle, enamored with her people, respectful of the values found in the small communities that dot the top 26 counties.
"The word I would first use to describe him is 'energetic,'" said Dr. Wade Shaffer, provost/vice president of academic affairs who has been at WT since 1994. "He has an amazing reserve for this University.
"The other thing is he's 'hard-charging.' I don't mean overly aggressive, but universities tend to be bureaucratic and plod along, but he had the mindset that we need to get on with doing things."
One of Wendler's major undertakings in 2017 was visiting every community and speaking to every high school in the top 26 counties of the Panhandle. One of his takeaways was that Panhandle people are willing to be part of something bigger than themselves.
"The sense of purpose I got is 'how can we serve those communities and the people who populate them'," Wendler said. "It has empowered me to look to the future in a different way. We are now running straight toward our region rather than going to Dallas, Houston, Fort Worth – all fine cities – but these smaller communities that make up the constellation of settlements in the Panhandle are remarkable places that hold remarkable people.
"I want to find ways to serve them, and if we do that well, we can serve communities beyond the Panhandle and Texas, build this University and make it great by serving small communities."
In other words, quit apologizing about location of a university and embrace it. To that end is WT 125: From the Panhandle to the World, a bold audacious vision announced in early February 2019 that will carry the University into the short and long term.
It is intentionally a collaborative and exhaustive effort more than two years in the making with more than 300 people participating under Wendler's guidance. The overarching vision is for WT to be a regional research institution that tackles crucial issues to the Panhandle specifically and rural America in general.
Within that are how to be more productive in the beef industry, more effective use of water resources, better small school district education and "meeting those people where they are," improving rural health care, and creating economic and business vitality in rural areas.
Add those to what WT has been especially known for – teacher education, fine arts and music – and there is a wholeness in a regional university.
"That's what makes this toughness and ruggedness of the people here so special," Wendler said. "The challenge here is so basic and every day it's blowing in your face. You can feel it in your teeth. And when you can make something happen and find joy in all of that, by golly, you got something big."
The WT 125: From the Panhandle to the World plan will be the capstone of a comprehensive campaign project with a goal of $200 million. If that's attained, it will be the most successful giving campaign of any regional university in the state.
"People will say, 'By golly, that's my fingerprints on this thing,'" Wendler said. "If this were just mine, I'd be suspicious. I'd be wanting to change and modify. But 300 people were involved in this. I'm a dinghy. This is a battleship, and it's unchanging."
Wendler was involved in similar long-range planning when he was vice president for planning and system integration at Texas A&M University. The year was 1999, and it was the release of TAMU's long-range goals and direction – Vision 2020.
Not long ago, he heard TAMU President Michael Young reference Vision 2020 in a speech.
"It sent shivers up my spine," Wendler said. "I thought, 'Holy smokes, it's still in place and still working.' That's what I want this to be for WT."