Donor Recognition
Recognition Categories
The WTAMU Foundation is proud to recognize donors in an annual report.­ Donors are recognized in six categories of support:
See all the memberships and giving levels at WTAMU.
Lead Donors
---

Bain Athletic Center
The Bain Athletic Center is a three-phase project that serves as the centerpiece of the University's Buffalo Sports Park. The facility is currently home to a 6,700 square foot locker room complete with lockers, showers, laundry facilities, equipment storage space and video screen for game-film reviews. When completed, the Bain Athletic Center will cover 31,000 square feet and will be one of the premier intercollegiate athletic complexes in the country. It will house an athletic training room, weight room, coaches' offices, meeting space, team study hall and a Championship Atrium to honor WTAMU's rich athletic history. The training center will provide WTAMU athletes with the latest in strength and conditioning equipment. Ray and Barbara Bain and the Bain family are longtime supporters of WTAMU, and the Bain Athletic Center was named in recognition of their generous gift to help build the $4 million facility.
---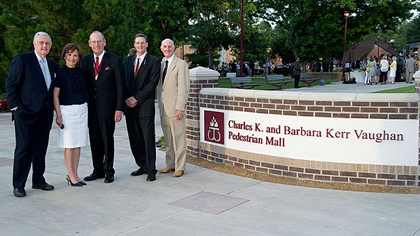 Charles K. and Barbara Kerr Vaughan Pedestrian Mall
The Charles K. and Barbara Kerr Vaughan Pedestrian Mall was dedicated in August of 2013. Charles K. Vaughan spent 55 years with Atmos Energy, acting as the company's first chairman, president and CEO. Atmos has recognized the couple's leadership and dedication with more than $500,000 in multiple gifts to the University. The company's generous gifts prompted University officials to recognize the Vaughans' support of education and name the pedestrian mall the Charles K. and Barbara Kerr Vaughan Pedestrian Mall.
---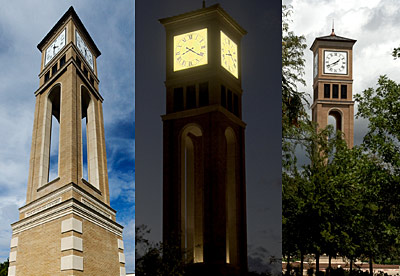 Hayward Spirit Tower
The Hayward Spirit Tower, a skyscraping timepiece that marks the north entrance to West Texas A&M University's Pedestrian Mall, is both the brainchild and gift of Jack and Helene Hayward, who both hold advanced degrees from WTAMU. The landmark was dedicated in August 2008 and is electronically programmed to play the Hayward's requested Westminster Chimes on the hour and the University Fight Song at noon each day. It stands taller than Old Main and the nearby four-story Classroom Center to make it a very visible presence on the WTAMU campus.
---

Jackie Mercer
Designer labels—Salvatore Ferragamo, Judith Leiber, Stuart Weitzman, Bottega Veneta—filled her closets while jewelry boxes overflowed with exquisite ivory, pearls, turquoise and more. Her country home featured graceful antique furnishings, and beautiful artwork hung from the walls. There's no doubt that Lily Jack "Jackie" Mercer's lifetime collection of furnishings, shoes, jewelry, handbags and more represented a happy and exciting life for her, and it's now paying off in dividends as a gift to West Texas A&M University.
Mercer, who died in August 2012 at the age of 90, gave her entire estate to West Texas A&M University and designated that all proceeds go toward scholarships in the Sybil B. Harrington College of Fine Arts and Humanities.
The estate included the Mercer home and 1,180 acres of land in Silverton as well as all the home furnishings. The inventory also included sterling silver flatware and more than 40 handbags, at least 25 pairs of shoes, and boxes and boxes of jewelry. The home and land sold for $850,000 in 2012, and University officials decided to put the household contents on the auction block. The furniture and artwork brought in $12,506.20 at public auction, and the designer items were displayed at the Amarillo Country Club in a special Mercer Collection Silent Auction.
All told, the three-hour silent auction contributed $20,987 to the estate's final total of $1,093,124.61. Mercer's shoes totaled $661 and her collection of designer handbags contributed $4,666 to the auction proceeds. Designer and costume jewelry sold for $7,345, and Mercer's sterling silver flatware brought in $8,315.
"The gift from the trust of Jackie Mercer allows us to create a number of very substantial scholarships to attract really outstanding students to the arts," Dr. Robert Hansen, director of the School of Music and head of the Department of Art, Theatre and Dance, said. "It's a perfect example of planned giving, and we hope more people begin to realize that option."
­
---

Schaeffer Park
The Texas A&M University System Board of Regents approved the renaming of WTAMU's varsity softball field in May of 2012. Stanley and Geneva Schaeffer are longtime supporters of WTAMU, and their gift of $200,000 to rename Lady Buff Yard to Schaeffer Park is just one of many gifts they have given to the University. The softball facility was completed in December of 2010 and houses ticket and concession buildings as well as a spacious press box with radio/television booths. The lighted field with its synthetic turf offers year-round play for the Lady Buffs, and fans have plenty of seating options—150 chair-back seats for season ticket holders and another 340 general admission seats.
---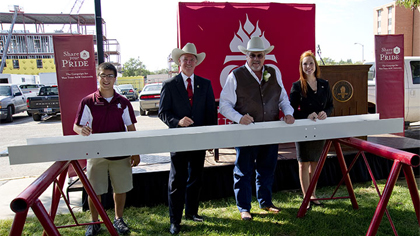 Sigman Family Scholarship Fund
The Stan Sigman family has given a $1 million gift to the University in memory of their grandmother, Oma Sigman, for the establishment of a Sigman Family Scholarship Fund. More than 70 years ago, Oma Sigman, a widow with nine children, owned and operated a boarding house across the street from the Joseph A. Hill Memorial Chapel on campus. She provided a home for many WT students through the years, and the gift reflects her giving spirit by supporting nine scholarships representative of each of her nine children. The scholarships will help WTAMU students in specific areas with room and board expenses.
The nine scholarships are:
Oma Sigman and Jackie Sigman Smith Agriculture Scholarship;
Oma Sigman and Lois Sigman Black Agriculture Scholarship;
Oma Sigman and Cecil C. Sigman Education Scholarship;
Oma Sigman and Recil M. Sigman Elementary Education Scholarship;
Oma Sigman and Carroll D. Sigman Scholarship for Military Reservists;
Oma Sigman and Stanley T. Sigman Business Administration Scholarship;
Oma Sigman and Faye Sigman Jones Wildlife Biology Scholarship;
Oma Sigman and V.J. Sigman Agriculture Scholarship; and
Oma Sigman and Bitsy Sigman Downing Nursing Scholarship.
---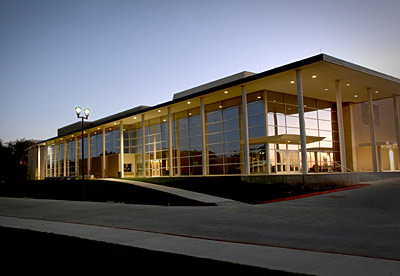 Sybil B. Harrington Fine Arts Complex
In December 2006, West Texas A&M University named its newest building the Sybil B. Harrington Fine Arts Complex after its most generous benefactor. The University had just received a $5 million gift from the Sybil B. Harrington Trust to support equipment and upgrades for the building in areas not provided for by traditional state funding. The late Mrs. Harrington was a major contributor to the University for many years before her death in 1998. No known benefactor has given more to the University since its inception in 1910. The Don and Sybil Harrington Foundation and the Sybil B. Harrington Trust have combined to give gifts to the University totaling more than $13 million.
---

Wilder Park
Wilder Park, part of West Texas A&M University's Buffalo Sports Park, is considered one of the best ballparks found in all of NCAA Division II. The lighted state-of-the-art facility provides year-round play for Buff baseball with its synthetic turf, and fans are assured of plenty of seating options with a crowd capacity of 490 in season ticket and general admission seats. Other amenities include ticket and concession buildings and a press box with radio/television booths. The park was named after David and Myrt Wilder of Plainview, longtime supporters of WTAMU, who donated $200,000 toward the construction of the baseball facility. They also have endowed the David and Myrt Wilder Scholarship Fund in WTAMU's College of Business.
---

Williams Children's Literature Collection and Reading Room
The Williams Children's Literature Collection and Reading Room was established in 2011 by Rob and Judy Williams, Assistant Dean of Education and Director of the Reading Room. The Reading Room, located in Old Main, Room 214, houses a collection of contemporary and historical children's and adolescent literature with an emphasis on national and international award-winning selections. It is designed to provide an environment for individual and group study of children's literature and research in the field of literacy.