Details: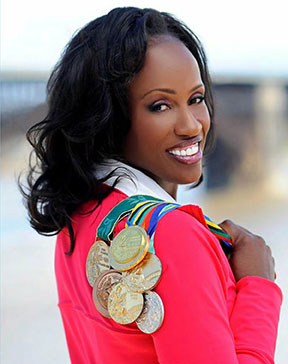 Olympic gold medalist Jackie Joyner Kersee will be on the WTAMU campus Monday, March 24 as part of the University's Distinguished Lecture Series. Joyner Kersee, considered the world's greatest female athlete, will speak at 7 p.m. at Legacy Hall in the Jack B. Kelley Student Center. The event is free and open to the public.
Joyner Kersee is the consummate athlete, earning more than 10 medals during her career in the heptathlon and long jump. She is a three-time Olympic gold medalist, a six-time Olympic medalist and a four-time world champion. She continues to hold Olympic and national records in the long jump as well as the world heptathlon record of 7,291 points. Her talents aren't limited to the heptathlon and long jump either. She is a world class 100m and 200m runner and was a decorated All-American basketball player at UCLA. She is the first woman to receive both the St. Louis Ambassadors Sportswoman of the Year and Sporting News Athlete of the Year Award and also is the recipient of the Sullivan Award and the Jesse Owens Memorial Award.
In addition to her athletic accomplishments, Joyner Kersee is also known for her work off the field. She works tirelessly for children's education, health issues, racial equality, social reform and women's rights. Her charities include the Jackie Joyner Kersee Foundation, Athletes for Hope, Youth Lifeline America and the Jeff Gordon Foundation.
WTAMU's Distinguished Lecture Series was established in 2007 to bring persons of national prominence to campus to expose students to important issues of our times. Speakers to date have included President Bill Clinton, Jared Diamond, Maya Angelou, Sally Ride and Robert Ballard.
Parking will be avalable at the First United Bank Center with shuttle bus service to Legacy Hall. Call 806-651-2674 for more information.