Parent Resources
We want to work with you in supporting your student's success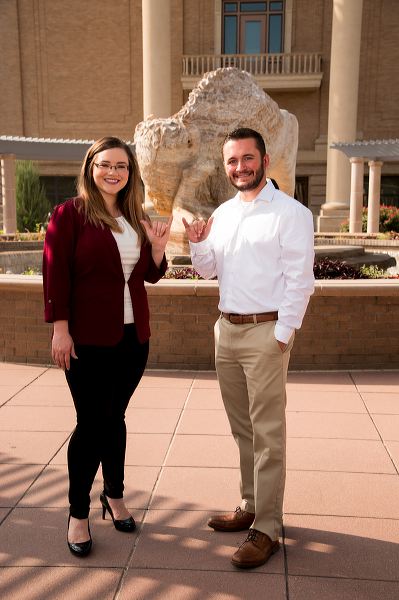 First off, let us congratulate all you parents, grandparents, aunts, uncles, older siblings, godparents, foster parents, and other guardians who have provided the attention, care, love, support, blood, sweat, and tears to see your student succeed! All of your hard and wonderful work (and we know it is) raising these children has paid off and your young adult is now a college student. The Student Success Coordinators are here to provide an extra layer of support for your student during their time with us here at West Texas A&M University. We are here to listen and encourage, to connect them with the right services at the right time, and to help them learn the skills they need to succeed. If you would like to visit with your student's college/school-specific coordinator, please feel free to contact us here. There are some limitations to what we can share (FERPA), but we would be happy to learn from you about your student and work with you in a concerted effort to grow outstanding young adults.
Here are some links to answer a few questions you may have:
What important information about WT do I need to know?
What are the statistics regarding student enrollment at WT?
How safe is my student while attending WT?
Who can I talk to about...?
ACADEMIC ASSISTANCE and PROGRAMS

DEPT/AREA

NAME/OFFICE

FUNCTION ROOM


PH#

EMAIL/WEB PAGE

Academic Study Skills
 
Tips and Tools for Academic Success
 
Academic Study Skills
Experiential Learning and the QEP - Campus to Community
Dr. George Pacheco
Service Learning, Research, and Internships
2530
gpacheco@
C2C Web Page
Honors
Dr. Pam Lockwood
Attebury Honors Program
2736
plockwood@
Honors Web Page
McNair Scholars
Mike Cook or
Victoria Salas
Summer Research and GRE Prep Program
5294
mcook@ or vsalas@
McNair Web Page
President's Undergraduate Student Research Grant
Steve McLean
Student Research Funding
2983
smclean@wtamu.edu
Sponsored Research
Student Research Conference
Dr. Pam Lockwood
WTAMU Student Research
2536
src@
Research Conference
Study Abroad
Carolina Galloway
International Experience, Passports
5309
cgalloway@wtamu.edu
Study Abroad

COLLEGES/SCHOOLS and DEPARTMENTS

DEPT/AREA

NAME/OFFICE

FUNCTION/ROOM


PH#

EMAIL/WEB PAGE

Athletics
Stephanie Sumpter
Rosters
4403
ssumpter@
GoBuffsGo
Agriculture and Natural Sciences
Rebekah Bachman
Substitutions, Degree Plans
3570
rbachman@
ANS
College of Business
Lynsee Womble
Substitutions, Degree Plans
2526
lwomble@
COB
COB--On Campus
Michelle Vinyard
On-Campus Students
4029
lvinyard@
Resources
COB--Online
Betsy Tonne
Online Students
2525
btonne@
Online
COB--Undergrad programs
Amber Black
Daily Operations of Business Programs
2524
ablack@
BBA
Engineering, Computer Sciences, and Mathematics
 
Substitutions, Degree Plans
5257

ECSM
Education and Social Sciences
Kathy Lefever
Substitutions, Degree Plans
2600
klefever@
ESS
Fine Arts and Humanities
Verna Hodge
Substitutions, Degree Plans
2782
vhodge@
FAH
Nursing and Health Sciences
Vicki Hamblen
Substitutions, Degree Plans
3500
vhamblen@
NHS

FINANCIAL

DEPT/AREA

NAME/OFFICE

FUNCTION/ROOM


PH#

EMAIL/WEB PAGE

ACE Scholarship
Martin Lopez
Ace Program Questions
2351
mlopez@
Buffalo Gold Card 
Beth Mowry
BGC Inquiry
4653
bmowry@
Buff Gold Card Office
Business Office
Julie Harvell
Billing Questions
2086
jharvell@
Business Office
Business Office
Misty Hobbs
Loan Questions
2081
mhobbs@
Business Office
Business Office
DESK
B.O. Holds
2080
bo@wtamu
Business Office
Nationally Competitive Scholarships
Laura Seals
Fellowships
2587
lseals@
NCS
Financial Aid
Kim Kopke
Financial Aid
2041
kkopke@
Financial Aid
Scholarships
DESK
General inquiries
3330
scholarships@
Scholarships

REGISTRATION and ENROLLMENT

DEPT/AREA

NAME/OFFICE

FUNCTION/ROOM


PH#

EMAIL/WEB PAGE

Advising and Early Alert
DESK
Greenlighting, Changes, Referrals
5300
advisingservices@
Advising
Attendance
Carl Welch
Attendance
7920
cwelch@
Registrar
Linda Elliot
Athletic Eligibility
4904
lelliot@
Registrar
Tana Miller
Colleague and Informer
4902
tmiller@
Registrar
Tami Wylie
Registration, Withdrawal
4905
twylie@

STUDENT SERVICES

DEPT/AREA

NAME/OFFICE

FUNCTION/ROOM


PH#

EMAIL/WEB PAGE

BITeam
Student Affairs
Disruptive Behavior Intervention
2050
Submit a Report
Buff Allies
Dr. Kristina Drumheller
Safe Zones for LGBTQIA
2816
kdrumheller@
Buff Allies
Career Services
Amber Black
Career Services
2530
ablack@
Career Services
Counseling Services
Dayna Schertler
Counseling
2340
dschertler@
Student Counseling Services
Disability Services
Teri Simpson
Student Disability, Modifications, etc.
2335
tsimpson@
Student Disability Services
Diversity and Inclusion
Angela Allen
University Experience
8480
diversity-inclusion@
Office of Diversity and Inclusion
Information Technology (IT)
DESK
IT inquiries
4357
itsc@
Information Technology
Lost and Found
Ana Rojas
Lost and Found
2366
lostandfound@
Search Lost and Found
Medical Services
DESK
Clinic, OTC, Classes, Contraceptives, etc.
3287
medical@
Student Medical Services
Parking
Jerry Faltinek
Parking Holds
2308
jfaltinek@
Parking Services
Residential Living
DESK
Student Housing
3000
housing@wtamu.edu
Res Living
StrengthsQuest
MULTIPLE
Individual Talents and Strengths
 
buffstrong@
StrengthsQuest
Student Enrollment, Engagement, and Success
Mary Hiner
Student Enrollment, Engagement, and Success, Holds
2385
mlhiner@wtamu.edu
Student Enrollment, Engagement, and Success
Student Engagement and Leadership
Darcy Webber
Organizations, Leadership, PULSE, Branding
2313
dwebber@
OSEL Web page
Title IX Holds
Becky Lopez
Holds on Title IX
3199
blopez@
Title IX
University Police
DESK
Night escort, Unlock car, Victim assistance
2300
UPD Webpage
---
The contents of this web page were developed under a grant from the Department of Education which do not necessarily represent the policy of the Department of Education, and you should not assume endorsement by the Federal Government.