Geology Program Information
WTAMU Program in Geology
Introduction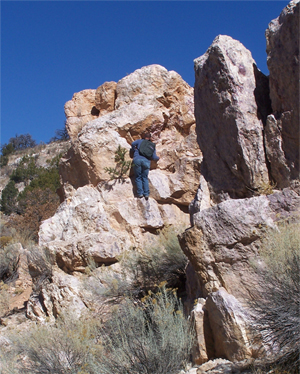 The geology program began in 1934 with the offering of courses in archeology and paleontology by an instructor at West Texas State College who had a keen interest in those fields and who also worked as a curator at the Panhandle-Plains Historical Museum. By 1938, other courses in geology were added and the Department of Archeology and Paleontology was re-named the Department of Geology and Anthropology, a name which lasted for many years. With the exception of a 7 or 8 year hiatus during World War II and the late 1940's, the geology program has been in continuous existence although the official name of the department and the name of the institution have changed several times. Today, the geology program is offered through the Department of Life, Earth, and Environmental Sciences at West Texas A&M University.
Curriculum
The department currently offers a Bachelor of Science degree in Geology which provides a well-rounded undergraduate program that prepares students for employment in the oil/gas industry, the environmental field, ground water studies, geological survey work, or teaching earth science and also prepares them for graduate study at other institutions. The curriculum includes courses in physical and historical geology, mineralogy, petrology, geomorphology, structural geology, paleontology, hydrogeology, environmental geology, field methods, and geological problems for independent study or research.Students can also acquire a solid background in math as well as introductory and upper level courses in biology, chemistry, and physics. In addition, courses in GIS (Geographical Information Systems), oceanography, astronomy, soil science, and environmental science are available as electives and some students pursue a double major in geology and environmental science.
The department also provides courses in earth sciences to satisfy university general core education requirements and to support requirements in science education, environmental science, and wildlife biology. In addition, the department offers courses in anthropology and archeology enabling a student to obtain a minor in anthropology. WTAMU is part of the Texas A&M System and some classes are available by interactive TV from the main campus at College Station. Geology majors often take advantage of part-time internships or Geo Tech jobs in the oil/gas industry or environmental agencies in Amarillo and the region. Area geologists, many of whom are former WT graduates and members of the Panhandle Geological Society, have been very supportive in providing scholarships and internships.
---
Facilities
Facilities in the Science Building include Smart Classrooms and well-equipped laboratories. There is a large collection of rocks, minerals, and fossil vertebrates, invertebrates, and plants available for teaching and research. Student/faculty ratios are low and the highly qualified and experienced faculty takes a personal interest in students and their progress and success. Endowed scholarship money is available to assist students in their studies. Many students are active in the WT Student Geological Society which holds frequent meetings to plan and carry out community projects and week-end field trips.
---
Regional Resources and Research
West Texas A&M University is located in Canyon, Texas, about 20 miles south of Amarillo in the Texas Panhandle. Uniquely situated in the middle of the Southern High Plains, the region is a large plateau called the Llano Estacado (Staked Plains) bounded by escarpments on the east and west and separated from the Central and Northern High Plains by the breaks of the Canadian River. These breaks and scarps as well as nearby Palo Duro Canyon, the "Grand Canyon of Texas", provide an outdoor geological laboratory where one can study remarkable exposures of Permian, Triassic, Late Tertiary, and Quaternary sedimentary rocks. These rocks have yielded a great abundance and diversity of late Triassic reptiles and amphibians and Late Cenozoic mammals which are internationally known and studied by professional paleontologists and students from many institutions. Many of these fossils are housed in the research collections of the Panhandle-Plains Historical Museum on campus and some are exhibited in the museum's Hall of Paleontology.
The region is also known for its Paleo-Indian, Archaic, and historic Indian archeological sites and the museum houses many artifacts to which students may have access for research and class projects. The Ogallala Formation is the regional aquifer and is the focus of ground water studies and research in hydrogeology by faculty and students. Research studies are also conducted on the region's soils and playa lakes.

The Rocky Mountains of New Mexico and Colorado and the Wichita and Arbuckle Mountains of Oklahoma are an easy day's drive from the university. Classes in field methods and regular class field trips take advantage of the various geologic settings available in these adjacent states.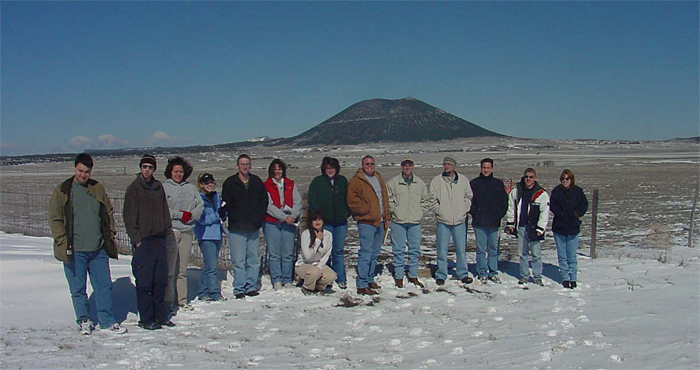 ---
Faculty
The Department employs two full time faculty members and several adjunct part-time instructors to teach geology courses in the curriculum.
Dr. Joseph C. Cepeda is a native Texan. He received a Ph.D. from the University of Texas at Austin in 1977 and joined the Department of Geology and Anthropology at West Texas State University in June of that year. He teaches courses in geology (physical and historical geology, petrology, structural geology, and hydrogeology) and environmental science (preparation of environmental impact statements). Dr. Cepeda serves as the sponsor of the WT Student Geological Society. His research interests lie in the volcanic and metamorphic rocks of the western United States as well as the landscape evolution and hydrology of that region. He is the author of numerous publications and a member of several scientific organizations including the Geological Society of America. Office: Agricultural and Natural Sciences Building, Room 322. Phone: 806-651-2584 and email: jcepeda@wtamu.edu.
Dr. Gerald E. Schultz hails from Red Wing, Minnesota. He received a B.S. and M.S. in geology from the University of Minnesota (1958, 1961) and a Ph. D. in geology/paleontology from the University of Michigan in 1966. He joined the Department of Geology and Anthropology in 1964. He teaches courses in mineralogy, minerals and rocks, geomorphology, paleontology, oceanography, human origins, and introductory earth science. Dr. Schultz advises many geology majors and is co-advisor of the Student Geological Society. He has given many talks and presentations on rocks, minerals, fossils, and regional geology to public school classes, teachers' workshops, and museum groups. His research interests are in the field of vertebrate paleontology and biostratigraphy of the Southern High Plains. He is the author of numerous scientific publications, co-author of the book entitled "Ice Age Mammals of Northwestern Texas", and is a member of the Paleontological Society and the Society of Vertebrate Paleontology. Office: Agricultural and Natural Science Building, Room 330. Phone: 806-651-2580 and email: gschultz@wtamu.edu.
---
Student Employment Success and Current Job Prospects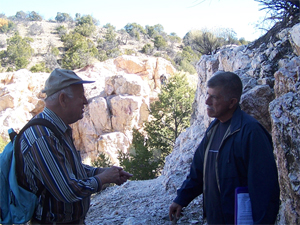 The geology program enjoys a long and successful track record of its hundreds of graduates. Many have ended up in the oil and gas industry working for or even starting small independent companies or, in some cases, have been employed by major companies such as Texaco or Halliburton. Some students have entered the environmental field and have worked for or started their own consulting agencies. Others have been employed in state ground water divisions. A few have been employed by the U.S. Geological Survey or by state geological surveys. Others have entered Academia and teach at the secondary or even college level. Still others have become state archeologist of Texas, curator of fossil vertebrates at Harvard University, or chief geologist at a large gold mine in Nevada. Many have gone on to earn Master's and Ph. D. degrees at other reputable universities.
The 1980's saw a rapid downturn in the oil and gas industry with the result that college enrollments in geology declined as employment opportunities became less available. Today, this lost generation is apparent as employment opportunities are opening up to replace the baby boomers that are nearing or facing retirement. The continuing search for energy sources in the form of natural gas and petroleum, the high price of precious metals such as gold and copper, the need to manage our supplies of ground water, and the continuing need to maintain environmental quality, all point to increasing employment opportunities in the geosciences for those with initiative, imagination, creative skills, and a strong academic background.