Upcoming Events Spring 2019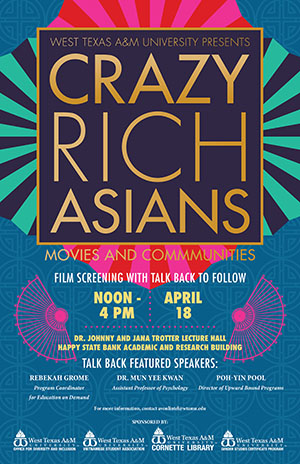 Screening of Crazy Rich Asians Film and Talk Back: Apr. 18, 12:00pm with talk back to follow at 2:15pm, New Ag-Sciences Complex (Happy State Bank Academic and Research Building) Lecture Hall
This screening is part of our series "Movies and Communities" at WT. The event is co-sponsored by
the Office of Diversity and Inclusion, the Vietnamese Student Association, and the Cornette Library. The talk back will include the
panelists Rebekah Grome, Program Coordinator for Education on Demand; Dr. Mun Yee Kwan, Assistant Professor of Psychology; and Poh-Yin Pool, Director of Upward Bound Programs. Refreshments provided.
Past Events -
Spring 2019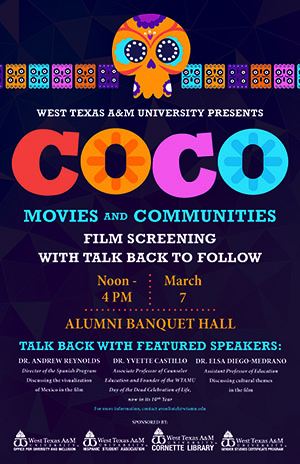 Screening of Coco and Talk Back: Mar. 7, 12:00pm with talk back to follow at 2:15pm, Alumni Banquet Hall
This screening is part of our series "Movies and Communities" at WT. The event is co-sponsored by
the Office of Diversity and Inclusion, the Hispanic Student Association, and the Cornette Library. The talk back will include the
panelists Dr. Andrew Reynolds, Director of the Spanish Program; Dr. Yvette Castillo, Associate Professor of Education and Founder of WTAMU Day of the Dead Celebration of Life; and Dr. Elsa Diego-Medrano, Assistant Professor of Education. Refreshments provided.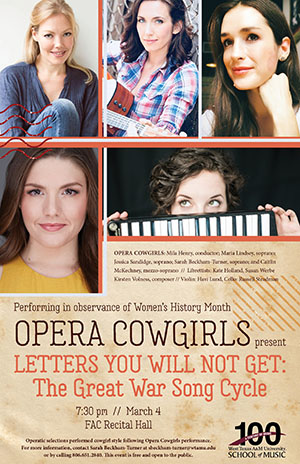 Letters You Will Not Get: The Great War Song Cycle, Mon. Mar. 4, 7:30pm, FAC Recital Hall
This event brings music comprised of actual text written by women during WWI from all sides of the battle. The performance--written by two female librettists and a female composer, and specifically for four female voices--has been brought to WT by a new faculty member of the School of Music, Sarah Beckham-Turner, who is also part of the NYC group called Opera Cowgirls. The piece was recently performed by Beckham-Turner and Opera Cowgirls in New York and now you get to see it here in Canyon!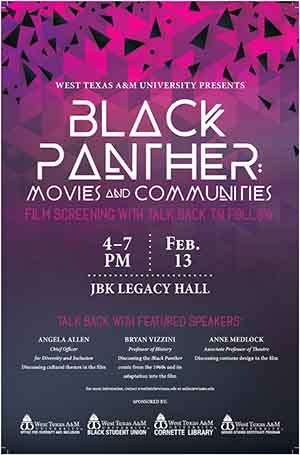 Screening of Black Panther Film and Talk Back: Feb. 13, 4pm with talk back to follow, updated location: Alumni Banquet Hall
This screening is part of our series "Movies and Communities" at WT. The Black Panther event is co-sponsored by
the Black Student Union, the Office of Diversity and Inclusion, and the Cornette Library. The talk back will include the
panelists Angela Allen, Chief Officer of Diversity and Inclusion, on black culture in the movie; Bryan Vizzini, Professor
of History, on the history of the comic book in the 1960s and its adaptation to the screen; and Anne Medlock, Associate
Professor of Theatre, on the costumes in the movie and how they relate to African fashions both historical and contemporary.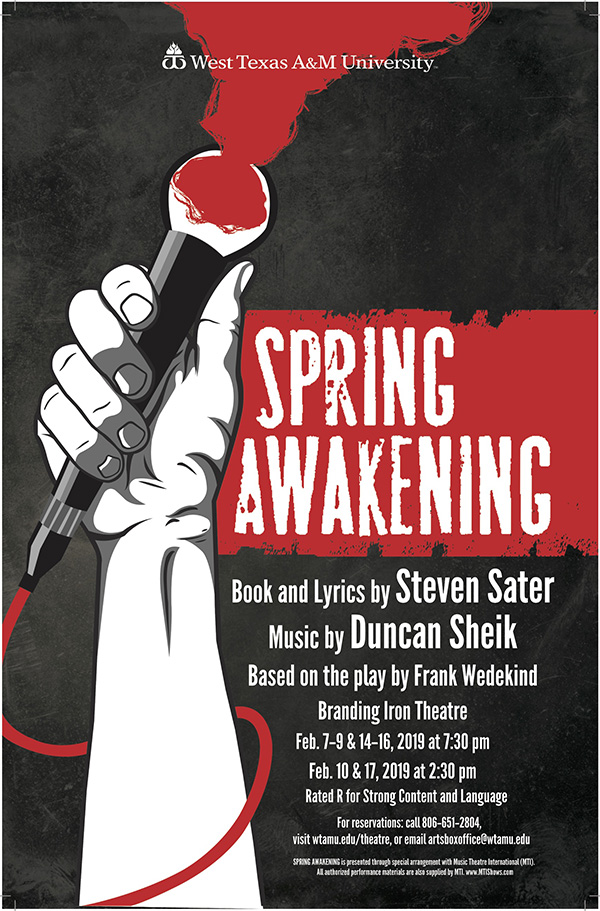 WT Theatre Production of Spring Awakening, Showtimes between Feb. 7 and 17
This production by WT students and faculty has been rated R because of its difficult content, but the Gender Studies Program is giving it a full endorsement for the way it tackles highly relevant topics for college students, including date rape and sexual abuse, suicide, unwanted pregnancy and abortion, and issues of sexuality. Set in 1890s Germany, but with some modern twists (including modern music), the show focuses on a group of young adults whose parents have shielded them from the realities of life and therefore given them no coping skills for facing the traumas they confront. What is so great about this show is that it provides us with a forum for discussion about these issues so that we don't make the same mistakes of the characters' parents--burying issues, denying their existence, until it is too late. Counseling resources and literature about the topics will be provided during each showing.
Fall 2018

"Undead Shakespeare" by scholar Stephen Guy-Bray, October 31 at 6 p.m.
Happy Halloween friends! Dr. Guy-Bray is a Renaissance scholar and queer theorist, whose work includes Homoerotic Space, Loving In Verse, and Against Reproduction. The talk he'll be giving at WTAMU is titled "Undead Shakespeare." On Dr. Guy-Bray, see his faculty bio from the University of British Columbia Department of English. There will be two other events happening around his visit. On Tuesday, Oct. 23, there will be a casual reading group at 12:15 in the EPML lounge to discuss some of Dr. Guy-Bray's work. On Oct. 31, before his main talk at 6 p.m., he will host a discussion about queer poetry at 4:30 with any interested students, faculty, and community members.  This event is free and open to everyone and is brought to you by the Department of English, Philosophy, and Modern Languages, Buff Allies, Spectrum WT, Sigma Tau Delta, and the High Plains Poetry Project.


Spring 2018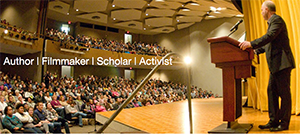 "Men, Women, Sex, and Violence and how MEN Can Help," a presentation by renowned Sexual Assault Speaker, Jackson Katz
Tues. Apr. 3, 6 to 9pm, Legacy Hall, JBK, including Mexican Fiesta Dinner and Door Prize Drawings
Co-sponsored by Gender Studies and the WTAMU Campus Police for Sexual Assault Awareness Week, this event will include a guest lecture by Dr. Jackson Katz. Mexican fiesta dinner and buffalo cookies provided. Dr. Katz (jacksonkatz.com) is an educator, author, filmmaker and cultural theorist who is internationally renowned for his pioneering scholarship and activism on issues of gender, race and violence. He has long been a major figure and thought leader in the growing global movement of men working to promote gender equality and prevent gender violence. He is co-founder of Mentors in Violence Prevention or MVP, one of the longest-running and most widely influential gender violence prevention programs in North America, and the first major program of its kind in the sports culture and the military. MVP introduced the "bystander" approach to the sexual assault and relationship abuse fields; Katz is a key architect of this now broadly popular strategy.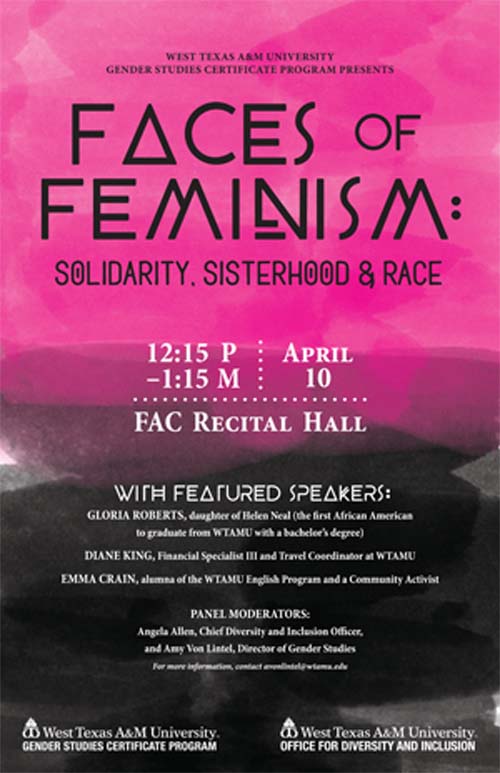 Faces of Feminism: Solidarity, Sisterhood, and Race, April 10, 2018, 12:15-1:15pm
Co-sponsored by Gender Studies and the Office of Diversity and Inclusion, this event will invite a panel of speakers to share their experiences being feminists and women of color. Panel speakers include, Gloria Roberts, daughter of Helen Neal, the first African American to receive a bachelor's degree from WTAMU; Diane King, Financial Specialist III and Travel Coordinator at WTAMU; and Emma Crain, alumna of the WT English Program and community activist.
Past Events Fall 2017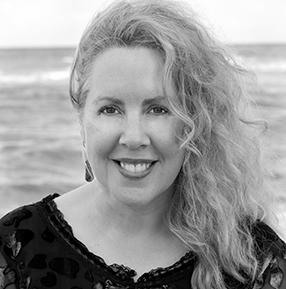 Distinguished Lecture Series Visit - Denise Duhamel, Thurs. Nov. 2, FAC Recital Hall, 7pm
Co-sponsored by Gender Studies and EMPL Department, the poet Denise Duhamel will be visiting campus and conducting a poetry reading for the public. For more on Duhamel, see to her page on The Academy of American Poets: https://www.poets.org/poetsorg/poet/denise-duhamel.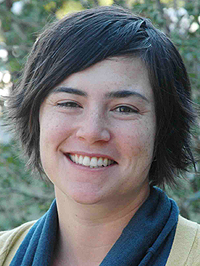 Distinguished Lecture Series Visit - Dr. Emily Skidmore, Tues. Oct. 17
Lunch and Learn Talk, N189, 12:15 to 1:00pm
Evening Public Lecture, "Beyond Community: Gender Transgression and Rural Spaces at the Turn of the 20th Century."
FAC Recital Hall, 7 to 8:30, with reception to follow
Dr. Emily Skidmore is faculty in the Texas Tech History Department: https://www.depts.ttu.edu/history/faculty/profiles/skidmore_emily.php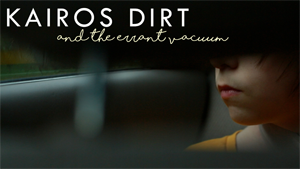 Screening and Guest Lecture by Madsen Minax, director of the film Kairos Dirt, Oct. 9, noon, N189
Madsen is an experimental filmmaker and video art professor, who will screen his latest work for us, and lead a lunch and learn discussion on film as an artistic, expressive media. The film explores the lives of several transgender characters who connect in a dream world and are pushed to ask, "What is self? What is other? What must we give up to become something else?"  On Madsen and Kairos Dirt, see http://www.madsenminax.com/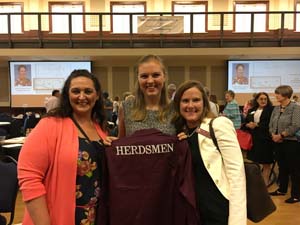 Louise Daniel Women's History Luncheon and Women's Equality Day Celebration, Aug. 25
WTAMU Gender Studies sponsored a table at this luncheon, where we honored the following people given the theme of Women in Farming and Ranching:
Dr. Alex Hunt - Professor of English, Director of the Center for the Study of the American West (CSAW) at WTAMU, and is currently completing a book on Cornelia Adair (wife of John Adair of the JA Ranch in the Texas Panhandle), a book in a series on women in ranching
Dr. Bonney MacDonald - Professor of English specializing on literature of the American West and leader of "Women, Horses and the West" at Zapata Ranch
Dr. Jean Stuntz, Professor of History and award winning author in women's studies
Heather Bozeman, art major at WTAMU, and the first woman Herdsman and first woman president of the Herdsmen at WTAMU
Heather Hofstetter, art major completing a research project with Dr. Von Lintel on an art colony based in Palo Duro Canyon
Phyllis Nickum, Heather Hofstetter's mother and Owner of Cowgirls and Cowboys in the West; https://www.cowgirlsandcowboysinthewest.com/
Past Events Spring 2017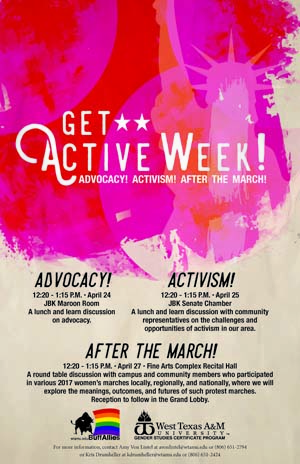 Get Active Week!  - April 24-27, 2017
Event 1: Advocacy!
Monday, Apr. 24, Maroon Room JBK, 12:20-1:30pm, Lunch and learn format, so feel free to bring your lunch.
Buff Allies will lead us in a panel discussion about advocacy on campus and in our community.
Event 2: Activism!
Tuesday, Apr. 25, Senate Chamber, JBK, 12:20-1:30pm, Lunch and learn format, so feel free to bring your lunch.
Community representatives, including Jenny Inzerillo of High Plains Public Radio, will join us in a panel discussion on the challenges and opportunities of activism in our community.
Event 3: After the March!
Thursday, Apr. 27, FAC Recital Hall, 12:20-1:30pm.
Campus and community members who participated in the various women's marches in January--including marchers in Amarillo, Austin, Albuquerque, and Washington, DC--will lead us in a round table discussion on the meanings, outcomes, and futures of these protest marches. A reception will follow this event, in the Grand Lobby of the FAC, just outside the Recital Hall. Light refreshments will be served.
For local news coverage on this event, see Get Active Week Empowers Students
COMM Department Storytelling Workshop, May 5, Featuring Eldrena Douma
Storytelling and Pueblo singing were a way of life in Eldrena Douma's upbringing. During everyday activities family and friends shared pueblo stories, songs, and family history including the humorous and serious personal stories that life brought. Reflecting back, Eldrena realized that listening to story allowed her to strengthen and stimulate the use of her imagination and creativity. Stories helped her at an early age to develop her use of vocabulary, pronunciation, and sentence structure while teaching core values. The traditional songs gave her an appreciation of all music and songwriting along with the crafting of traditional instruments. As a professional storyteller and educator, Eldrena offers captivating stories of American Indian folklore, a variety of recorded music, and history titled "The People, Their Stories and Songs." A workshop titled "Imagineering" focuses on imagination, listening, and story crafting using quick creative thinking to develop a story. Eldrena also offers a lecture titled "Nampeyo & Lesou, Their Family Stories, and Their Legacy." Nampeyo is known in the art & history world for the revival of Hopi pottery and is Eldrena's great-grandmother.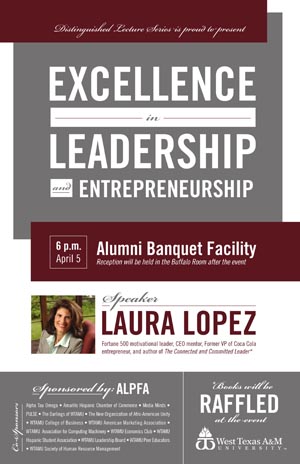 Laura Lopez Distinguished Lecture, Wed. Apr. 5, 6pm, Alumni Banquet Hall, WTAMU
The students of ALPFA (Association of Latino Professionals for America) invite WT students, faculty, and community members to attend the upcoming Distinguished Lecture Series event, which will be the sought-after leadership speaker, Laura Lopez, the former VP of The Coca-Cola Company, award-winning book author, and the CEO of 2 companies, including the Leadership Learning Institute. She has excellent leadership, communication, and marketing skills and has a lot of corporate experience working with Fortune 100 companies, including doing the brand for Houston Methodist.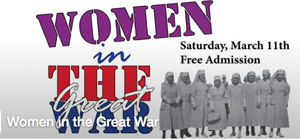 Women in the Great War, Saturday Mar. 11, 10am - noon, Panhandle-Plains Historical Museum
In conjunction with The Great War exhibition and Women's History Month the Panhandle-Plains Historical Museum is hosting a discussion of women's roles during World War One. Join us as we explore the lesser told story of The Great War and discuss the female influence on World War One. This program is free and is co-presented by the WTAMU History and Gender Studies Departments. Panelist are: Dr. Kristin Kuhlmann, associate professor of nursing, Dr. Jean Stuntz, professor of history, Becky Livingston, PPHM curator of history, Melissa Griswold, World War I Researcher. This program is part of World War I and America, a two-year national initiative of Library of America presented in partnership with The Gilder Lehrman Institute of American History, the National World War I Museum and Memorial, and other organizations, with generous support from The National Endowment for the Humanities.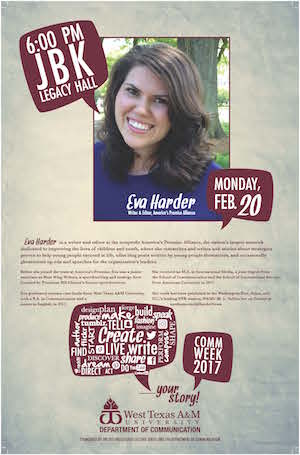 COMM Week, Distinguished Lecture Series Speaker, Eva Harder, Feb. 20, 6pm, Legacy Hall
Eva Harder, a WTAMU alum with her BA in Communication, is now a writer and editor at the nonprofit America's Promise Alliance, the nation's largest network dedicated to improving the lives of children and youth, where she researches and writes web stories about strategies proven to help young people succeed in life, edits blog posts written by young people themselves, and occasionally ghostwrites op-eds and speeches for the organization's leaders. Before she joined the team at America's Promise, Eva was a junior associate at West Wing Writers, a speechwriting and strategy firm founded by President Bill Clinton's former speechwriters. She received an M.A. in International Media from American University in 2015. Her work has been published in the Washington Post, Salon, and D.C.'s leading NPR station, WAMU 88. 5. You can follow her on Twitter @HarderNews and read her blog at medium.com/@HarderNews.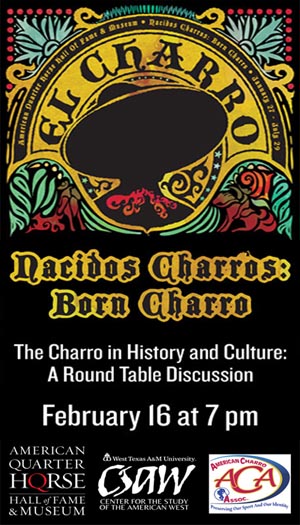 The Charro in History and Culture: A Round Table Discussion, Feb. 16, 7pm
Charros are known as skilled horsemen who proudly carry on the early Mexican traditions of roping, reining and the stewardship of horses and cattle, and they represent a distinct masculinity that will be explored in this roundtable discussion. This event will take place at the American Quarter Horse Museum in Amarillo, and will feature a number of speakers from WTAMU, including affiliates  of the new campus Center for the Study of the American West or CSAW: Tim Bowman, Andy Reynolds, Bonney MacDonald, and Lance Baker. It will accompany an exhibition Nacidos Charros: Born Charro that includes rich imagery and artifacts. For more information, contact Alex Hunt as Director of CSAW, ahunt@wtamu.edu.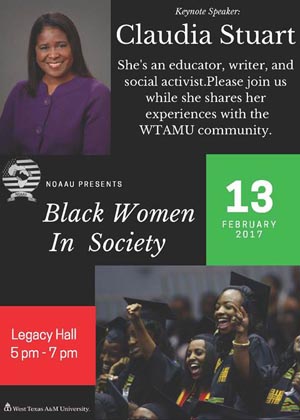 Black Women in Society, Keynote Speaker: Claudia Stuart, Feb. 13, 5pm in Legacy Hall
She's an educator, writer, and social activist. Please join us while she shares her experiences with the WTAMU community.
For more information please contact Angela Allen, Office for Diversity and Inclusion, 806-651-8482.

Women's March in downtown Amarillo, Jan. 21, 12:30pm.
https://actionnetwork.org/events/womens-march-amarillo-tx.
Past Events Fall 2016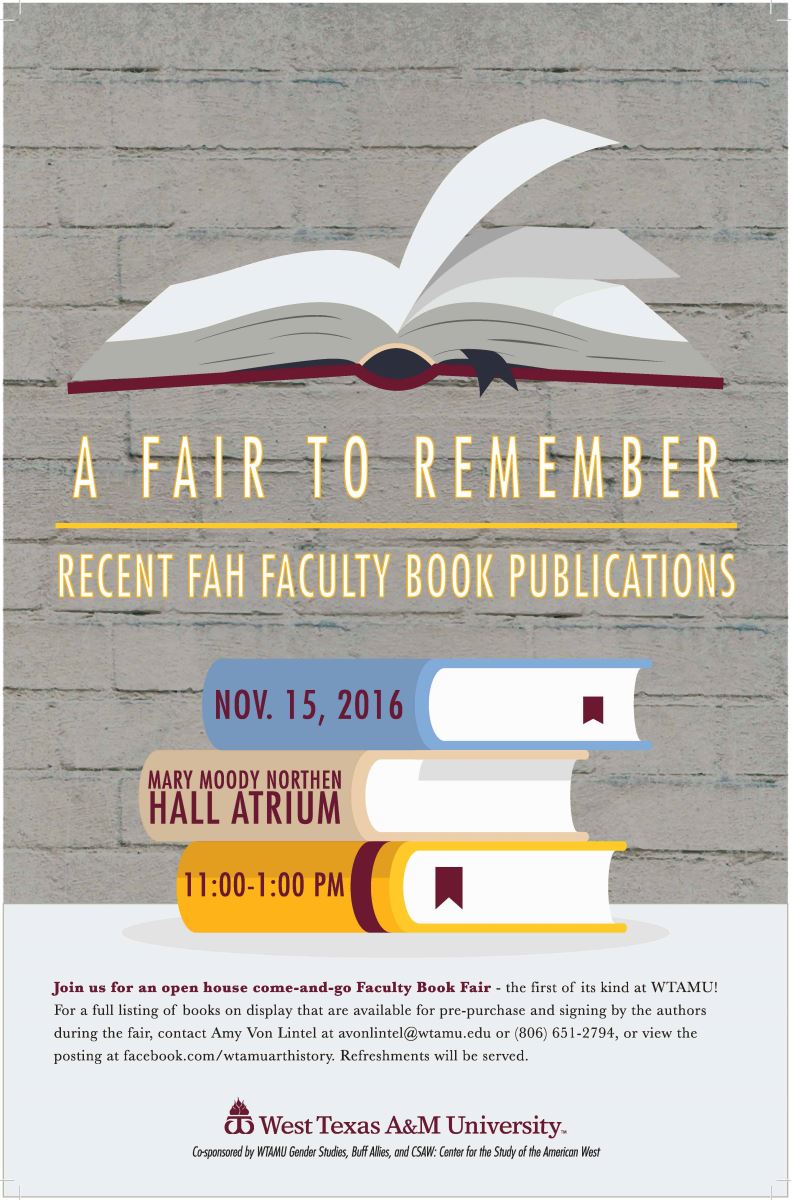 Nov. 15, 11am-1pm, Mary Moody Northen Hall Atrium
The WTAMU Gender Studies Program is co-sponsoring, along with CSAW: The Center for the Study of the American West and Buff Allies, an event titled "A Fair to Remember: Recent FAH Faculty Book Publications," which will highlight the published research of our Fine Arts and Humanities College Faculty within recent years. Several featured books directly relate to gender and identity studies, so we especially encourage our program affiliates to stop by. The event will take place over the lunch hour, from 11am to 1pm, on November 15, 2016, in the Mary Moody Northen Atrium on WTAMU campus. We invite you to stop in as you can during this time, have some refreshments, and chat with our faculty about their books and their recent research. We also invite you to consider pre-purchasing a book or two of your choice for signing at the event by our author-faculty members. A list of the featured publications with their current market prices is available through Dr. Von Lintel at avonlintel@wtamu.edu, or as posted on facebook.com/wtamuarthistory.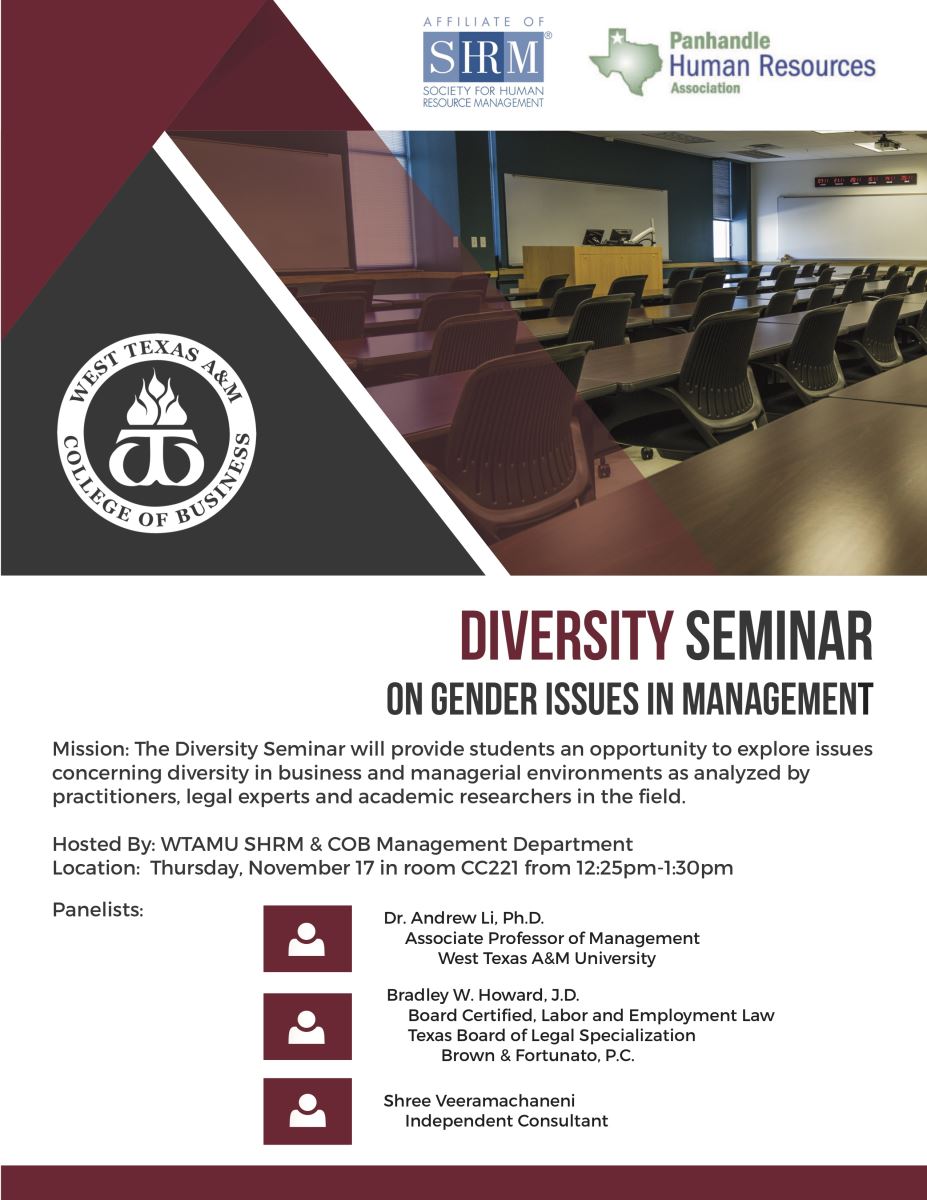 Nov. 17, 12:25-1:30pm
The WTAMU chapter of the Society of Human Resource Management and the management department in the College of Business are holding a Diversity Seminar on Gender Issues in Management in on Thursday, November 17th in room CC221 from 12:25 pm-1:30 pm. The Diversity Seminar will provide students an opportunity to explore issues concerning diversity in business and managerial environments as analyzed by practitioners, legal experts and academic researchers in the field. For more information, contact Alison Berry, aberry@wtamu.edu.

Oct. 27, various times
The Gender Studies Program is co-sponsoring the distinguished lecture events for Patricia Limerick's visit to WT. See information here: http://wtamu.edu/aspx/calendar.aspx?m=10&y=2016&event=112392

"Faces of Feminism: Mural Project Talk Back," Sept. 20, 2016, 12:30-1:15, FAC Recital Hall
Full Video of this Event
Featuring: Giselle Alvarado (Assoc. Dir. of the International Student Office); Dr. Lisa Garza (Assoc. Prof. of Sociology);
Jon Revett (Assist. Prof. of Painting and Drawing and Head of the WT Mural Squad)
Moderated by: Dr. Amy Von Lintel (Assoc. Prof. of Art History and Dir. of Gender Studies)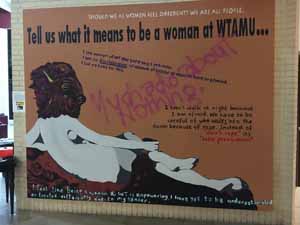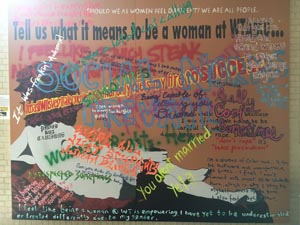 Buffalo Girl Mural Public Art Project, Sept. 2016, Mary Moody Northen Hall Atrium
For more information about this project, which is a collaboration between Gender Studies students
(enrolled in GNDR 3301 this fall), the WT Mural Squad, and the WT public (based on public comments)
see our page on Facebook:
https://www.facebook.com/wtamubuffalogirl/
Past Events Spring 2016

"Faces of Feminism: Conservative and Traditional Views", April 21, 2016
Featuring: Andrea Porter, Paula Schlegel, and Jayce Winters
Moderated by: Kristina Drumheller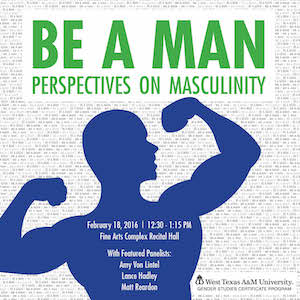 "Be a Man: Perspectives on Masculinity", Feb. 18, 2016
Featuring: Matt Reardon, Amy Von Lintel, and Lance Hadley
Moderated by: Matt Reardon
Past Events 2015 and Before

"Faces of Feminism: An Interdisciplinary Perspective," Nov. 2015
Featuring: Linda Chenoweth, Cathy Clewett, and Monica Hart
Moderated by: Jessica Mallard

Panel Discussion in Honor of LGBTQIA History Month, Oct. 22, 2015, FAC Recital Hall, 12:30-1:15

Panel Discussion in honor of Hispanic Heritage Month, September 24, 12:30-1:15
WTAMU Spanish Film Series, Cornette Library, Lecture Room
Cria Cuervos, Wed. Sept. 23, 5pm
De tu ventana a la mia, Wed. Oct. 21, 5pm
Las maestras de la republica, Wed. Nov. 11, 5pm
 
Faces of Feminism: An Interdisciplinary Perspective, April 2015
Sick and Tired of Being Sick and Tired: Women of the Civil Rights Movement, March 2015
Inspired by Women: An Interdisciplinary Discussion, March 2015
Faces of Feminism: An Interdisciplinary Perspective, Nov. 2014
The Faces of Feminism panel discussion featured WT faculty who gave their own definitions of feminism, talked about how it has impacted their lives, and answered audience questions. This event is part of an ongoing initiative to highlight women's and gender studies at WT and features faculty who incorporate these concepts into their courses.