Dryland Agriculture Institute
Where We've Been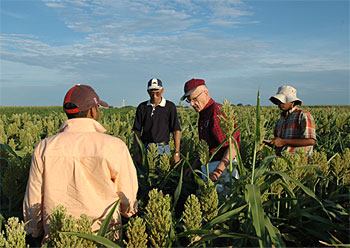 Two periods dominate the history of the Great Plains: the 1930s that led to the Dust Bowl, one of the most devastating ecological disasters on record, and the early 1950s, the driest years recorded in the Southern Great Plains.
The future was in question, particularly during the Dust Bowl period, and many forecasters thought the region had no future. But the region not only survived, it became one of the most productive areas in the world, largely due to the expansion of irrigation.
Where We Are
In recent years, escalating energy costs and reduced water supplies have resulted in significant reductions in irrigation, particularly in the Southern Great Plains. Dryland agriculture, including livestock systems will in time become dominant for much of the region.
An increased emphasis on dryland agriculture is also occurring worldwide. From 1950 to 1985, the world population grew from 2.5 to 5.0 billion. During the same period, however, per capita grain consumption increased from about 500 to 725 pounds annually.
Irrigation played a particularly important role in the rapid increase in food production. The world's irrigated land in 1950 totaled 235 million acres, but increased to 346 million acres by 1960 (a 4.5 percent average annual increase), to 489 million acres by 1970 (a 3.5 percent average annual increase), and to 669 million acres in 1985 (2.1 percent average annual increase). The current rate of expansion is less that 1 percent per year.
Arid and semiarid regions comprise almost 40 percent of the world's land area and are inhabited by some 700 million people. Approximately two-thirds of these drylands are in developing countries where population growth rates are high. Many of the dryland regions are typified by a highly fragile natural resource base. Soils are often coarse textured, inherently low in fertility, organic matter and water-holding capacity, and easily susceptible to wind and water erosion.
Where We're Going
The continued demand for food and fiber, coupled with the sharp decline in irrigation development, means that dryland agriculture will be increasingly important in meeting food requirements in the future. This presents a need for scientists, teachers, and technology transfer specialists to share information and coordinate activities. Cropping and livestock systems for dryland regions must be developed and used. Infrastructure and socioeconomic conditions must be identified and developed if dryland areas are to be sustained. Policies must be developed that encourage research and better management of dryland resources so that the resource base will be sustained and future food and fiber needs can be met.
Accepting the Challenge
The goal of the Dryland Agriculture Institute at West Texas A&M University is to provide a focal point and infrastructure that will assist researchers, educators, extension workers, and administrators to develop practical and workable strategies for improving the sustainability of dryland agriculture systems worldwide. Meeting this challenge in the years ahead will require more sustainable product per unit area, conservation and rational use of natural resources, protection of the environment, improved management practices, cost-effective technologies, and favorable government policies and incentives for farmers to increase their productivity.
General Objectives:
Promote research with the goal of contributing to the knowledge base and providing meaningful learning experiences for graduate students.
Provide training activities for international participants using the U.S. Great Plains as a case history of the development of a dryland agriculture region that has had both negative and positive impacts on crop production and the environment.
Contribute to international cooperation and understanding through professional activities and technical exchanges.
Specific areas of emphasis include:

Efficient Use of Water
Wind and Water Erosion
Soil Fertility and Organic Matter
Drought Resistant Germplasm
Deficit Irrigation
Management of Pests
Management of Rangelands
Cooperative Ventures
The Dryland Agriculture Institute works closely with the Division of Agriculture, West Texas A&M University; Texas A&M University Research and Extension Center, Amarillo/Bushland; and the USDA Conservation and Production Research Laboratory, Bushland, Texas. These institutions have a long history relating to dryland agriculture research, teaching and technology transfer in the Southern Great Plains. This is a valuable resource base for developing new programs for the region and also for sharing information with developing countries that are becoming increasingly dependent on dryland agriculture for producing food and fiber.
Student Thesis
About student's Thesis http://www.wtamu.edu/academics/dryland-agriculture-institute-thesis.aspx
For more information, contact Lance Kieth at lkieth@wtamu.edu or 806-651-2299.