CAREER OPPORTUNITIES
Federal, State, and Local Government Agencies

Consulting

Agricultural

Petrochemical
PLAN OF STUDY
Environmental engineering (B.S.)course flow diagram
Environmental engineering (B.S.) semester layout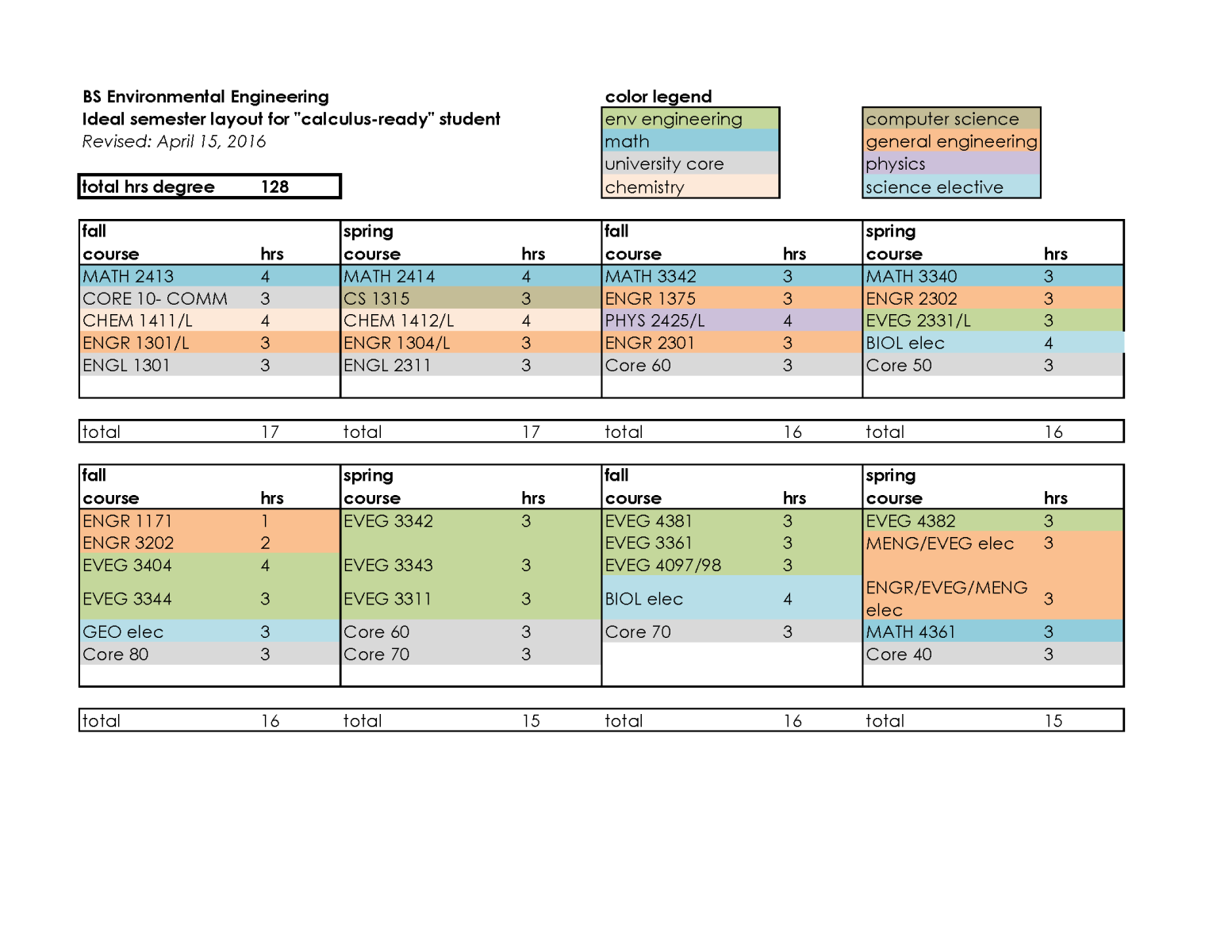 Environmental engineering (B.S.) course checklist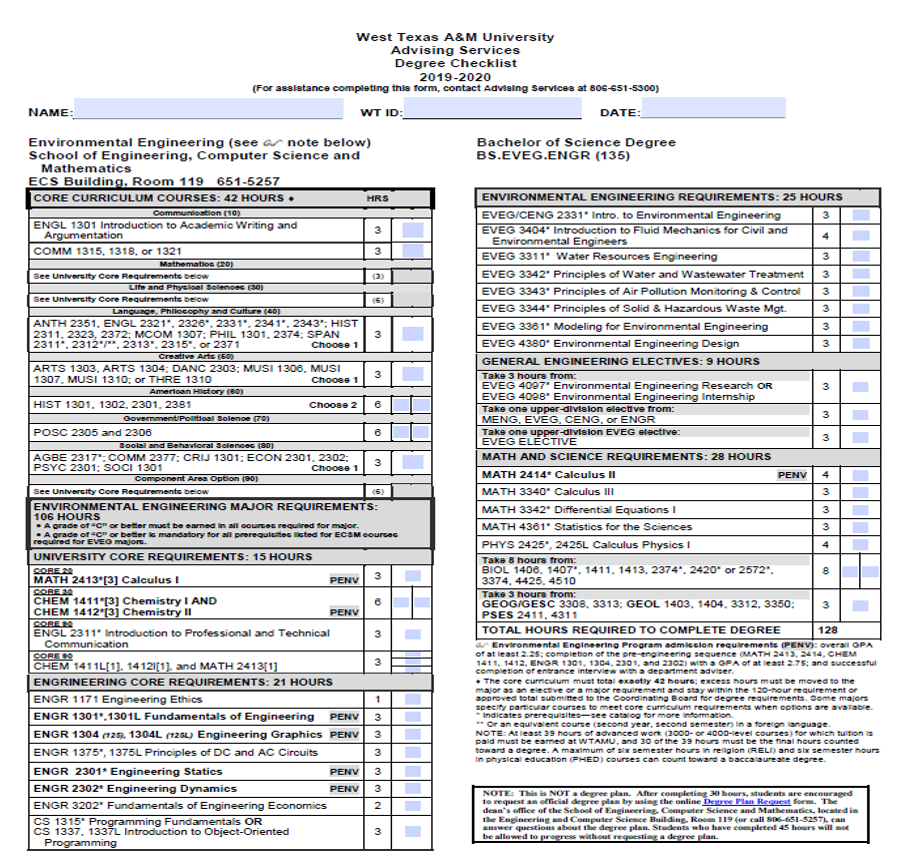 Tracks of specialization available in the environmental engineering program

PROGRAM EDUCATIONAL OBJECTIVES
The West Texas A&M University Environmental Engineering Program has the following objectives. During the first few years after graduation, engineers from the program will:

Use engineering theory and experience to develop practical solutions for engineering applications that further the business objectives of the company while at the same time understand business objectives and appreciate the social, economic and ethical issues encountered in a modern global society;
Demonstrate advanced critical thinking and creativity on engineering projects, begin to take leadership roles on interdisciplinary teams, and communicate clearly in both technical and non-technical forums;
Be professionally employed, serving the rapidly changing technological needs of industry or governmental organizations regionally or throughout the state and nation; and
Continue to grow professionally through activities such as pursuing formal graduate study, research or continuing education; achieving professional licensure; and participating in technical societies.
STUDENT OUTCOMES
Faculty members use the program educational outcomes to develop the topics covered and assignments in each course. By the time of graduation, environmental engineering students will demonstrate competence in:
an ability to identify, formulate, and solve complex engineering problems by applying principles of engineering, science, and mathematics
an ability to apply engineering design to produce solutions that meet specified needs with consideration of public health, safety, and welfare, as well as global, cultural, social, environmental, and economic factors
an ability to communicate effectively with a range of audiences
an ability to recognize ethical and professional responsibilities in engineering situations and make informed judgments, which must consider the impact of engineering solutions in global, economic, environmental, and societal contexts
an ability to function effectively on a team whose members together provide leadership, create a collaborative and inclusive environment, establish goals, plan tasks, and meet objectives
an ability to develop and conduct appropriate experimentation, analyze and interpret data, and use engineering judgment to draw conclusions
an ability to acquire and apply new knowledge as needed, using appropriate learning strategies.
Information ABOUT Environmental Engineering
Environmental engineers will be needed to help companies comply with environmental regulations and to develop methods of cleaning up environmental hazards. There has been a shift in emphasis toward preventing problems rather than controlling those which already exist, as well as increasing public health concerns resulting from population growth, also are expected to spur demand for environmental engineers. Because of this employment growth, job opportunities in Environmental Engineering should be favorable.

Environmental engineers use the principles of engineering, soil science, biology, and chemistry to develop solutions to environmental problems. They are involved in efforts to improve recycling, waste disposal, public health, and control of water and air pollution
DEGREE OPTIONS/FUTURE ACADEMIC PATHS
Graduates are awarded a B.S. in Environmental Engineering.

After graduation students may also find similar academic interests in other professional pursuits such as:
Environmental Law
Engineering (Agricultural Engineering, Chemical Engineering)
CAREER CLOSE-UP
Environmental Engineers
Median wage (TX) - $100,390
Median wage (US) - $85,140
Agricultural Engineers
Median wage (TX) - $82,500
Median wage (US) - $77,370
Source:  Myplan.com, LLC; Bureau of Labor Statistics, U.S. Department of Labor.
Developmental Expectations
Be able
To use upper level mathematics to solve problems.

To understanding written sentences and paragraphs in work-related documents.

To communicate effectively in writing as appropriate for the needs of the audience.

To communicate effectively by presentations speaking in open forums.

To use logic and reasoning to identify the strengths and weaknesses of alternative solutions, conclusions or approaches to problems.

To understand the implications of new information for both current and future problem-solving and decision-making.
You should know
WT is one of only four authorized undergraduate Environmental Engineering programs in the state of Texas.

Employment of environmental engineers is projected to grow 22% from 2010 to 2020, faster than the average for all occupations. Professional, scientific and technical services is projected to grow by 44% in the field of Environmental Engineering from 2010 to 2020.
PROGRAM COSTS

Annual Enrollment
| | |
| --- | --- |
| Academic Year | Annual Enrollment* |
| 2014-2015 | 2 |
| 2015-2016 | 1 |
| 2016-2017 | 1 |
| 2017-2018 | 9 |
| 2018-2019 | 6 |
*Enrollment numbers do not include pre-engineering.
Graduation Data