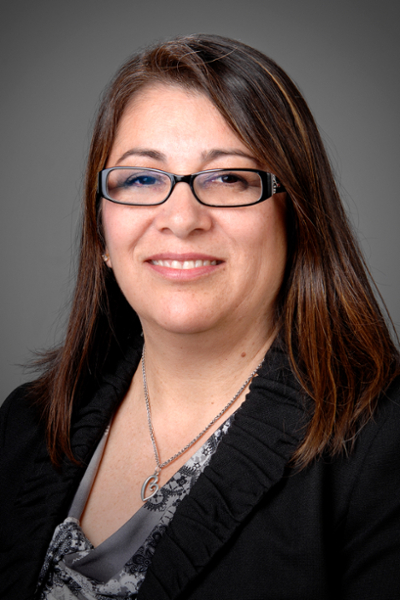 Dr. Elsa Diego-Medrano
Associate Professor of Education
Office: Old Main 
Email: emedrano@wtamu.edu
Phone: 806-651-2612


Professional Profile
Dr. Diego-Medrano joined the College of Education in 2008. She received a B.S. in Multidisciplinary Studies from Texas Tech University in 1992, an M.Ed. in Language Literacy from Texas Tech University in 200, and a Ph.D. in Curriculum and Instruction (Emphasis in Language Literacy, minor) from Texas Tech University in 2013.
Teaching and Related Service
Dr. Diego-Medrano is an assistant professor in the College of Education and the faculty advisor for the Bilingual/ESL Education Student Organization (BESO).
Dr. Diego-Medrano takes students to conferences to help them gain ideas and information to broaden their world in regard to equal access to education, influential speakers, and new educational theories.
This year, Dr. Diego-Medrano was also given the responsibility of recruiting for the College of Education. She is currently working on how to provide support for the ACE students on the WT campus.
Dr. Diego-Medrano serves the bilingual students in the educational program by providing seminars in order to prepare the candidates for their certification tests in regard to language proficiency.
Research and Creative Activity 
Dr. Diego-Medrano conducted a study entitled "Evaluating our Bilingual Candidates in Preparation for the Bilingual Target Language Proficiency Test.
She also submitted a study abroad to Costa Rica to enable the students to become immersed in Spanish by attending intensive Spanish classes, visiting private, public, an indigenous school to gain a more global perspective of bilingual education.
Dr. Diego-Medrano is also a part of the Ed.D program the college of education is working on to provide a multicultural perspective for the educators and administrators in the area.
In addition, she is part of a collaboration between several colleges of education within the A&M system to take education candidates to Mexico for a study abroad experience.