WTAMU Program in Wildlife Biology
General Introduction to WTAMU Wildlife Biology
West Texas A&M University's Wildlife Biology Program provides the education and experience necessary to prepare students for careers as wildlife professionals or to continue their education in graduate school. Our use of the term "wildlife" is more inclusive than many other wildlife programs and includes species traditionally categorized as game or nongame, animals and plants, and both terrestrial and aquatic systems. Our program focuses on providing students with:
a solid understanding of the biology and ecology of wildlife species through field work and classes in ornithology, mammalogy, herpetology, ichthyology, etc.,
an understanding of how to utilize management techniques to achieve desired management goals based on a species' biology,
opportunities to gain field/research experience using the latest techniques and tools of wildlife biologists by assisting faculty and graduate students with research projects and through field trips, and
an understanding of the process of science through exposure to wildlife research. Students are further exposed to professional wildlife biologists through our Student Chapter of The Wildlife Society, field trips, access to volunteer activities, and in their classes.
The Wildlife program at West Texas A&M University is a very rigorous program designed to produce qualified and competitive wildlife professionals. To ensure that you are competitive, maintain a good grade point average (GPA), become involved with existing research projects, get to know your advisor, professors, and professionals in the field and be an active member of WTAMU's Student Chapter of The Wildlife Society.
---
Biological Setting
West Texas A&M University is located in the Panhandle of Texas on the Llano Estacado (staked plains), a large plateau covered by short-grass plains. A diverse array of plants and animals occur in our area because of our location. The Panhandle is on the eastern edge of the distribution of western species and the western edge of the distribution of many eastern species and members of both groups are common here. The Llano Estacado also contains the highest density of playa lakes (shallow, seasonal wetlands) in North America. As a result, the area is a very important migratory stopover and wintering area for waterfowl and shorebirds.
Palo Duro Canyon State Park is located 15 miles east of the University on the escarpment of the Llano Estacado. The Park is representative of the rugged lands that form the eastern border of the Llano and is the site of many field trips and student research projects. Other local areas of interest include Buffalo Lake National Wildlife Refuge, Muleshoe National Wildlife Refuge, Rita Blanca National Grasslands, Crossbar Cooperative Management Area (managed jointly by the Bureau of Land Management and West Texas A&M University), Matador Wildlife Management Area, Gene Howe Wildlife Management Area, and Caprock Canyons State Park. Locally common species during certain seasons include sandhill cranes, bald and golden eagles, prairie falcons, northern pintails and other waterfowl species, Mississippi kites, scissor-tailed flycatchers, Swainson's hawks, and burrowing owls. Pronghorn, coyotes, bobcats, gray foxes, white-tailed and mule deer, black-tailed prairie dogs, greater roadrunners, Texas horned lizards, prairie and western diamondback rattlesnakes, yellow mud turtles, barred tiger salamanders, green toads, and Texas tarantulas are common year-round residents. Lesser prairie chickens, barred owls, massasaugas, and swift foxes can be found nearby. Although surface water resources are often scarce, the nearby Canadian River has the state's only population of the Federally threatened Arkansas River shiner, as well as healthy populations of more common species, such as peppered chubs and plains killifish.
---
The Wildlife Curriculum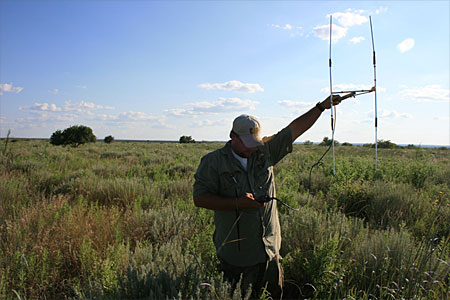 General Description
The Wildlife Program at West Texas A&M University offers both a B.S. in Wildlife Biology and a M.S. degree in Biology. Wildlife majors (B.S.) will need to complete 71-77 hours of degree requirements (primarily biology, chemistry and other science courses), general education classes (core curriculum), and electives to total 120 semester hours to meet the degree requirements.
We offer a variety of biology classes to prepare students to work as wildlife professionals. The assortment of required classes is designed to provide students with exposure to principles for both traditional wildlife management and more modern ecosystem management. We place an emphasis on classes that focus on the biology, ecology, and natural history of vertebrates. Classes like Mammalogy, Ornithology, Herpetology, and Ichthyology are necessary to provide students with an adequate understanding of these groups. Numerous additional upper-level biology and environmental science classes are available and allow students to focus on specific areas of interest or to prepare students for Certification as a Wildlife Biologist by The Wildlife Society.
---
Wildlife Biology Courses
Biology course descriptions.

Advanced courses for the Wildlife Biology degree may include courses in wetland soils, wildlife techniques, field biology, plant taxonomy, ecology, plant ecology, biometry, limnology, ichthyology, marine fisheries, herpetology, ornithology, mammalogy, animal behavior, conservation biology, zoogeography, systematics, entomology, parasitology, arthropods and public health, and senior seminar.

Related and valuable courses in Environmental Science include environmental law, environmental research methods, geographic information systems (GIS), preparation of environmental impact statements, and environmental and natural resource economics.

Field trips that allow students to develop and implement techniques and observe current management practices are integral parts of most courses. Our location allows day trips to diverse areas, including properties managed by Texas Parks and Wildlife Department, the Bureau of Land Management, the U.S. Forest Service, and the U.S. Fish and Wildlife Service. A two-week multi-disciplinary Field Biology class is offered during the summer, which includes intensive application of field sampling techniques and data analysis. In addition to travel throughout Texas, field trips may include extensive overnight excursions to Kansas, Oklahoma, the Southwestern Sky Islands, Rocky Mountains, and Yellowstone. Outside of classes, we have been able to take students on more research based field trips, such as assisting with Arizona Game and Fish Department's annual black-footed ferret surveys in the Aubrey Valley of northern Arizona.
---
Wldlife Biology Research at WTAMU
Faculty and students at West Texas A&M University conduct research at a number of research sites in the Panhandle of Texas and beyond. Below you will find a list of some of the many research sites utilized by WTAMU.
Clarity Tunnel, Caprock Canyons State Park

Clarity Tunnel, located in the southern Texas panhandle, is an abandoned railroad tunnel along a public trail system that is part of Caprock Canyons State Park and Trailway. A colony of Brazilian free-tailed bats was found to inhabit the 194 m long tunnel in 1992. Visual estimates of emergence flights conducted in 1996 produced an estimated colony size of 50,000 and 500,000 during early summer and mid July, respectively. Students and faculty at WTAMU are contracted by the Parks Division of Texas Parks and Wildlife Department to determine the size of the colony of bats and to develop a protocol to monitor the size of the colony over time. Contact Ray Matlack for more information on this project.
Palo Duro Canyon State Park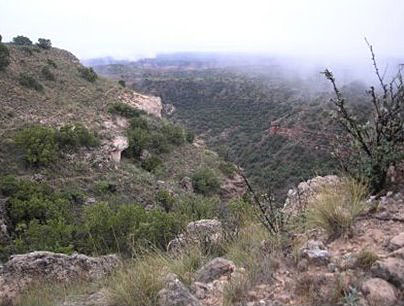 Palo Duro Canyon is a 16,402 acre state park located in Randall and Armstrong counties in the panhandle of Texas. The park is located on the edge of the Llano Estacado or "Staked Plains" and contains a variety of habitats ranging from shortgrass prairie to riparian woodlands. Along the edge of the Llano the flat plains abruptly give way to the rugged canyons for which the park is known. The park is home to the state threatened Palo Duro mouse, a subspecies of the piñon mouse, that is restricted to the canyons of Randall, Armstrong and Briscoe counties. WTAMU faculty and students have conducted research on a variety of mammals in the park including the Palo Duro mouse and other small mammals, bats, and ringtail. For more information on these projects contact Ray Matlack.
Crossbar Cooperative Management Area

Crossbar Cooperative Management Area (CMA; formerly Crossbar Ranch) is located on the south bank of the Canadian River in Potter County, Texas, just outside the city limits of Amarillo. The area contains 11,883 acres of mesquite shrublands, sand sagebrush lowlands, rocky canyons, and shortgrass prairie. In 2006 the Bureau of Land management (BLM) and West Texas A&M University entered into an agreement creating the Crossbar Cooperative Management Area, allowing the area to be managed jointly by the BLM and WTAMU. Following decades of mismanagement, the primary management objective of the BLM is to convert this shrubland to a more grassland or savanna-like area more typical of the historic habitat of the region. Although the area is not currently grazed, a controlled burning program is in place.
WTAMU has been conducting research on the site since 2003. In addition to establishing a replicated, long-term fire ecology study to examine the effects of fire frequency on small mammal, reptile and amphibian, and vascular plant communities, WTAMU is actively involved in conducting baseline inventories for all types of organisms on the site. WTAMU also initiated a marking and monitoring program for Texas horned lizards on Crossbar CMA. Student led research on the site has involved small mammal communities, grassland birds, invertebrates, Texas and roundtail horned lizards, aquatic turtles, and fishes. At only about 45 minutes from the WTAMU campus, Crossbar CMA offers ample opportunities both research and field trips. Contact Ray Matlack or Rich Kazmaier for more information on this research.
Matador Wildlife Management Area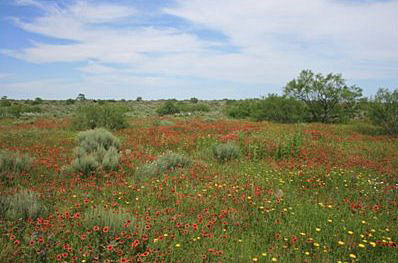 The 28,183-acre Matador Wildlife Management Area (WMA) in Cottle County, Texas, was purchased by Texas Parks and Wildlife Department (TPWD) in 1959 with Pittman-Roberson funds. Matador WMA is currently managed by the Wildlife Division of Texas Parks and Wildlife Department as a research and demonstration area for the Rolling Plains Ecoregion. The area is dominated by mesquite uplands, shinnery oak and sand sagebrush rangeland, and gravelly hills with red berry juniper and honey mesquite. Common species of wildlife found on Matador WMA include northern bobwhite, scissor-tailed flycatchers, Mississippi kites, western diamondback rattlesnakes, massasaugas, western hognose snakes, Texas horned lizards, coyotes, bobcats, mule deer, and white-tailed deer.
A small, but persistent population of javelina represents one of the most northern occurrences of this species. Matador WMA is also bisected by the Middle Pease River, which provides permanent habitat for such species as Red River pupfish, spiny softshell turtles, North American beaver, and Virginia rail. The area is managed using controlled fire, public hunting, livestock grazing, and various brush manipulation techniques, providing ample opportunity to conduct management related research. Although heavily engaged in surveys for game species, the staff on the area also initiated a long-term marking and monitoring program for Texas horned lizards in 1995 and ornate box turtles in 2004.
Matador WMA also participates in the international Monitoring Avian Productivity and Survival (MAPS) program to help track populations of migratory birds. In 2005, WTAMU and TPWD initiated a long-term study investigating the seasonality of fire on vegetation, invertebrate communities, herpetofauna and small mammals. In addition to assisting with baseline inventory for all taxa, WTAMU students have conducted research on Matador WMA involving plant, invertebrate and vertebrate communities, as well as ornate box turtles, snakes, scorpions, and aquatic turtles. At only about 2.5 hrs away from WTAMU, the site provides ample opportunities for full-day or over-night field trips, as well as volunteer activities, such as assisting with controlled burning or participating in the annual Christmas Bird Count. Historically, Matador WMA has also been able to provide summer internship opportunities for students. Contact Rich Kazmaier for more information on this research.
Gene Howe Wildlife Management Area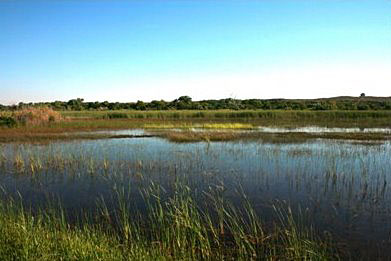 Located just northeast of Canadian, Texas, in Hemphill County, the 5,886-acre Gene Howe WMA represents unique part of the Texas Panhandle. The area lies along the north bank of the Canadian River and has been managed by the Wildlife Division of TPWD since 1951. The Gene Howe WMA is composed of a combination of sand sagebrush uplands and riparian and wet meadow lowlands interspersed with a number of sloughs. The uniqueness of Gene Howe WMA stems from a heavy influence of eastern species that barely enter the Texas Panhandle by following the Canadian River westward. Thus, this general area is the only part of the Texas Panhandle where people can reliably find such species as ladies tresses orchids, barred owls, chuck-will's-widows, spotted gar, and black rat snakes.
Although the site is only about 100 miles down river from the Crossbar CMA, the two areas only share about 30% of their plant species. Species more typical of the rest of the Texas Panhandle, such as glossy snakes, green toads, bobcats, and wild turkey are also common. Texas Parks and Wildlife Department actively manages the site using public hunting, livestock grazing, and controlled burning. A very active brush manipulation program is also in place that strives to reduce exotic species such as salt cedar and Russian olive. Like at Matador WMA, WTAMU is assisting TPWD with baseline inventories on the site. Additionally, student research has focused on such things as yellow mud turtles, snakes, and fishes. Gene Howe WMA is also just over 2 hrs away from WTAMU, and provides excellent opportunities for full-day or longer field trips and volunteer activities. Contact Rich Kazmaier for more information on this research.
---
Internships, Scholarships, and Financial Assistance
Several important research and service groups are associated with our Wildlife Biology program, which provides invaluable experience for our students. They also give our program regional, national, and international visibility. Summer or semester internships with Texas Parks and Wildlife Department, the Department of Energy, the U.S. Fish and Wildlife Service, Arizona Game and Fish Department, the Texas Commission on Environmental Quality (TCEQ) and other organizations may be available to experienced and qualified students contingent upon funding availability or as volunteers. Internships provide students with invaluable on-the-job experience, while simultaneously allowing them to earn both a salary and college credit. Intern programs in both the Wildlife Biology and Environmental Science programs provide students with an opportunity to practice their profession prior to graduation. In addition to grants, loans, teaching and research assistantships, and scholarships, the university offers scholarship funds and awards on a competitive basis to academically deserving majors.
---
Departmental Service and Mutual-Interest Organizations
Students are encouraged to participate in the WTAMU Student Chapter of The Wildlife Society, Beta Beta Beta,WTAMU Environmental Science Club, and WTAMU Geology Club. These clubs engage in a variety of activities, including scheduling presentations by area professionals, fund-raisers, and service opportunities. Additionally, we encourage students to attend as many professional meetings as possible, such as those sponsored by the The Wildlife Society, the Texas Chapter of The Wildlife Society, American Society of Mammalogists, Texas Society of Mammalogists, Entomological Society of America, Ecological Society of America, Southwestern Association of Naturalists, Texas Academy of Sciences, Society for the Study of Amphibians and Reptiles, Kansas Herpetological Society, and Turtle Survival Alliance.
---
Faculty
Raymond S. Matlack
Short biographical sketch
Dr. Matlack joined the faculty in the Department of Life, Earth and Environmental Sciences in July of 2002. He earned a B.S. in wildlife biology and a M.S. and Ph.D. in biology from Kansas State University. In addition to his teaching responsibilities, Dr. Matlack is the adviser for students pursuing degrees in wildlife biology and co-advises the WTAMU Student Chapter of The Wildlife Society. Additional information may be found on Dr. Matlack's personal website: http://www.wtamu.edu/~rmatlack/

Research Interests
Dr. Matlack's research focuses on population and community ecology of mammals. Current research projects include the development of a monitoring protocol for a colony of free-tailed bats roosting in an abandoned railroad tunnel, response of small mammals to frequency of fire in shortgrass prairie, ecology of the Palo Duro mouse and other small mammals in Palo Duro Canyon, ecology of bats in Palo Duro Canyon, and an examination of the extent of the range of the prairie vole in the Texas panhandle and eastern New Mexico.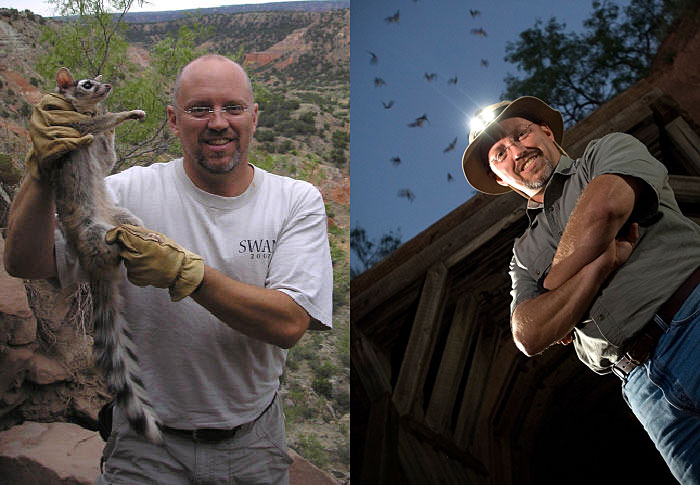 ---
Job Prospects in Wildlife Biology
Graduates in Wildlife Biology may obtain positions in management with state or federal agencies, NGOs, private landholders, private consulting firms, or (with addition education) academia. Wildlife managers manipulate habitat to control game and other wildlife populations. Wildlife researchers conduct experiments to help solve problems faced by the wildlife manager. Undergraduates are encouraged to become involved with faculty and graduate students and their research to gain valuable experience. Because of the competitiveness of the profession, we encourage students interested in Wildlife Biology to plan for obtaining a Master of Science degree (M.S.). WTAMU offers M.S. programs in Biology and in Environmental Science.
Those students interested in working as professional wildlife managers should design a thesis project with strong management implications. Species studied by former WTAMU graduate students include ringtails, Palo Duro mice, porcupines, Texas horned lizards, ornate box turtles, and Texas indigo snakes. However, a variety of more community-based research projects, such as bats in Palo Duro Canyon or aquatic turtle communities throughout the Panhandle, have also been undertaken. Projects investigating the effects of management practices, such as grazing and controlled burning, are also an important part of our graduate program.
Recent WTAMU graduates have been employed as wildlife managers, wildlife biologists, refuge managers, park rangers, park naturalists, game wardens, recreation planners, consulting wildlife biologists, or gone on to enter M.S. or PhD programs at other academic institutions.