CAREER OPPORTUNITIES
Management with state or federal agencies
Wildlife managers
Wildlife biologists
Refuge managers
Park rangers
Park naturalists
Game wardens
Recreation planners
Consulting wildlife biologists
Non-government organizations
Private landholders
Private consulting firms
(with addition education) Academia
DEGREE OPTIONS
See WT Catalog: "Wildlife Biology B.A./B.S." for complete degree requirements
PLANS OF STUDY
"Wildlife Biology (B.A.)" OR "Wildlife Biology (B.S.)"
WHAT YOU WILL LEARN
Exposure to principles for both traditional wildlife management and more modern ecosystem management.
Classes that focus on the biology, ecology, and natural history of vertebrates.
A solid understanding of the biology and ecology of wildlife species through field work and classes in classes like Mammalogy, Ornithology, Herpetology, and Ichthyology
An understanding of how to utilize management techniques to achieve desired management goals based on a species' biology
Opportunities to gain field/research experience using the latest techniques and tools of wildlife biologists by assisting faculty and graduate students with research projects and through field trips
An understanding of the process of science through exposure to wildlife research. Students are further exposed to professional wildlife biologists through our Student Chapter of The Wildlife Society, field trips, access to volunteer activities, and in their classes.
Wildlife managers manipulate habitat to control game and other wildlife populations.
Wildlife researchers conduct experiments to help solve problems faced by the wildlife manager.
Undergraduates are encouraged to become involved with faculty and graduate students and their research to gain valuable experience.
DEGREE OPTIONS/FUTURE ACADEMIC PATHS
Because of the competitiveness of the profession, we encourage students interested in Wildlife Biology to plan for obtaining a Master of Science degree (M.S.).
 WTAMU offers M.S. programs in Biology and in Environmental Science.
Those students interested in working as professional wildlife managers should design a thesis project with strong management implications.
Projects investigating the effects of management practices, such as grazing and controlled burning, are also an important part of our graduate program
Species studied by former WTAMU graduate students include ringtails, Palo Duro mice, porcupines, Texas horned lizards, ornate box turtles, and Texas indigo snakes. However, a variety of more community-based research projects, such as bats in Palo Duro Canyon or aquatic turtle communities throughout the Panhandle, have also been undertaken.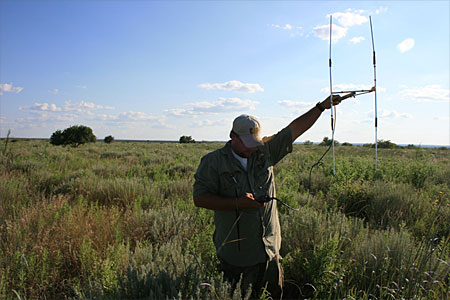 CAREER CLOSE-UP
Wildlife Biologist
Median wage (TX) -
$45,710 annually
Median wage (US) -
$60,670 annually
Game Warden
Median wage (TX) -
$48,950 annually
Median wage (US) -
$54,950 annually
PREREQUISITES
Students are encouraged to participate in the WTAMU Student Chapter of The Wildlife Society, Beta Beta Beta,WTAMU Environmental Science Club, and WTAMU Geology Club. These clubs engage in a variety of activities, including scheduling presentations by area professionals, fund-raisers, and service opportunities.

Additionally, we encourage students to attend as many professional meetings as possible, such as those sponsored by the The Wildlife Society, the Texas Chapter of The Wildlife Society, American Society of Mammalogists, Texas Society of Mammalogists, Entomological Society of America, Ecological Society of America, Southwestern Association of Naturalists, Texas Academy of Sciences, Society for the Study of Amphibians and Reptiles, Kansas Herpetological Society, and Turtle Survival Alliance.
PROGRAM COSTS
Internships, Scholarships, and Financial Assistance
Summer or semester internships with Texas Parks and Wildlife Department, the Department of Energy, the U.S. Fish and Wildlife Service, Arizona Game and Fish Department, the Texas Commission on Environmental Quality (TCEQ) and other organizations may be available to experienced and qualified students contingent upon funding availability or as volunteers. Internships provide students with invaluable on-the-job experience, while simultaneously allowing them to earn both a salary and college credit. Intern programs in both the Wildlife Biology and Environmental Science programs provide students with an opportunity to practice their profession prior to graduation.
In addition to grants, loans, teaching and research assistantships, and scholarships, the university offers scholarship funds and awards on a competitive basis to academically deserving majors.