WTAMU Degree in Environmental Science
Program Mission

The mission of the Environmental Science program is to promote the rigorous science-based education, laboratory research, field study and service in environmental and geological sciences. Our curricular and educational activities target teaching environmental and geological science to all age groups in the Texas Panhandle community. Combining the topics of environmental and earth science is an efficient and interesting tool to connect audiences with fundamental science by demonstrating how science is applicable to interpret, digest and solve every-day life problems. Our students will be trained to prepare for a wide possibility of career paths through participation in our program. We aim at fostering self-directed learners who are creative, productive, collaborative and agile. Students in our program will develop their critical thinking and problem-solving skills that can be directly applicable in real-world environmental issues. Providing theoretical principles and real-world practices are key for the students to acquire those skills. Our program serves the needs of students preparing for an advanced environmental- and/or earth science career, understanding the interaction between people and the environment, safeguarding the public from environmental hazards, and preserving critical environmental and geological resources. Our goals fit with the Department's curricular goals and program evaluation. Our department houses museum quality collections of environmental and geological specimens for use by students, faculty, and qualified outside researchers. We furnish well-equipped laboratories and field equipment for use in research by both students and faculty. The faculty members serve the region with educational and consulting expertise in select areas of the environmental and earth sciences.
Environmental Science as a Profession
Environmental science is an interdisciplinary science which focuses on the interaction between people and the environment. The environmental scientist has two challenging, sometimes conflicting, goals in preparing to meet the challenges of the 21st century:
to protect the public from environmental hazards and
to preserve critical environmental resources
To accomplish these goals, the environmental scientist must be well trained in the fields of agriculture, biology, chemistry, economics, geography, geology and mathematics, and must be able to apply information drawn from these fields to the solution of environmental problems. The work of the environmental scientist is highly varied.
Environmental scientists in an academic field work on air quality research, climate science, water resource management and sustaining other environmental resources.
Environmental scientists working for governmental agencies may direct and conduct stream monitoring programs, underground water and soils cleanup programs or programs to protect them from pollution or help make and enforce regulations to protect endangered ecosystems of plants and animals.
Environmental scientists with public utility companies help select the most environmentally appropriate routes for power transmission lines, manage air emission programs and hazardous waste management.
With a petroleum company or a mining company, an environmental scientist might help design a waste-water treatment facility or monitor air quality in the vicinity of a refinery or open-pit mine.
An environmental scientist with a consulting firm might advise a municipal government on the most suitable location for a sanitary landfill or a department store chain on the best place for a mall.
The demand for environmental scientists continues to increase as world population grows and the need for safeguarding people and protecting the environment increases. Environmental science is a field with equal opportunities for men and women. Those who choose environmental science as a profession generally find the work to be both exciting and meaningful. Salaries typically exceed those in other fields of science.

Because environmental science is an applied science, students who choose to major in it should have a greater-than-average ability in science and mathematics. They also should have a strong interest in environmental protection and a commitment to public service.
The environmental science program is administratively based in the Department of Life, Earth and Environmental Sciences. Most of the required courses are taught in the Natural Sciences Building which has well equipped classrooms, laboratories and offices. Killgore Research Center, the Computer Center, the Alternative Energy Institute, the Texas A&M AgriLife Research Center, the Texas A&M Veterinary Diagnostic Laboratory and other local research entities provide additional opportunities for study and student research. Within the region, many opportunities for internships and employment exist in consulting firms, manufacturing, petroleum production, agriculture, renewable energy research and regional governmental centers.
Program History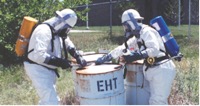 The Texas Higher Education Coordinating Board approved West Texas A&M University's application for an undergraduate environmental science program in 1992, followed by its graduate program in 1994. Because environmental problems involve all aspects of the natural environment as well as the human population, the curriculum is multidisciplinary with a strong emphasis on basic sciences. Required courses for the major total approximately 80 semester hours concentrated in the areas of biology, chemistry, geology, geoscience and mathematics. A feature of the program is a series of courses in environmental science, including an internship to provide practical work experience. Courses in environmental impact statements, law and economics are also included. The program provides a multidisciplinary perspective but also provides adequate depth in technical areas. For students who want additional training in one of the basic sciences, the environmental science degree can be combined with a degree in biology, chemistry or geology.
Specific Focus Areas in B.S. and M.S.

B.S. Environmental Science – Option I
B.S. Environmental Science/Geology Emphasis – Option II
M.S. Environmental Science – Option I
M.S. Environmental Science/Human and Ecological Risk Assessment Specialization – Option II
M.S. Environmental Science/Air Quality and Atmospheric Science Specialization – Option III
Environmental Science Research at WTAMU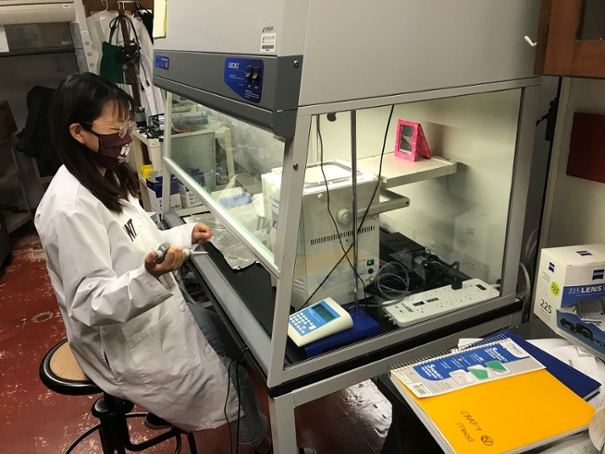 Students are encouraged to conduct or to participate in emerging and ongoing research activities at WTAMU. This hands-on experience makes WTAMU's environmental science graduates very competitive in the job market. In addition, many environmental science graduates are able to obtain research grants or local employment and are able to pursue a Master's Degree in Environmental science. This early research experience provides the student with a head start on his/her advanced degree. Some research areas are listed below:
Vertical Profiling with Unmanned Aircraft System


Arctic Climate Research

Environmental Risk Assessment Research

Fundamental Thermodynamics

Feedyard Dust Research

Environmental Matirial Science Research

Environmental Chemistry

Environmental Microbiology

Combustion Coal Ash Research

Local Air Quality Research

Water Bioremediation Research
Environmental Science Society

Our Environmental Science Society (ESS) provides the student with an opportunity to meet and to work with their peers. The ESS takes field trip to such locations as the Nevada Test Site, Rocky Flats Colorado, and even fun trips such as white water rafting down the Colorado and the Guadalupe Rivers. The organization holds biweekly meetings. For more information, please contact ESS advisors/members through WTAMU ESS Slack.
Financial Aid

Scholarships and other forms of financial aid are available. Graduate students may also be employed as research assistants on funded research projects. In addition, advanced undergraduate students are employed as assistants in laboratory courses each semester. Work study and student loans are available through the University. For More Information, contact the Environmental Science program faculty members. West Texas A&M University serves people of all ages, regardless of socioeconomic level, race, color, gender, religion, disability or national origin. WTAMU is an affirmative action/equal employment opportunity institution.
Faculty