WT is pleased that The Texas A&M University System is moving forward with increased accessibility and availability of COVID-19 testing. All students will be eligible for testing, as will any staff or faculty member experiencing COVID-19 symptoms or who believe they might have been exposed.
Testing is being held at the First United Bank Center at 3301 4th Ave in Canyon. See the campus map for directions.
When weekly drive-through tests are held, review the parking lot map and keep these things in mind:
Do not eat or drink anything for 20 minutes before the test.
Write your name and date of birth in bold, large letters on a piece of paper for the testers to identify you from your auto dashboard.
If you need to cancel, please call Student Medical Services at 806-651-3287.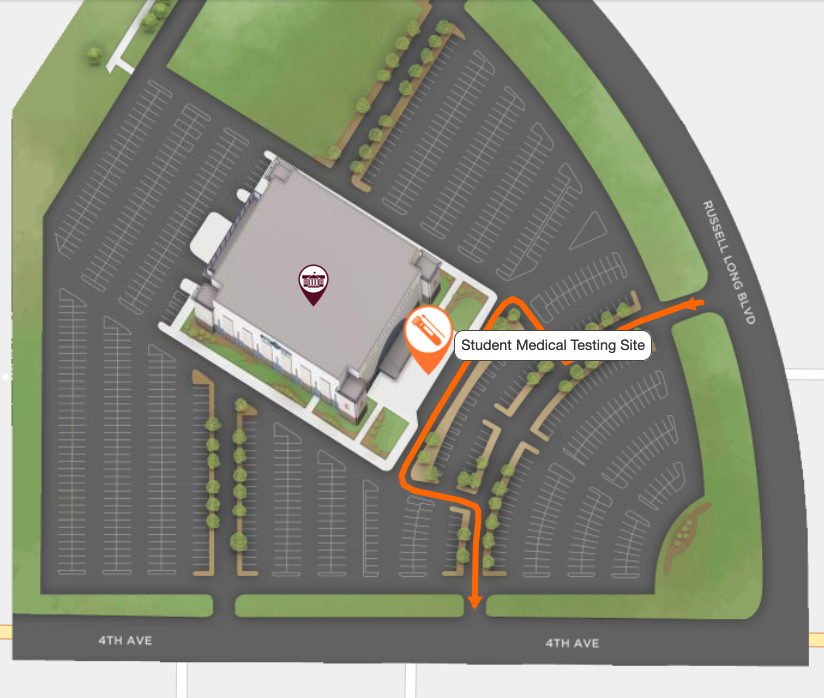 Familiarize yourself with this process:
Open the bag A, Please complete in print the Test Requisition Form located in your kit.  Any missing information may cause delays in obtaining your results.  Put complete requisition back in bag A
Peel open the swab package B and remove the swab.
Rub the swab inside your mouth on the left cheek, right cheek, and roof of mouth.
Unscrew the lid of the tube C and insert the swab B with the saliva sample into the tube. Do not touch or place swab on any surface area after mouth collection
Align the score (red circled, black score line on the shaft of the swab) with the top of the tube. Carefully break the swab at the black score line. 
Screw the top on the tube securely.  Turn it upside down several times to mix sample with tube solution
Write your name and date of birth on the sample tube C label and specimen bag D label.
Put the tube into the small biohazard bag D and seal the top of the bag. Place bag D in bag A.
Seal zip lock on bag A and hand your bag to your sample collection facilitator.
Results will be available within 48 hours of receipt of sample to the lab.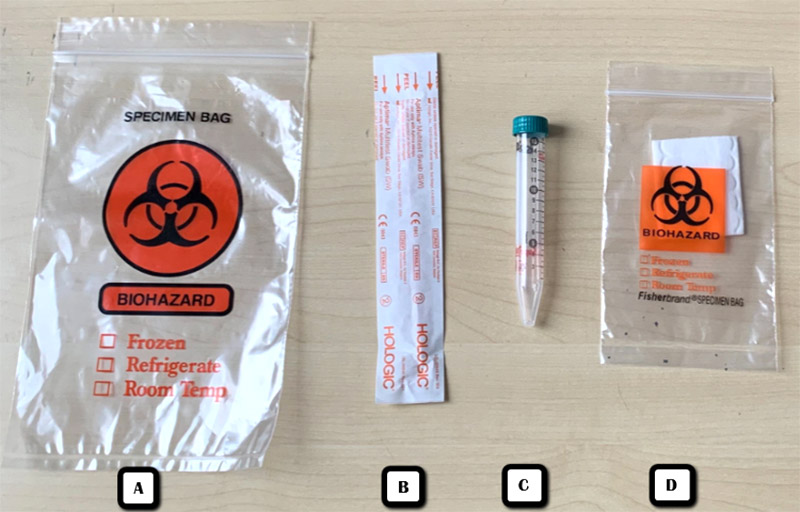 If you have trouble following the instructions, please contact: support@curativeinc.com
Once the lab has processed the results, you should receive an e-mail confirmation, and please self-report at https://redcap.link/TAMUS_COVID_PORTAL
Additional updates can be found at www.wtamu.edu/coronavirus and questions can also be sent to COVID19@wtamu.edu.