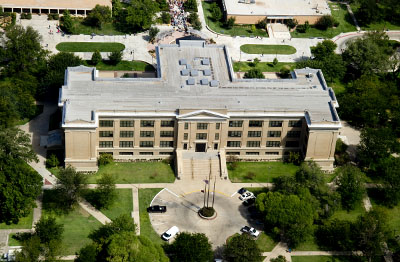 The campus of West Texas A&M University lies in the northeast corner of the town of Canyon, Texas, approximately fifteen miles south of Amarillo. Here, you'll discover a vibrant community complete with hospitable people, historic homes and a variety of options for shopping and dining.
Despite the vast, open plains that cover the region, trees and foliage are in abundance here at WTAMU. Many students and community members find the 176-acre campus the perfect place to take a stroll, have a leisurely picnic or walk the family dog. The Charles K. and Barbara Kerr Vaughan Pedestrian Mall has many scenic features, including the "Original Texans" marble sculpture and fountain and the Hayward Spirit Tower.
The WTAMU campus offers a variety of activities for students and visitors and is often the location for an array of community events. The Panhandle-Plains Historical Museum and the Virgil Henson Activities Center can offer fun for the whole family, while a number of WT groups, departments and organizations host campus events throughout the year.
Check out our campus map which features all of the new improvements as well as the lasting icons that make up our campus. State-of-the-art facilities, enhanced technology, student-centered learning environments and community-friendly outdoor spaces set the stage for WT's ever-growing student population.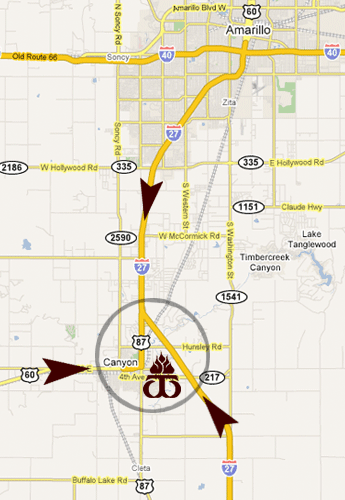 From the north…
Travel through Amarillo, Hwy 287. Approximately 15 miles south of Amarillo, veer right onto Hwy 87 into Canyon.
From the south…
Travel Interstate 27 and exit at Hwy 217. Turn west on Hwy 217 (4th Avenue) into Canyon.
From the west…
Travel Highway 60 into Canyon. Merge with southbound traffic on Highway 87 to the intersection of Hwy 87 (23rd Street) and Russell Long Boulevard.
The campus is bordered by 23rd Street on the west, Russell Long Boulevard on the north, 27th Street to the east and 4th Avenue to the south.