Buff Branding
Buff Branding, the second part of your orientation experience, is a University tradition that builds on what you learned at New Student Orientation (NSO) and is designed to equip you with what we think you need to succeed -- both inside and outside the classroom.­
Whether you're an extrovert, an introvert or a little of both, we want you to be comfortable at WT. We understand you may feel anxious, excited, nervous, eager; in fact, you may feel all of those things. Buff Branding events are designed to help minimize your nervousness and anxiety, to make certain you understand the expectations associated with your academic experience, and to officially "brand" you as a member of the buffalo family.­­
This year, Buff Branding is August 23-25, 2018.
To register please click here: https://wtamuuw.az1.qualtrics.com/jfe/form/SV_d5SLqnf7VrDNtop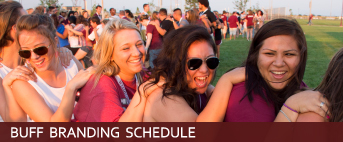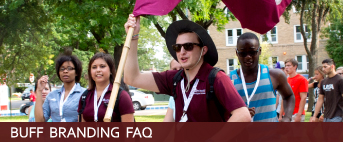 2017 Recap:
<
View more Buff Branding event photos

Attention Current WTAMU Students:
Interested in being a Buff Leader for Buff Branding 2018? Want to help us welcome the Class of 2022?
Apply here: Buff Leader Application 2018
Must be a returning student, see application for other details. Email buffbranding@wtamu.edu if you have any questions.
Priority deadline: March 9, 2018 at 5:00 pm. Final deadline: March 30, 2018 at 5:00 pm.
Applications can be sent by email to buffbranding@wtamu.edu or hand-delivered to the Office of Student Engagement and Leadership, JBK 103.