About Us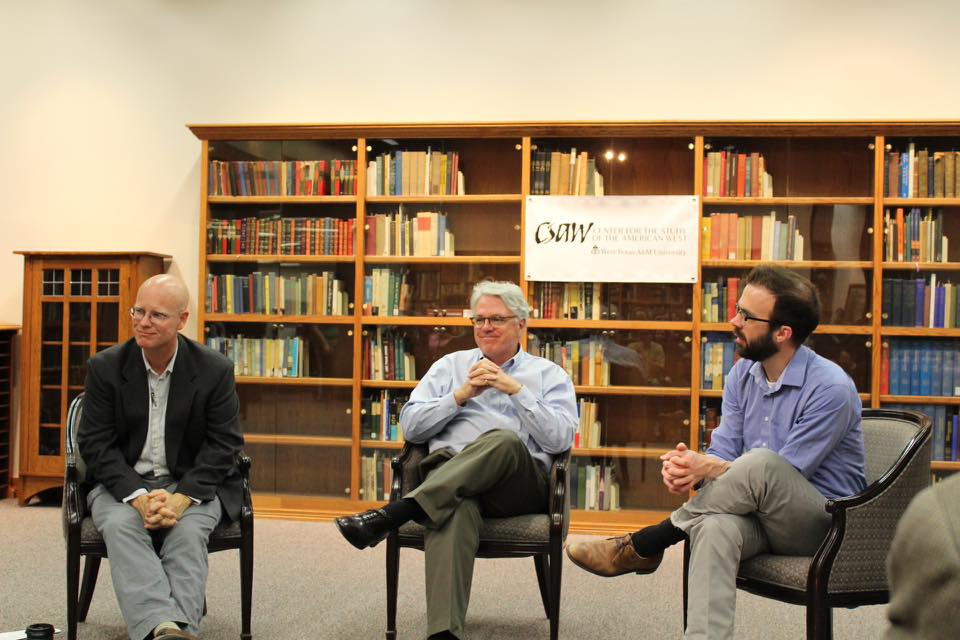 Throughout the local community and campus community, CSAW strives to educate about and increase appreciation for the American West. Use the side menu to view opportunities for students (including the Western American Studies minor, internships, and research grants), researchers, and anyone interested in participating with CSAW in any capacity, be it attending lectures and movie nights or donating to support the Center. CSAW is composed of a director board, an advisory board, a faculty council, and student interns.
Director Board
Dr. Alex Hunt, director
Dr. Alex Hunt, professor of English, came to WT in 2002. Originally from Alaska and Washington, he received his BA and MA from Colorado State University and his PhD from the University of Oregon. Dr. Hunt has published books on novelist Annie Proulx, postcolonial ecocriticism, and 19th century British investment in the American West. He has published articles on Texas Panhandle history, works of Western and Southwestern literature, Native American and Chicano/a studies, and popular culture--most recently on the television series Breaking Bad. Dr. Hunt has been editor of the Panhandle-Plains Historical Review and the Haley Professor of Western Studies since 2012.
Dr. Tim Bowman, associate director
Dr. Tim Bowman is an assistant professor who studies borderlands history and the history of the North American Southwest. His first book, Blood Oranges: Agriculture and Colonialism in the South Texas Borderlands, was published by Texas A&M University Press in May of 2016. Professor Bowman's current research interests include violence among the U.S.-Mexico border during the nineteenth century, as well as political cultures and identity politics in the Texas Panhandle during the twentieth century.
AJ McCormick, assistant director
---
| | | | |
| --- | --- | --- | --- |
| Georgia Kitsman, Chair | Mike Bellah | Kay Lynn Caviness | Lilia Escajeda |
| Alex Gregory | Jeff Haley | Scott Higginbotham | Bonney MacDonald |
| Alex Hunt | Ben Johnson | Carol Lovelady | Michael Roberts |
| Jessica Mallard | Jay O'Brien | Beverly Plank | Joan Urban |
| Joe Bill Sherrod | Diane Thorpe | Jack Turner | Jonathan Baker |
| Amy Von Lintel | Shawna Witthar | David Horsley | Jack Craft |
| Mike Harter | Billy Hawkins | Joel Hogue | David Wheeler |
| Katy Magee | Wes Reeves | | |
| | | | |
| --- | --- | --- | --- |
| S. C. Gwynne | Patricia Limerick | Philipp Meyer | Laura Pritchett |
| John Erickson | | | |
| | | | |
| --- | --- | --- | --- |
| Veronica Arias | Rebekah Bachman | Timothy Bowman | Stacy Sheller |
| Alex Hunt | Brian Ingrassia | Sidnye Johnson | Marty Kuhlman |
| Bonney MacDonald | Ray Matlack | Marcus Melton | Dave Rausch |
| Warren Stricker | Amy Von Lintel | Bonnie Roos | Jessica Mallard |
| Kristina Drumheller | Jean Stuntz | Joe Bill Sherrod | Byron Pearson |
| Wade Shaffer | Rebekah Bachman | Sidnye Johnson | Nicholas Gerlich |
| Lisa Garza | Tim Foster | Ray Barbosa | AJ McCormick |
| | | |
| --- | --- | --- |
| Katey Denney | Kylie Scott | Monica Ghosh |
| Ethan Hershey | Angel Oliva | Eliana Flores |
| Callie Dean | | |