Skip to main content
Main content
Georgia O'Keeffe and Texas
---
Georgia O'Keeffe in Canyon by Fred Stoker
Dr. W.M. "Fred" Stoker joined the faculty of WTAMU in 1958. He was a professor of Education at the university until his retirement in 1985. A prolific writer, Stoker wrote a 44-page booklet summarizing the time that Georgia O'Keeffe lived in Canyon, from 1916 to early 1918.
Stoker wrote his account seventy-one years after O'Keeffe left Canyon, researching all the information that was available at the time. While able to interview only one person with first-hand knowledge about O'Keeffe in Canyon, Stoker included only anecdotes that, while perhaps apocryphal, seemed entirely plausible.
You may read the blend of facts and local stories below.
Contents of Georgia O'Keeffe In Canyon
The booklet contents include:
Title Page - page 1.
Preface - page 3.
Chapter I - pages 5 to 9. Includes photographs of the Railroad Depot, the B.A. Stafford Home, and the Shirley Home.
Chapter II - pages 10 to 13. Includes photograph of the Hudspeth House.
Chapter III - pages 14 to 21. Includes photographs of Palo Duro Canyon, WTSNC Faculty at the Hudspeth House, and Fourth Avenue, Canyon.
Chapter IV - pages 22 to 26. Includes photograph of O'Keeffe's sister Claudia.
Chapter V - page 27.
Chapter VI - pages 28 to 30.
Chapter VII - pages 31 to 33.
Bibliography - pages 34 to 36.
Photographs - pages 37 to 39. Includes the L.G. Conner Residence, The College Building as it was in 1916-1918, and Street Scene, Canyon.
1917 College Bulletin - pages 40 to 44.
Please enjoy reading, courtesy of Fred Stocker, the entirety of Georgia O'Keeffe in Canyon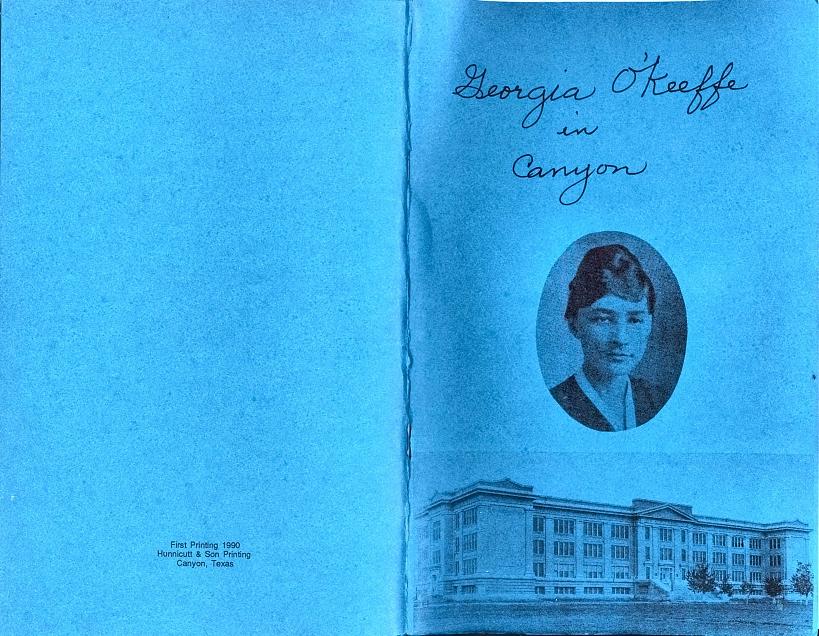 Back to our Georgia O'Keeffe homepage.
Get Adobe Reader