Tailgate Information
Tailgating Information
West Texas A&M University invites fans and alumni to enjoy tailgating and college football in the friendly confines of Kimbrough Memorial Stadium. The tailgating guidelines below are designed to ensure your safety and comfort and refer specifically to West Texas A&M home football games.
Tailgating is defined as the participation in a social event in a designated area, including consumption of food and beverages. Beverages may include alcohol for individuals of legal age (21) who tailgate in the designated area approved for alcohol consumption.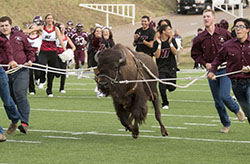 WEST TEXAS A&M UNIVERSITY DOES NOT SANCTION THE CONSUMPTION OR POSSESSION OF ALCOHOLIC BEVERAGES BY UNDERAGE PERSONS; NOR DOES IT SANCTION THE VIOLATION OF FEDERAL, STATE OR LOCAL LAW.
Tailgate Locations/Times
Tailgating is permitted from six hours prior to game time until kickoff.
Tailgating without alcohol is permitted anywhere in the Kimbrough Memorial Stadium parking lot within the confines of your parking space and outside of traffic lanes.
Tailgating with alcohol is permissible only in the designated tailgate area in the southeast portion of the Kimbrough Memorial Stadium parking lot. Signs at each entrance to the stadium will direct you to the site. The rodeo arena will NOT be used for tailgating this season.
All entrances and traffic lanes must remain clear at all times.
Charcoal grills and the use of charcoal are prohibited unless contained on a mobile cooking trailer. Charcoal must remain on the trailer at all times and cannot be dumped in the tailgate area or parking lot. Grills that are in use should not be left unattended at any time.
Participants in tailgate activities are expected to clean up and dispose of trash in the receptacles provided.
Tailgating is not permitted during the game, at half time or after the game. Please begin to clean up 30 minutes prior to kickoff.
ATV's, dirt bikes and firearms are prohibited.
The stadium parking lot closes one hour after the game. Any vehicles left in the parking lot will be locked in until the next business day.
The Alumni Association welcomes alumni association members and University donors to the Alumni Tailgate Deck prior to each home football game.
No one under 21 permitted unless accompanied by a parent.
Student groups are not permitted on the tailgate deck. (with the exception of Student Alumni Board members who are hosting)
Alcohol received at the tailgate deck should not be removed from the tailgate area.
The Alumni Association reserves the right to limit alcohol service or refuse service to anyone.
The Alumni Tailgate is 3-4 hours before game time.
Alcohol Guidelines
You must be 21 years of age or older to consume or be in possession of alcohol.
Alcohol consumption is allowed only until kickoff in the designated area in the southeast portions of the Kimbrough Memorial Stadium parking lot.
Glass containers, kegs and drinking game apparatuses are prohibited.
The sale of alcohol or providing alcohol to anyone other than your guests is prohibited.
The University Police Department will enforce applicable laws and University policies. Guests should be prepared to present a valid ID if requested by police.
Guests who exhibit unruly or disruptive behavior, who are clearly intoxicated or who are determined to be under the age of 21 and in possession of alcohol, are subject to arrest and removal from the premises.
Note: It is risky to serve alcoholic beverages to anyone other than yourself and your immediate party. You may be liable to guests and others for injuries resulting from serving alcohol, especially to a minor.
Conduct
Individuals attending events at West Texas A&M University are expected to conduct themselves in a manner respectful of the nature and character of the University. Persons acting in a disruptive, disrespectful or disorderly manner may be asked to leave the premises or be subject to arrest. Students may also be charged with a violation of the Student Conduct Code.
The purpose of the tailgating area is to provide a friendly, safe environment for fans to socialize and enjoy the event. West Texas A&M University reserves the right to revoke tailgating privileges of any person for violation of University guidelines and/or violation of local or state laws.