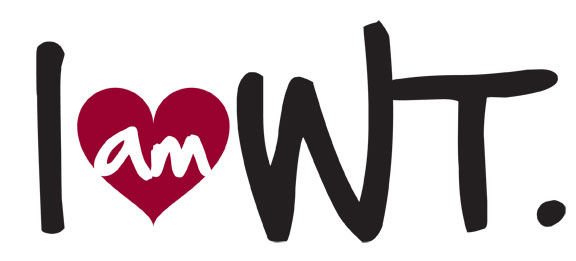 I am WT.

<

If you give to I am WT this year,
and have given to I am WT in the past,
then you will get this snazzy t-shirt.
2015 marks the fifth year of the I am WT faculty and staff giving initiative. Thanks to the incredible generosity of the WTAMU faculty and staff, we have raised more than $1,390,000 - and 100 percent of that $1.3 million benefits programs, projects, scholarships and more at the University. It's an amazing accomplishment and one we should all be proud of.
The phrase was coined years ago, but it still rings true today—West Texas A&M University IS more than brick and mortar—it's a community of friends and supporters who believe in the University and its mission and together, we can make a major difference in the life of the University.
"I am WT" began in fall 2010 as the WTAMU Faculty and Staff Annual Program to give employees an opportunity to give back to the University. The program has proven successful with consistently more than 60 percent of faculty and staff members supporting WTAMU with gifts to areas of the University that are important to them. Their support reflects an engaged campus community that benefits our students, fosters pride and spreads Buff spirit.
By participating, we are given the chance to invest in whatever it is that makes each of us "WT." And when you give, it's the students that will ultimately benefit. Whether you choose to advance WT athletics or give the gift of education to someone that may not otherwise be able to afford it, your offering will help to provide the highest quality experience possible for students at WTAMU.
Now is your chance to join us in our annual program. Every gift serves a purpose and makes an immediate impact in the lives of our students and the University. Share your pride by becoming a part of the I am WT community.
---
You can make a one time or a monthly gift, and payroll deduction is an option. Download the Pledge Form or Give Online.

Our Frequently Asked Questions will hopefully provide any additional answers you may need about the program. If not, please ask us, we would love your feedback.

Building an even better WT is something we all can do together. WT has been a home to all of us, and now is the time to give back. The support of higher education has never been more crucial, and every gift makes a difference.