Buff Allies Events and Training
Upcoming Events
Coming Soon!
Past Events
Faces of Feminism, April 23, 12:30-1:15

Lunch 'n Learn: Trans* Identities
Featuring Guest Speaker Donna B. Riley, LCSW
Monday, April 20, Noon-1pm
JBK White Room
Lunch 'n Learn: Religion and LGBTQIA Communities
Monday, February 16, Noon-1 pm
JBK Senate Chambers
Join us for a discussion featuring community religious leaders talking about religion and LGBTQIA Communities.

New Student Orientation – Buff Allies Table in Legacy Hall
Buff Allies hosted a table at all six New Student Orientations last summer!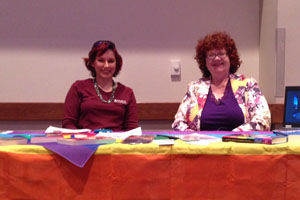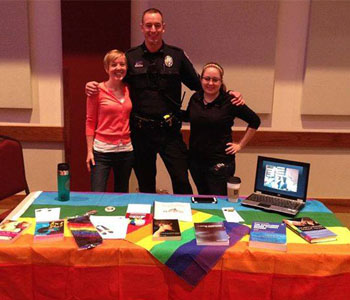 Dr. Medlock (left) and Dr. Stuntz at the Buff Allies Table Alice MillerMacPhee (left), Sergeant Nethery
(center), Lana King at the Buff Allies Table
LGBTQ Voices on Campus
Monday, October 20th

12:15-1:15 pm

JBK Senate Chamber
Ever wonder about LGBTQ voices at WT? Have questions about the Buff Allies? Join us for LGBTQ Voices on Campus: A Panel Discussion. This is an opportunity to learn about experiences on campus and ask questions.
Professor Stephen Stillwell
Tuesday, October 21st

7 p.m. * FAC Recital Hall
Professor and Librarian Stephen Stillwell will present his lecture: The Gay? Proconsuls and ponder issues around the sexuality of nineteenth and twentieth century characters involved in British imperialism.
Lunch 'n Learn
Thursday, November 13, 2014
12:30-1:30 pm, FAC Recital Hall
Faces of Feminism: An Interdisciplinary Perspective. Come and listen to WT faculty talk about what feminism is and how it has impacted their lives.
Future Events