Lean Six Sigma- Process Improvement
To enroll in an online course see link below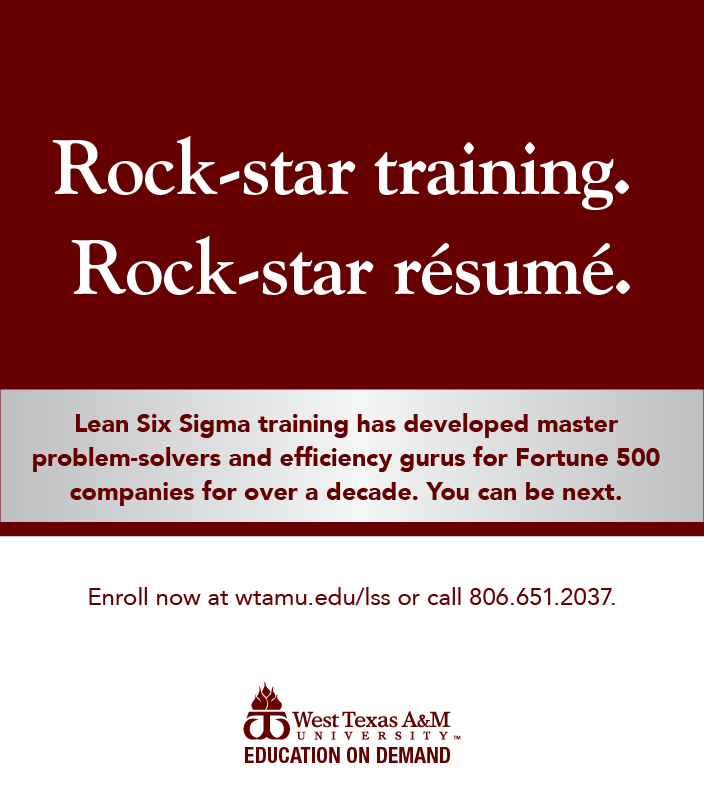 ---
LEAN SIX SIGMA GREEN BELT ONLINE TRAINING
Available on the 1st of each month!
Follow the Enroll Now link
Click Continuing Education
Register and Pay for
Continuing Education Classes
Select Topic Code:
TRAIN - EOD Training Course
Cost - GREEN BELT SIX SIGMA COURSE = $1999.00
(Please check with the Process Improvement Office for the discount for WTAMU Students, Staff and Faculty)
---
West Texas A&M University Six Sigma Leadership
---
CURRENT and COMPLETED PROJECTS
Academic Affairs Hiring process
Zero NOA's
Travel Voucher for Faculty
Equipment Transfers
Residential Living
Hiring Freeze Form- HR
Property Clearance Form - HR
Scholarship Process
---
SIX SIGMA
SAVINGS GENERATED BY SIX SIGMA - PROCESS IMPROVEMENT
Annual Estimated HARD Savings Created by Six Sigma Projects from 9/9/2015 to present:
$9002.50
5 Year Estimated HARD Savings Created by Six Sigma Projects from 9/9/2015 to present:
$45,012.75
---
**WTAMU FACULTY AND STAFF**
SIX SIGMA GREEN BELT CLASSROOM TRAINING IN PROGRESS
March-July
NEW CLASSES TO BEGIN July 2016
CONTACT TAMMY STAMPS TO SIGN UP
CLASS LIMITED TO 6
tstamps@wtamu.edu 806-651-2107
---
LEAN SIX SIGMA at West Texas A&M University
---
Lean vs Six Sigma
Six Sigma is data driven problem solving. Six Sigma's DMAIC problem solving approach is simple and logical. Through understanding and adhering to its simplistic nature, one can successfully solve manufacturing and service problems.
A process that is Lean is one that delivers products or services that the customer wants at a price that reflects only the value that the customer is willing to pay for. Lean uses the PDCA - Plan, Do, Check, Act
The combination of Six Sigma and Lean produces a system called Lean Six Sigma (LSS). LSS as defined by Michael L George in his book, Lean Six Sigma for Service, as a "business improvement methodology that maximizes shareholder value by achieving the fastest rate of improvement in customer satisfaction, cost, quality, process speed, and invested capital".
Six Sigma
DMAIC
Lean
PDCA
Define the Problem: To develop a clear project charter based on a real problem that is relevant to the customer, and one that will provide significant benefits to the business.
Measure the Process: To understand and baseline the current performance of the process through a set of relevant and robust measures (KPIs).
Analyze the Process: To find the root cause of the problem, and understand/quantify their effects on process performance.
Improve the Process: To develop, select and implement the best solutions, with controlled risks.
Control the Process: To ensure the solutions are 'embedded', the process has robust controls, and the project has a clear closure.
---
Training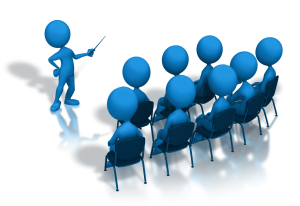 Green Belt
A Six Sigma green belt can introduce the techniques to their respective work areas and lead small improvement projects. Green belts are capable of determining the necessary data needed for improvement projects and have the knowledge to attain it.The Six Sigma green belt works under a black belt and must have three years of work experience.
Green belts demonstrate their knowledge of the Six Sigma tools through a written 75 question certification examination along with facilitating 3 projects. A green belt must make 90% or better on the Green Belt Examination and complete the Change Management course. They must present complete documentation for all 3 projects in a professional portfolio to the Process Improvement Manager for their review
Black Belt
Six Sigma black belts are certified professionals who can teach the concepts and methodologies to others. Black belt certification requires the individual to lead at least two projects before certification and assist on 8 projects. Individuals can be certified by leading and completing 2 projects and having three years of work experience.
To be certified as a black belt the applicant must be able to explain the philosophies and methodologies used in quality improvement. West Texas A&M administers a 100 question test that determines the abilities and knowledge of the black belt candidate. You must pass with a 85% or higher grade. All of your projects will be overseen by the Process Improvement Manager. All documentation should be put in a professional portfolio and presented to the Process Improvement Manager for their review
Master Black Belt
Master black belts must be certified black belts and have 10 black belt projects completed before certification as a Master black belt. The American Society for Quality reviews the portfolio of the candidate's work. Once the work is reviewed, the applicant will be eligible to take the Master black belt examination. The candidate's body of work is reviewed for mentoring, teaching and coaching abilities as well as technical experience and knowledge. The exam is a 100-question multiple choice test designed to test the applicant's body of knowledge.
---
Past projects at WTAMU
Voucher Replacement Process
The Gold Card Office brought an idea to the Lean Six Sigma team about the cost of printed vouchers from the print shop. A voucher is printed each time payment is made to a vendor. Each fiscal year a different color of paper is designated for the voucher to be printed on. The bookstore, gold card office and business office would order box(es) of preprinted paper when it was needed.
Each box holds 500 pieces of paper, each sheet costs $.08 each.
WTAMU prints 24,000 vouchers a year.
By purchasing the paper thru Central Supply and each department printing the vouchers as needed we reduce the cost to $.01 per each voucher. We reduce the cost each year by about $1,600.00 Not to mention the waste on not using the preprinted vouchers at year's end.
Business Office/Purchasing Office Kaizen Event
This event found the Business Office meeting in the Purchasing Office to understand the process of requisition to voucher process. During the event both offices came to an understanding of the full process rather than bits and pieces. During the exercise it was suggest a step be eliminated in the requisition to purchase order process. The elimination of just the one step will save the University $2,300.00 annually.
More past projects...
AHEC Kaizen Event
Student Employment Paperwork Flow
Electronic Requisitions
Student Athletes Medical Payments
Athletic and Student Group Travel
Student Transfer
Student Success Center
Residential Living
Foundation Project
Electronic Filing System
Fine Arts Degree Plan
---
If you are interested in becoming a part of the Six Sigma experience, want to be on the leading edge of improving processes and want to have the opportunity to make a positive difference, please
Contact
Tammy Stamps, Six Sigma Black Belt
Process Improvement Manager
(806) 651-2107

---
Additional Information
The link below will provide more information and more training opportunities.