Lean Six Sigma- Process Improvement
To enroll in an online course see link below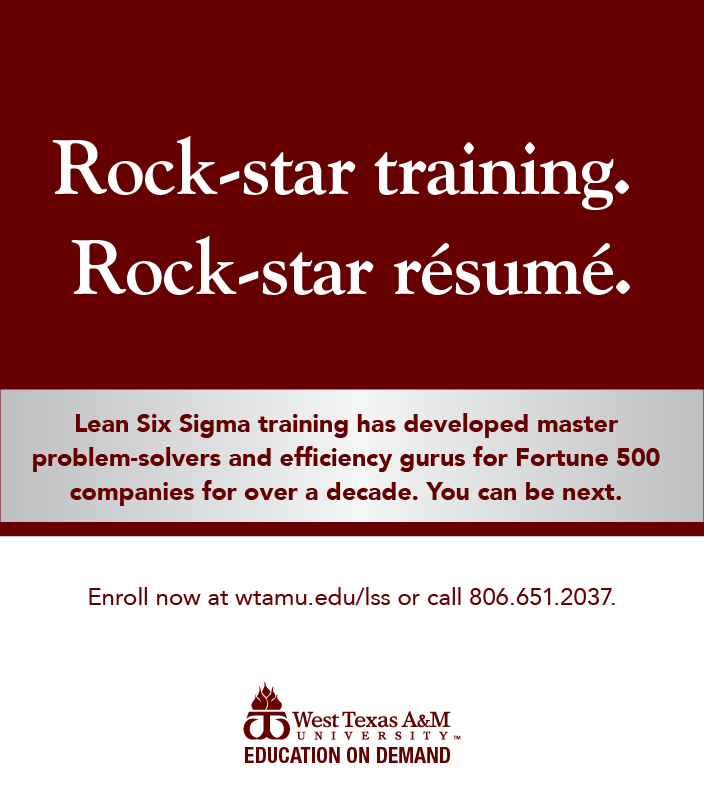 ---
NEW CERTIFICATIONS THROUGH WTAMU!
Andrea Porter receiving her Black Belt and Stan Swam from Tarleton became a certified Green Belt!
Congratulations!
---
LEAN SIX SIGMA TRAINING
**Classroom training FREE FOR WTAMU FACULTY AND STAFF**
---
2 Day Lean Workshop COMING!!!!
This workshop is for those who don't want to take the standard 40 hour training for a certification in Six Sigma, but want to learn the proven concepts of LEAN in a 2 day workshop. Learn quick and easy tools to maximize your employee potential, streamline your processes, expand your ability to detect wastes that are costing you time and money and find out ways to make your workplace more efficient. This workshop will enable you to start making "small changes for the better" almost immediately! More information to come!
---
Green Belt Course (Classroom)
Next classes to being in July 2017!
Seats are limited, sign up now 651-2107
---
Online Classes
Registration Process is under construction...for immediate assistance, please contact
Andrea Porter, Education on Demand 651-2038!
Follow the Enroll Now link
Click Continuing Education
Register and Pay for
Continuing Education Classes
Select Topic Code:
TRAIN - EOD Training Course
GREEN BELT COURSE

= $1999.00
BLACK BELT COURSE =$2795.00
(Please check with the Process Improvement Office for the discount for WTAMU Students, Staff and Faculty)
---
The Process Improvement Department has taught at these locations and is available to your business as well!
SMALL BUSINESS DEVELOPMENT CENTER
AMARILLO GEAR
ATTEBURY GRAIN
---
GETTING INVOLVED!!!
Some pictures from our fun 5S Projects at WTAMU
Sort, Straighten, Sweep, Standardize, Sustain