PB&J: Politics, Bureaucracy, and Justice is the student-run journal of the Department of Political Science and Criminal Justice at West Texas A&M University. It helps fulfill an important university mission. It offers scholars of all levels, from undergraduate and graduate students to faculty members and any interested party, the opportunity to publish scholarly work in a peer-reviewed, academic journal. PB&J is also a different kind of academic journal because of the prominent role students play in the publishing process. PB&J not only actively seeks student submissions, but students also review the articles and make editorial decisions to publish or reject a submission. The journal is available around the world on the Internet and is recognized by the Library of Congress.
Submission Guidelines
Submissions are welcome from across the university and the larger community of researchers on subjects that pertain to the journal's three focus areas. PB&J follows a blind submissions process and uses the American Psychological Association (APA) style for citations and formatting. When submitting please provide a cover page including detailed contact information, such as an email address and telephone number; an abstract of no more than 200 words; and a version of the manuscript with all references to the author removed.
Please send submissions and enquiries to pbj@wtamu.edu

Editorial Procedure
Politics, Bureaucracy, and Justice is a referred, peer-reviewed academic publication. All submissions are reviewed by faculty members in political science, public administration, criminal justice, or nonprofit management. At least one reviewer must hold a Ph.D.s in their respective fields and all reviews are single-blind. At least one expert reviews each submission. The journal is also undergraduate and graduate-student friendly in that we seek our budding scholars to serve as part of the publishing process. We do not release the names of the reviewers.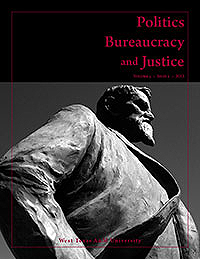 Current Issue: Volume 3 Issue 2