Enactus
Enactus (formerly SIFE) uses the power of free enterprise and entrepreneurial action to transform lives and shape a better, more sustainable world. Enactus teams on over 1600 university campuses in 37 countries prepare the next generation of entrepreneurs and leaders to serve their communities as they develop community empowerment projects that apply the business content learned in the classroom to solutions for real world problems. Using a business mindset and an entrepreneurial approach, Enactus projects empower people to improve their lives—a collaborative "up by your own bootstraps" approach based on the "give a man a fish and he eats for a day—teach a man to fish and he eats for a lifetime" approach. The Enactus triple bottom line is: People, Profit, & Planet.

Why Join Enactus?
• We work, we compete, and we play—Enactus is hard work, but it is fun!
• Experience the exhilaration of being on a winning, championship Enactus team! Enactus has won 19 consecutive Regional Championships. In 2012 and 2013, WTAMU Enactus placed in the Top Twenty in National Competition.
• Be a part of something BIGGER than yourself! Make a difference!
• Inspire others. Change the world through entrepreneurial action.
• Gain a competitive edge in the job market with service learning projects to balance the academics on your resume.
• Be recruited by Fortune 500 companies at Enactus Leadership Conferences and National Competition.
• Gain real world professional experience focused on leadership, teamwork, and project management skills.
Enactus is a student organization of the College of Business, but all majors of all classifications are invited to join. Enactus charges no membership fee—just buy team shirts!
How Do I Contact Enactus?
Enactus offices are located in Classroom Center Room 218A. The 2013-2014 officers are:
Co-CEOs/President's are Mary Dittfurth (management major from Amarillo) and Brittany Smith (general business major from Lubbock).
Administrative/Finance Officer is Dayren Tolliver (finance major from Alabama).
Marketing Officer is Kristen Le (communications major from Vietnam).
CORE Representative is Rudy Cantu (management major from Wellington).
New Member Relations Officer is Elizabeth Castillo (accounting major from Wheeler).
Co-Tech Officers are Greg Moreno (accounting major from Wellington) and Justin Lawlis (CIS major from Amarillo)
Faculty advisors are Jean Walker (806-651-2515; Classroom Center 215D) and Dr. Leigh Browning (806-651-8477; Classroom Center 212A).

WTAMU Enactus meets in CC 221 from 12:20 to 1:00 p.m. every Tuesday during the academic year.

Find WTAMU Enactus on Facebook: https://www.facebook.com/pages/West-Texas-AM-University-Enactus/149299728425775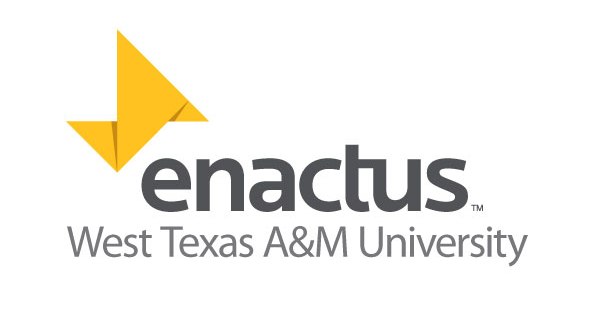 ---