Department of Art, Theatre and Dance
WTAMU Dance Alumni
Professional Careers of WTAMU Dance Alumni
Ballet companies: Eglevsky Ballet, North Carolina Dance Theatre, Nevada Ballet Theatre, Hartford Ballet, London City Ballet, Ballet Austin, Ballet Nebraska, Ballet Mississippi, Fort Worth/Dallas Ballet, Columbia City Ballet, City Dance Ensemble, Metropolitan Ballet Theatre, Ballet Theatre of Maryland, and Dance Smith, Dallas Metropolitan Ballet, El Paso Ballet, Chamberlain Ballet, North Texas Dance Theatre, Salt Lake City Dance Theatre, Ballet Memphis.
Modern Companies: Silesian Dance Theatre (Poland), Clancyworks, and the Peter Sparling Dance Company.
Entertainment Field:
National Tours: Oklahoma, Showboat.
International/European Tours: West Side Story, Andrew Lloyd Weber Revue, Phantom of the Opera.
Cruise Lines: Celebrity Cruise Lines. Jean Ann Ryan Productions, Norwegian Cruises, Holland America Cruise Lines, and Disney Cruise Lines.
Radio City Music Hall's "Christmas Spectacular," in New York City, Branson, Missouri and Chicago. Opryland, Disneyland, Disney World, Walt Disney World Tokyo, "La Reve" (Las Vegas), and "Show in the Sky" Las Vegas.
"Texas" Musical Drama
Independent film in New York City
Music Videos, Television, and Performing in Las Vegas, the Virgin Islands and the Bahamas.
Alumni are also in MFA programs and teaching in various companies and schools across the country.
FEATURED ALUMNI:
Britney M. Rush
2009 WTAMU Dance graduate Britney Rush has danced with Dallas Black Dance Theatre, Urban Souls, and several other professional dance companies. She is currently with 6 o'clock Dance Theatre(6DT) in Dallas as well as teaching and choreographing in the DFW area.
Kaylee Anne Keith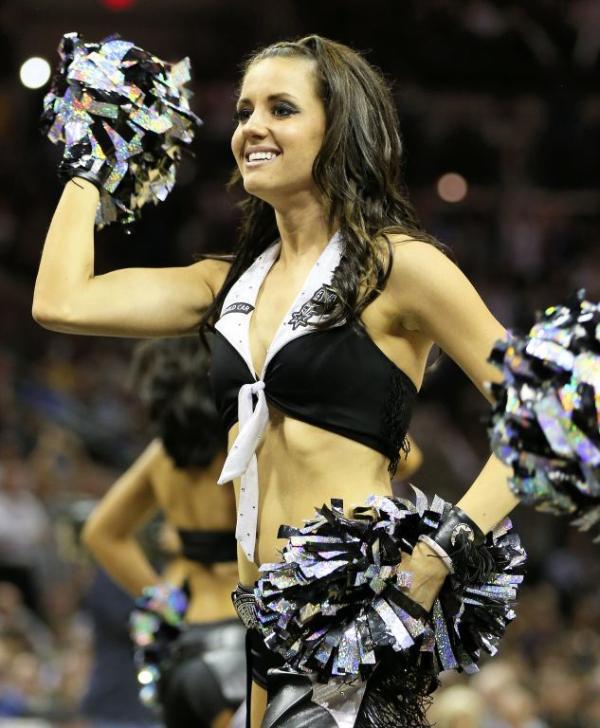 2012 WTAMU Dance graduate Kaylee Keith danced on the San Antonio Spurs dance team 2012-2013 and now is teaching dance at Palo Duro High School. She is a former Miss El Paso and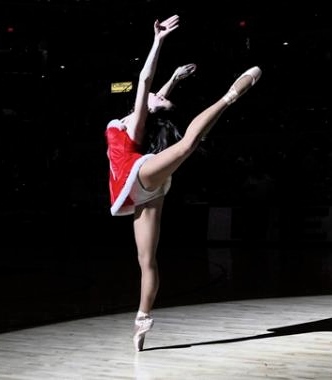 Miss West Texas.
Kaylee had a featured solo on pointe with the Dallas String Quartet during half time of the San Antonio Spurs Vs. Dallas Mavericks game December 2012 (pictured at right).
Tarrell Ervin
2003 Dance Graduate Tarrell Ervin has been dancing in "Le Reve - The Dream" (Las Vegas) for
the last 7 years as a featured dancer, and was recently promoted to the featured character role 'Dagon'. He has also danced with Walt Disney World Tokyo, Holland America Cruise Lines, and "Show in the Sky" (Las Vegas).
Shell Stachowicz
Shell graduate